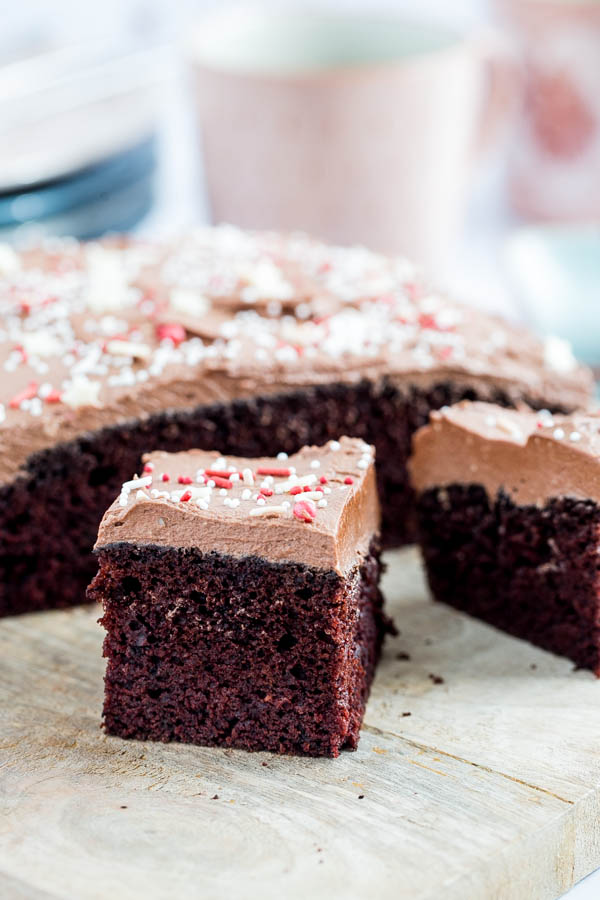 Easy Vegan Chocolate Cake
Prep: 10 mins | Cook: 30 mins | Total: 40 mins | Quantity: 12 squares
Ingredients
1 + 1/2 cups  (200g) plain flour
1 cup (160g) golden caster sugar
1/3 cup (35g) raw cacao powder
1 tsp bicarbonate of soda
1/2 cup (125ml) cold water
1/2 cup (125ml) unsweetened non-dairy milk (I've used both almond and oat and both tasted great!)
1/4 cup (50ml / 4 tblsp) vegetable oil
1 tsp vanilla essence extract
1 tblsp apple cider vinegar
Frosting:
1/2 cup (115g) vegan butter – softened at room temp if mixing by hand
1 cup (160g) icing sugar
1/4 cup (20g) raw cacao powder
1/2 tsp vanilla essence or extract
Vegan sugar sprinkles (see note)
Instructions
Preheat your oven to 160 Fan / 180 C / 350 F / Gas 4. I used a non-stick tin so I swished in some vegan margarine to coat all sides then dusted with flour, shaking out the excess. I also put a square of parchment in the bottom
In a large bowl mix together the flour, sugar, cacao powder and bicarbonate of soda
In a small bowl or jug whisk together the water, milk, oil, vanilla and vinegar
Add the wet ingredients to the dry ingredients and mix together. It's quite a loose mix so mix well with a spatula, scraping up from the bottom of the bowl to catch any flour 'pockets'
Pour into your prepared tin and bake for 30 minutes or until a cocktail stick inserted in the centre comes out clean
Leave to cool for a few minutes before turning out onto a wire cooling rack and allowing to cool completely before frosting
To make the frosting simply beat all the ingredients together either by hand or in a stand mixer until well combined
Once the cake is completely cold spread the frosting thickly all over the top of the cake then scatter over the sprinkles
Store in an airtight container. This cake keeps pretty well for a few days (if it lasts that long!)
Notes
Did you know a lot of sprinkles aren't vegan? Check the labels as colourings used often contain animal derivatives including cochineal and shellac.
Recipe by The Cook & Him at https://thecookandhim.com/recipes/easy-vegan-chocolate-cake/