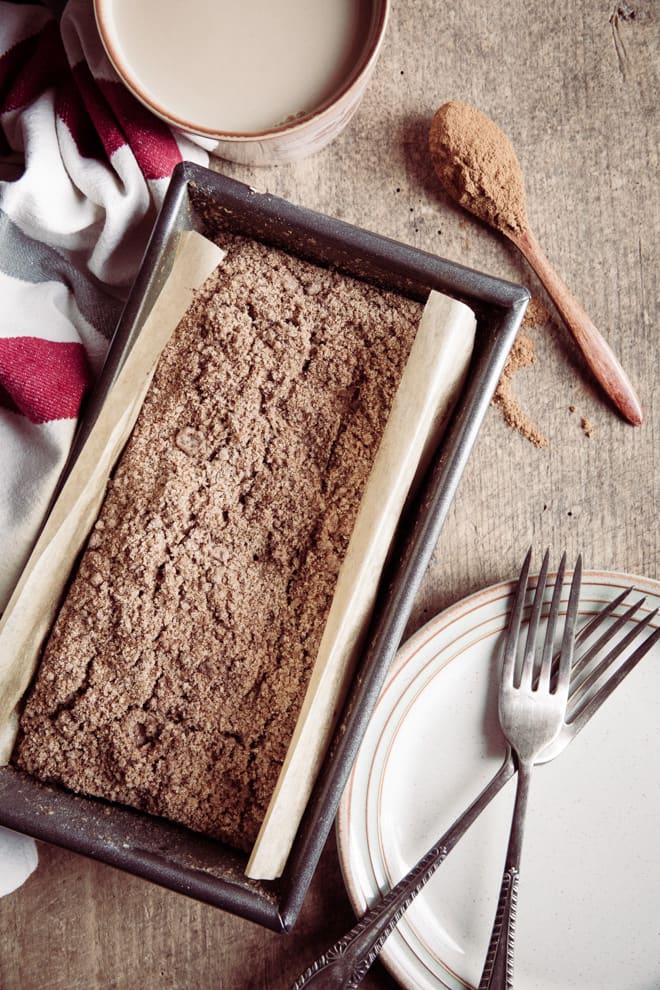 Cinnamon Crumble Banana Bread
Prep: 15 mins | Cook: 60 mins | Total: 75 mins | Quantity: 12 slices
Ingredients
3 large ripe bananas
2 eggs
½ cup natural 0% fat plain yoghurt
¼ cup coconut sugar
¼ cup maple syrup
1 tsp vanilla extract
2 cups wholemeal flour
1 tsp baking soda
½ tsp baking powder
Crumble topping
1/2 cup wholemeal flour
1 very heaped teaspoon ground cinnamon
1/4 cup coconut oil
1 tblsp coconut sugar
Instructions
Preheat the oven to 170 Fan / 190 C / 375 F / Gas 5.
Using a 3 x 9 inch loaf tin, grease and flour all the insides then lay a piece of greaseproof paper across the middle and up the longer sides, overhanging the sides slightly – this makes it easier to release and lift the cake out!
Peel the bananas and in a large bowl mash with a fork or potato masher. Crack in the 2 eggs and give a quick whisk with the fork
Add the yoghurt, coconut sugar, maple syrup and vanilla and give another quick whisk with the fork till combined
Add the flour, baking soda, baking powder and, using a spatula, stir this all together then tip into the prepared tin
For the crumble topping put the wholemeal flour and cinnamon into a medium bowl then add the coconut oil and 'rub in' using the tips of your fingers.  You want to incorporate the oil into the flour so that no lumps of oil remain.  Then stir in the sugar
Sprinkle this evenly over the top of the batter then lightly push down so the crumble is just sitting in the batter rather than resting on top.  This will help stop it falling off when you cut the cake!
Bake for 1 hour - 1 hour 15 minutes or until a skewer inserted in the middle comes out clean. Leave in the tin for 10 minutes before lifting out and cooling on a wire rack.
Notes
While, like most cake, this is best eaten fresh it will keep for a few days - once cooled, store the cake uncut in an airtight container for 3-4 days
Recipe by The Cook & Him at https://thecookandhim.com/recipes/cinnamon-crumble-banana-bread/