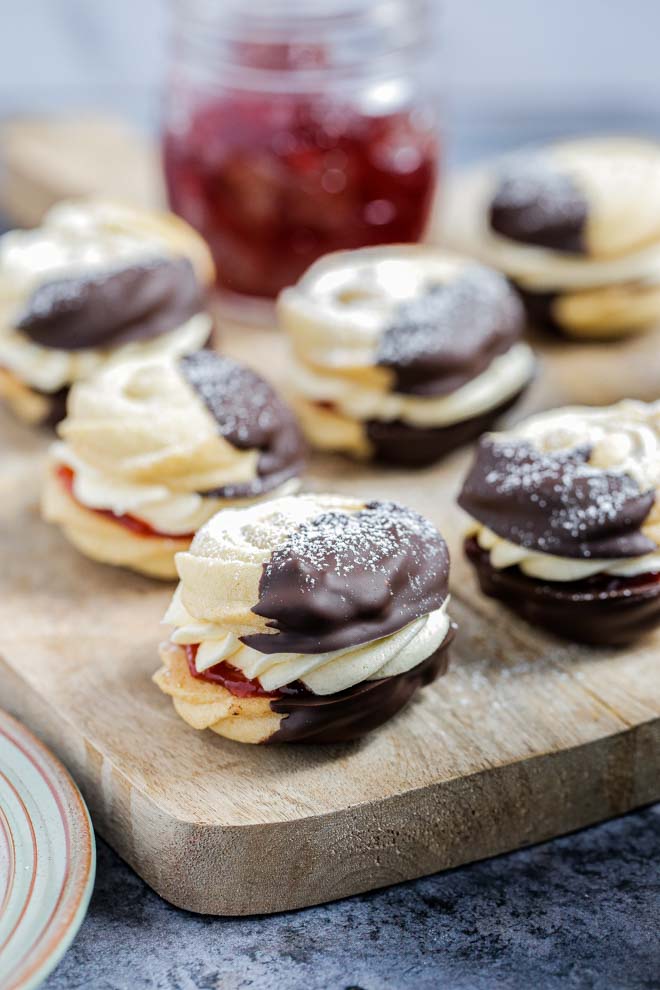 Vegan Viennese Whirls
Prep: 30 mins | Cook: 20 mins | Total: 50 mins | Quantity: 18 cookies / 9 sandwiches
Ingredients
Cookies:
2/3 cup (160g ) vegan block butter – needs to be room temperature not fridge cold (see note)
1/4 cup (40g) icing (powdered) sugar
1/2 tsp vanilla extract
1 cup (160g) plain flour
1/4 cup (40g) cornflour
Buttercream:
1/2 cup (115g) vegan block butter (softened to room temp if mixing by hand)
1 + 1/2 cups icing (powdered) sugar
1/2 tsp vanilla extract
Approximately 5 tsp jam of choice
2/3 cup (100g)  dark dairy free chocolate
Piping bag fitted with star nozzle
Instructions
Preheat your oven to 170 Fan / 190 C / 375 F / Gas 5 and line a large baking tray with parchment
If you want to, draw round something on the underside of the parchment approx 2 inches (5cm) in diameter as a guide when piping your cookies. You can space these circles fairly close together as the cookies shouldn't spread
Cream together the vegan butter, icing sugar and vanilla extract until soft and fluffy. You can do this by hand, in a food processor or in a stand mixer using the paddle attachment
Beat in the flour and cornflour until well mixed but try not to overmix. If the dough feels too stiff to pipe add just a splash of boiling water in small increments until you have a pipeable dough
Spoon into a piping bag fitted with a star nozzle then pipe swirls of the dough onto your parchment until you've used all the dough
Bake for 20 minutes until lightly golden and just set
Leave to cool on the tray for 5 minutes then transfer to a wire rack to cool completely
While they're cooling melt the chocolate in a microwave or over a bain marie (a bowl set over a pan of barely simmering water)
Once the cookies are cooled dip half of each in the melted chocolate then gently place back on the parchment, flat side down. Put the tray in the fridge once all the cookies are dipped
While the chocolate is setting make the buttercream by beating all the ingredients together until pale and fluffy then spoon into a clean piping bag also fitted with a star nozzle
Once the chocolate is set, remove the cookies from the fridge and turn each one over
Spread roughly 1/2 tsp of jam over half the cookies then pipe the buttercream in a swirl on the other half
Sandwich 2 cookies together - jam to buttercream
Store in an airtight container at room temperature or keep in the fridge if it's particularly warm!
Notes
I really recommend taking the butter out of the fridge the day before you want to make these - it needs to be quite soft to be able to pipe the whirls. You'll also need to use the block butter type rather than the tub margarine type as it probably won't hold the swirl shape when baked
Recipe by The Cook & Him at https://thecookandhim.com/recipes/vegan-viennese-whirls/