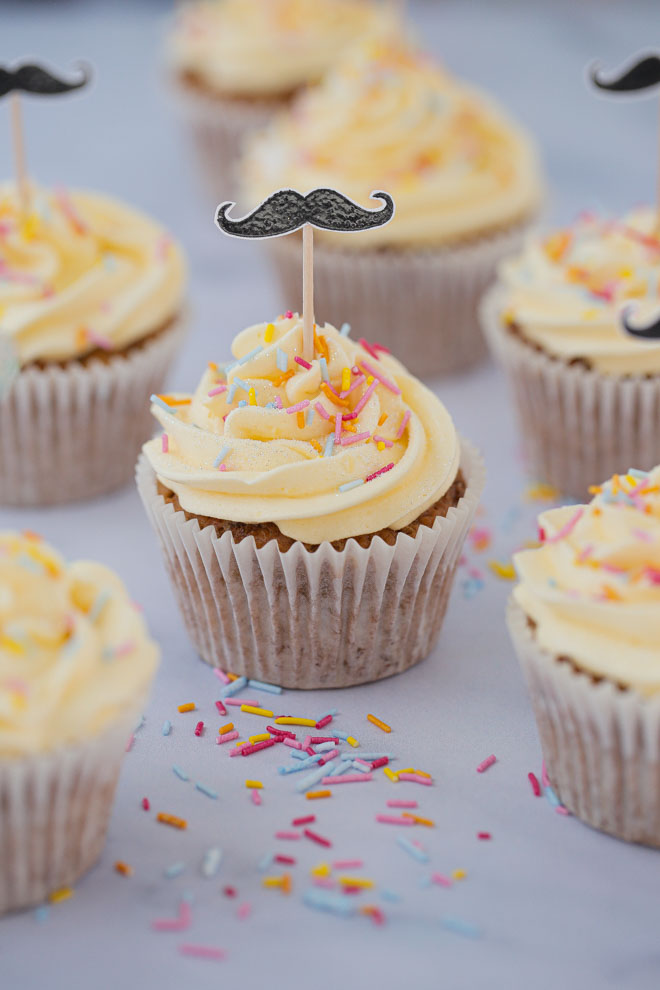 Funfetti Cupcakes with Vegan Buttercream
Prep: 20 mins | Cook: 25 mins | Total: 45 mins | Quantity: 10 large cupcakes
Ingredients
Cupcakes:
1/2 cup (120ml) unsweetened almond milk
1/2 cup (120ml) coconut yoghurt
1 tsp apple cider vinegar
1 tsp vanilla extract
1 + 1/4 cups (180g) plain flour
1 tsp baking powder
1/2 tsp bicarbonate of soda
1/2 cup (100g) golden caster sugar
1/4 cup (55g) vegan sprinkles (see note)
Frosting:
1/2 cup (125g) vegan butter
1 cup (120g) icing (powdered) sugar
1 tsp vanilla extract
2-3 tblsp vegan sprinkles (see note)
Equipment:
Instructions
Preheat your oven to 180 Fan / 200 C / 400 F / Gas 6 and line 10 muffin holes with cases. If you use muffin cases as I did then you'll get 10 good sized cupcakes, if you use cupcake cases you'll get a lot more but smaller cupcakes out of this mix!
In a bowl or jug put the almond milk, yoghurt, vinegar and vanilla, give a quick whisk and leave to 'curdle' slightly while you prepare everything else
Into a large bowl sieve together the flour, baking powder and bicarbonate of soda then stir in the sugar
Add the milk and vinegar mixture to the large bowl and stir everything together until well mixed, stirring up from the bottom of the bowl so you don't miss any flour 'pockets'
Stir in the sprinkles until they're just mixed through
Evenly divide between your cases - filling each one roughly 2/3 full then bake for 22-25 minutes. Use a skewer or cocktail stick inserted in the middle of one of the cupcakes - if it comes out clean with no raw batter clinging to it the cupcakes are cooked. If not, just return to the oven for a few more minutes
While they're cooking and cooling make the frosting by beating together the butter, icing sugar and vanilla until very soft and fluffy. Transfer to a piping bag fitted with a large star nozzle
Once the cupcakes are cooked, leave them to cool in the tin for 5 minutes before transferring to a wire rack to cool completely
Pipe swirls of icing on top of each cupcake then scatter over your extra sprinkles
Store in an airtight container
Notes
Did you know a lot of sprinkles aren't vegan? Check the labels as colourings used often contain animal derivatives including cochineal and shellac.
Recipe by The Cook & Him at https://thecookandhim.com/recipes/funfetti-cupcakes-with-vegan-buttercream/