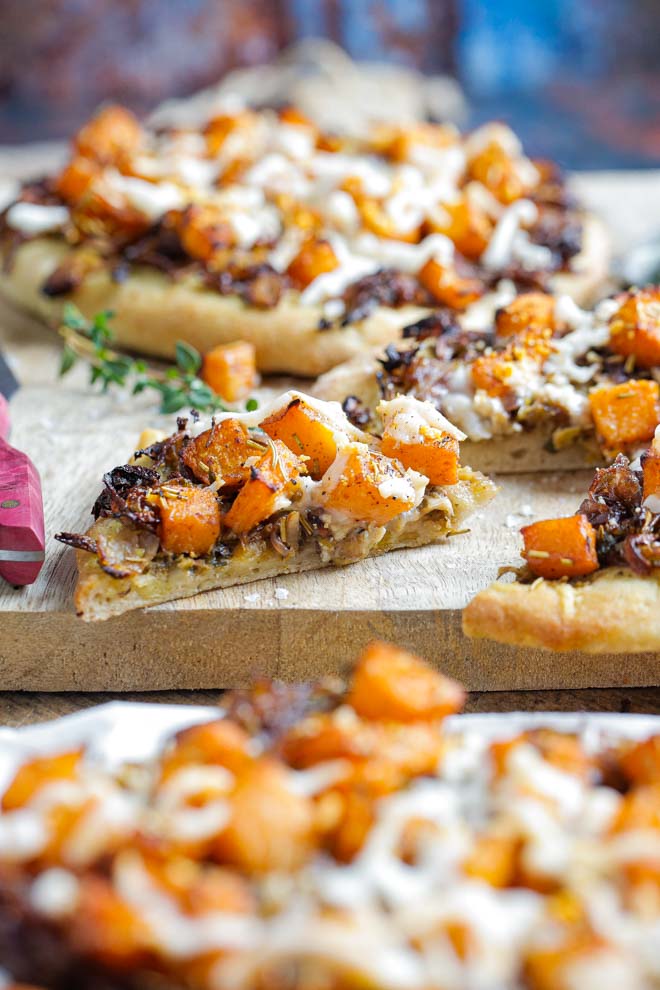 Roasted Autumn Harvest Pizza
Prep: 30 mins | Cook: 60 mins | Total: 90 mins | Quantity: 2-4 servings
Ingredients
Pizza Base:
3/4 cup (190ml) tepid water (see note)
1 + 1/2 tsp active dried yeast
1 tsp sugar
2 cups  (280g) plain white flour
1 tsp salt
1 tblsp olive oil
1 parsnip – peeled and grated (grate around and discard the thick woody middle bit)
Pizza Topping:
1/2 large butternut squash
drizzle of oil
2 tsp smoked paprika
1/2 tsp dried rosemary
1/2 tsp dried thyme
salt and pepper
2 large red onions
2 tblsp brandy
1 tblsp balsamic vinegar
1 tblsp vegan butter
2 cups (140g) shredded Brussels sprouts
1/2 cup (125g) grated vegan mozzarella
Instructions
To make the pizza base put the tepid water into a large bowl and whisk in the yeast and sugar. Cover and leave to stand for 5-10 minutes until the top becomes frothy
Add the plain flour, salt oil and grated parsnip to the yeast water and stir together until it starts to form a soft, not too sticky dough. You can do this by hand or using a stand mixer with the dough hook attachment
Cover and leave to stand at room temperature for 45 minutes - 1 hour or chill and keep refrigerated for up to 2 days
While the dough is proving roast the squash - preheat your oven to 180 Fan / 200 C / 400 F / Gas 6 and line a baking tray with parchment or a silicon mat
Peel the squash and discard the seeds then cut the flesh into medium sized chunks. If you're wondering what to do with the other half of the squash, cut that into cubes too and freeze for use another time
Toss the squash with a drizzle of oil, paprika, herbs and a good pinch each of salt and pepper. Tip into your prepared tray, spreading the squash out and roast for 35 minutes
For the onion jam peel and thinly slice the onions and put into frying pan with another drizzle of oil
Cook over a low heat, stirring occasionally for 10-15 minutes until the onions are very soft and starting to caramelise
Stir in the brandy and balsamic and bubble then stir in the shredded sprouts, mixing everything together well
Line another 1-2 trays with parchment or silicon mats to cook the pizzas on
To assemble the pizzas cut the pizza into 2 or 4 equal pieces and roll or use your hands to shape the pizza bases then carefully lift onto your prepared tray(s)
Spread over the onion and sprout mixture then scatter over the roasted squash
Sprinkle over the vegan cheese and bake for 25 minutes until golden and crispy
Notes
The water should be blood temperature - meaning when you put your finger in it you can't feel if it's hot or cold!
Recipe by The Cook & Him at https://thecookandhim.com/recipes/roasted-autumn-harvest-pizza/