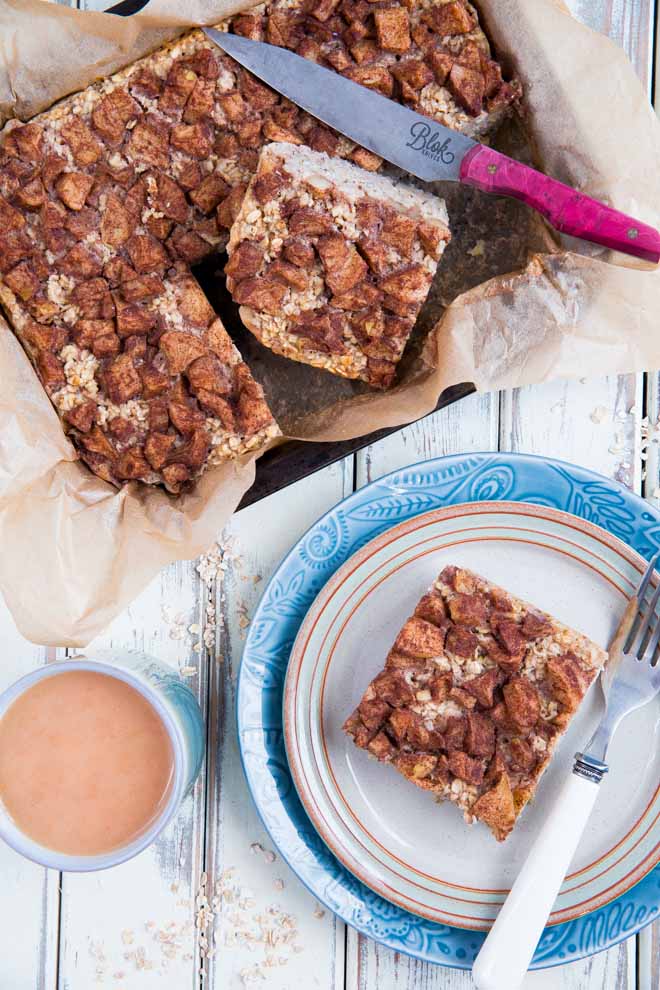 Apple & Cinnamon Baked Oats
Prep: 20 mins | Cook: 40 mins | Total: 60 mins | Quantity: 8 bars
Ingredients
Instructions
First up, put the apples, cinnamon and coconut oil into a medium saucepan and gently cook over a medium heat for around 15 minutes until soft
While the apples are cooking, preheat the oven to 170 Fan / 190 C / 375 / Gas 5 and line a 9 x 9 inch baking tin or dish with parchment
In a mug mix the ground flax seeds with 3 tblps water to make a flax 'egg' and set aside while you prepare everything else
Break the bananas into chunks and put into a large bowl.  Mash with a fork or potato masher
Add the remaining ingredients - milk, syrup, vanilla, baking powder and rolled oats along with the flax 'egg' and stir until well combined
Tip this into your prepared baking tin, pushing out to the edges and flattening as you go.  It's quite a liquid mixture so should spread easily
Scatter the cooked apples on top of the oats and bake for 40 minutes until set
Serve warm or cool completely and chill in the fridge for up to 5 days.  This also freezes really well, ready for an easy grab and go breakfast - simply defrost the night before!
Recipe by The Cook & Him at https://thecookandhim.com/recipes/apple-and-cinnamon-baked-oats/