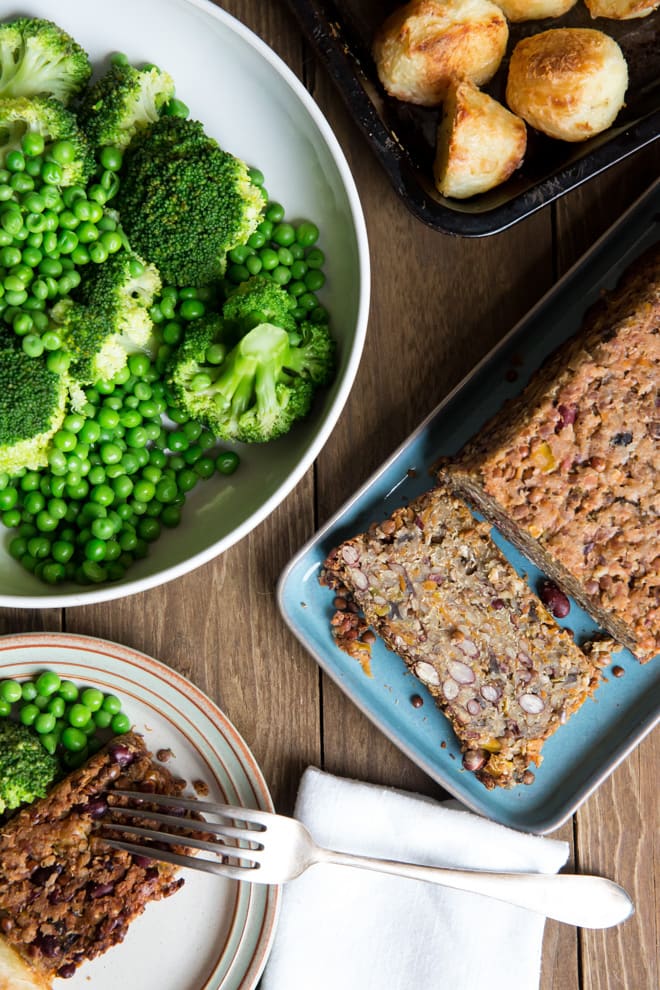 Lentil, Haricot Bean and Mushroom Roast
Prep: 20 mins | Cook: 135 mins | Total: 155 mins | Quantity: 6-8 portions
Ingredients
Drizzle of olive oil
1 red onion – peeled and finely diced
3 cloves garlic – peeled and crushed
2 Portobello mushrooms – diced small
1 carrot – grated
1/2 pepper – diced small (the colour of pepper is up to you – yellow and red are sweeter!)
1 tsp dried thyme
1 tsp dried rosemary
4 tblsp nutritional yeast
1 + 1/2 cups Hodmedod's Organic Quinoa Flakes
1 vegetable stock cube dissolved in 4 fl oz water
Salt and pepper
Instructions
Put the haricot beans in a small saucpan, cover completely with cold water, bring to the boil then reduce the heat to medium and simmer for 40 minutes.  
Give the lentils a rinse under cold water then add to the saucepan with the beans, adding more water to cover, bring back to the boil and simmer both for 20 minutes.  
Keep an eye on the water level and as it evaporates just top up with more water, stirring occasionally
Drain thoroughly
While the beans and lentils are cooking prepare all the veg - peeling, crushing and dicing as listed in the ingredients
Heat the oven to 160 Fan / 180 C / 350 F / Gas 4 and lay a piece of greaseproof across the middle of a 2lb loaf tin so it overhangs the sides - see 4th picture in post - this just helps you lift out the loaf once cooked.  Rub a little olive oil on the two uncovered ends of the tin
In a large frying pan drizzle the olive oil and gently saute the onion and garlic for just a couple of minutes. 
Add the grated carrot, diced mushrooms and pepper and cook gently, stirring, for another couple of minutes
Tip in the cooked beans and lentils and stir well
Add the dried herbs, nutritional yeast, quinoa flakes and plenty of salt and pepper and give everything a good stir
Add the vegetable stock and give a last stir
Tip it all into your prepared tin, pressing down firmly, place onto a baking tray (this just makes it easier to get the tin in and out of the oven!) and bake for 1 hour 30 minutes when it should feel firm to the touch
If you're serving immediately, you'll need to give it around 15 minutes before trying to slice.  Run a knife along the ends without the greaseproof then gently lift the loaf out onto a board and use a sharp, serrated knife to cut thick slices
Notes
If you're making this ahead you can do this to two different stages:
Make up to the point of cooking it then chill, lightly covered with cling film, in the fridge for 4-5 days.  If you remember, before cooking, bring out of the fridge and leave at room temp for an hour before cooking.  If not you might need to cook it a little longer to make sure it's firm enough to slice
By far the easiest way to ensure lovely slices is to cook in advance then leave to cool completely, chill and then slice.  Keep chilled in the fridge for 4-5 days.  To reheat just lay the slices on a prepared tray, cover with foil then reheat at 180 Fan / 200 C / 400 F / Gas 6 for around 25 minutes
This is also absolutely fantastic the next day in a sandwich with some pickle ?
Recipe by The Cook & Him at https://thecookandhim.com/recipes/lentil-haricot-bean-and-mushroom-roast/