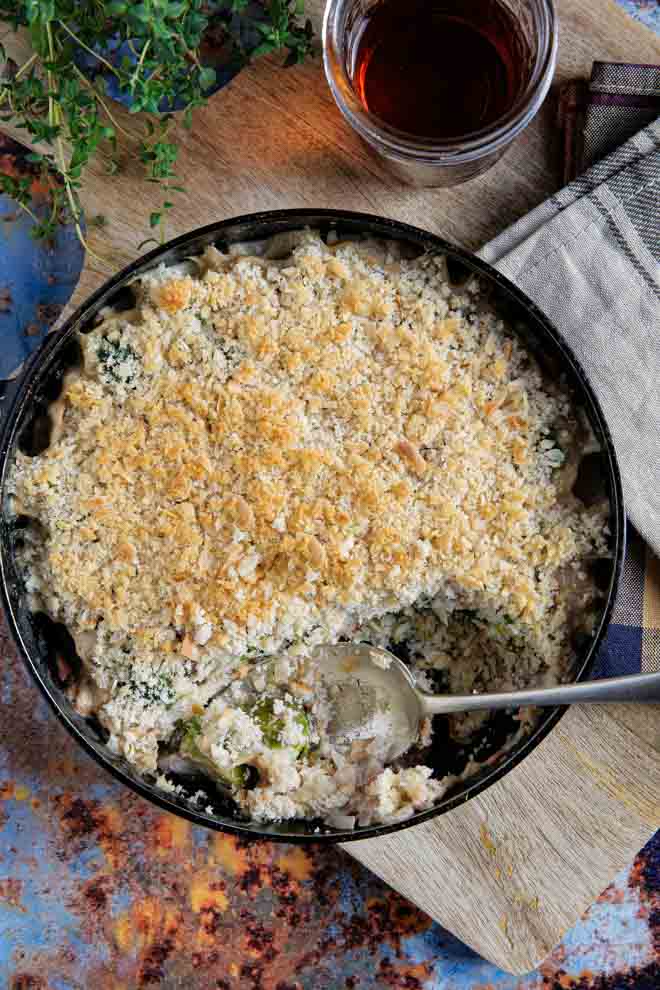 Brussels Sprout Gratin
Prep: 10 mins | Cook: 30 mins | Total: 40 mins | Quantity: 4 servings as a side dish
Ingredients
Topping:
1 + 1/4 cups (75g) breadcrumbs – or 2 thin slices stale bread
1/4 cup (30g) flaked almonds (see note)
few sprigs fresh thyme – leaves only or 1 tsp dried thyme
drizzle of oil or spray oil
Gratin:
13 ounces (360g)  Brussels sprouts
1 large red onion – peeled and finely chopped
3-4 cloves garlic – peeled and crushed
drizzle of oil
4 slices vegan ham – roughly chopped
2 tblsp brandy – or sub with sherry or wine
1/2 cup (80g)  cooked and peeled chestnuts
1/2 cup (125ml) vegan cream
1/2 cup (125ml) non dairy milk
juice of half a lemon
pinch grated nutmeg
1 tsp wholegrain mustard
salt and pepper
Instructions
Prepare the topping by whizzing the bread in a food processor with the almonds and thyme until roughly chopped - no need for it to be too fine! Set aside
Preheat your oven to 180 Fan / 200 C / 400 F / Gas 6
Put the sprouts into a pan of boiling salted water and cook for just 4 minutes. Drain and refresh in cold water until cold then drain again
In an ovenproof skillet or frying pan saute the onion and garlic for 1-2 minutes in a drizzle of oil until just softened then stir in the ham and brandy and cook for 1 minute
Add the sprouts, chestnuts, cream, milk, lemon juice, nutmeg, mustard and a good pinch of salt and pepper
Sprinkle over the breadcrumb topping, drizzle or spray with some oil and bake for 25-30 minutes until golden and bubbly
Notes
For nut allergies substitute the almonds with something like rolled oats or pine nuts (which are actually a seed not a nut!)
If you're making this gratin ahead keep the sprouts and the topping separate until you're ready to bake, this stops the crumbs going soggy!
If you don't have an ovenproof skillet or frying pan use whatever pan you have and tip into an ovenproof dish to bake
If baking from chilled, the gratin might need an extra 5 minutes in the oven, check the food is piping hot in the middle
It also makes great leftovers, though the sprouts do go a little softer on reheating!
Recipe by The Cook & Him at https://thecookandhim.com/recipes/brussels-sprout-gratin/