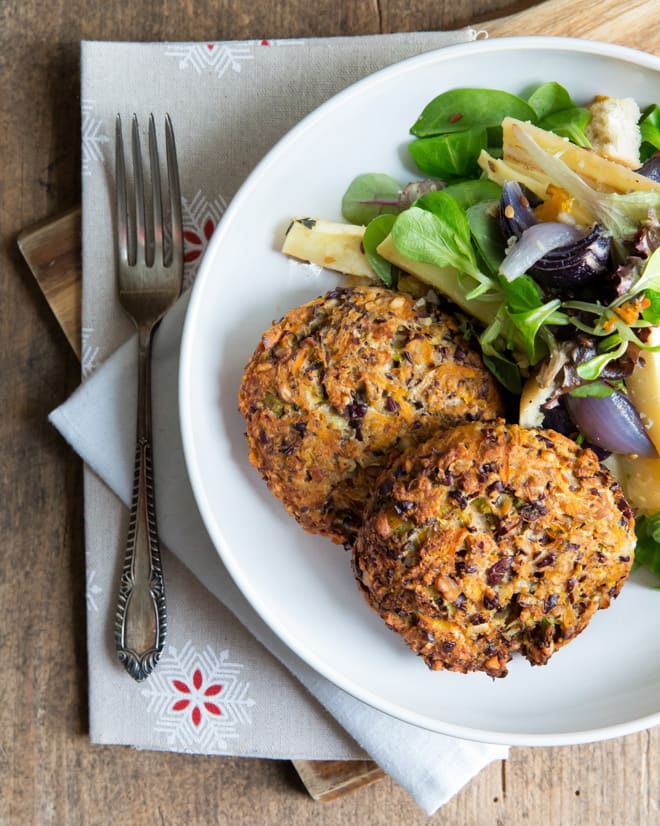 Baked Haricot Bean and Vegetable Fritters
Prep: 15 mins | Cook: 90 mins | Total: 105 mins | Quantity: 4 fritters
Ingredients
1 carrot
4 spring onions
handful fresh basil leaves
1/2 tsp garlic powder
salt and pepper
2 slices wholemeal bread
3 eggs
Instructions
Put the haricot beans in a small saucepan, cover with cold water, bring to the boil then simmer for 50 minutes.  Keep an eye on the water level and top up if they're starting to boil dry.  Give a quick stir occasionally too
While they're cooking, peel and grate the carrot, slice the spring onions and shred the basil, putting everything into a large bowl.  Add the garlic powder, a few good grinds of black pepper and a good pinch or two of salt
Blitz the slices of bread in a food processor to breadcrumbs.  Add to the bowl with the carrot etc.  Don't wash the processor bowl up yet!
When the haricot beans are cooked, drain then rinse under cold water to halt further cooking.  Then tip them into your food processor and give a few quick pulses till they're chopped - not too finely, you still want some chunky bits!
Tip these into your bowl with the other ingredients and give everything a really good stir till it's all well combined
You'll want to put your oven on now - 180 Fan / 200 C / 400 F / Gas 6 and put a piece of parchment or a silicon mat onto a medium sized baking tray
In a small bowl or jug crack the eggs, give a quick whisk and these to your bowl, mixing well one last time
Divide the mixture roughly into four, then using your hands shape each quarter into a round patty.  Put them on your baking tray
Bake for 40-45 minutes till the outside is firm and crispy
Enjoy hot or cold!
Notes
I keep a sliced wholemeal loaf in the freezer just in case I need breadcrumbs!  A couple of slices defrost in just a few minutes ?
Recipe by The Cook & Him at https://thecookandhim.com/recipes/baked-haricot-bean-and-vegetable-fritters/