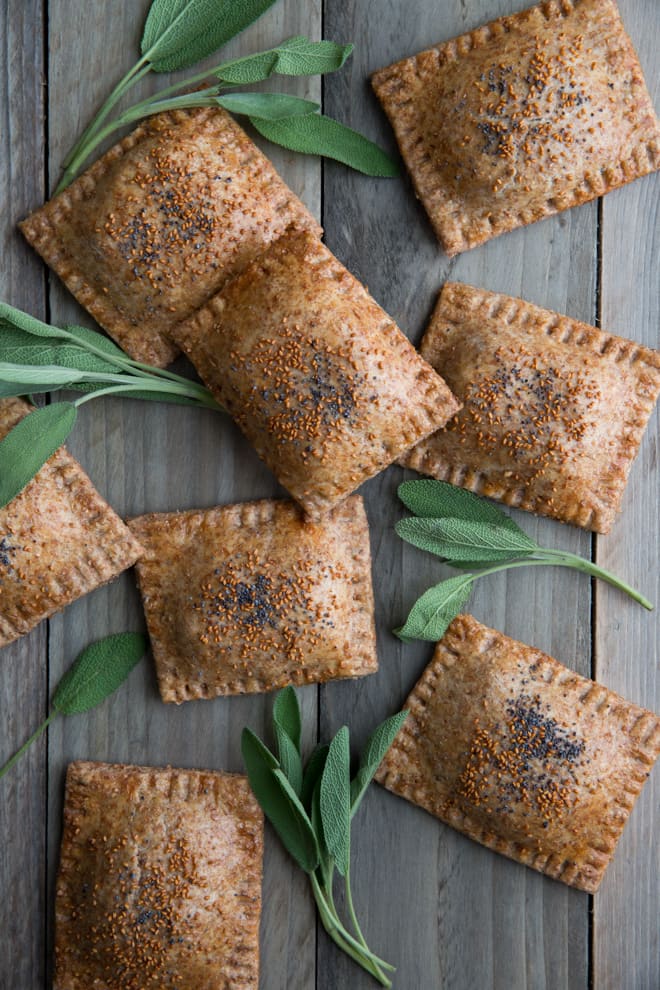 Leftovers Mini Pies
Prep: 20 mins | Cook: 25 mins | Total: 45 mins | Quantity: 8 pies
Ingredients
250g Hodmedod's Suffolk Stoneground Wholemeal Flour
110g chilled butter – diced
Pinch salt
1/2 tsp dried rosemary
4-6 tblsp cold water
Leftover stuffing/vegetables
A little beaten egg for glazing
Hodmedod's Camelina seeds, poppy seeds, sesame seeds – whatever you have available!
Instructions
Tip the flour into a large bowl and add the diced butter and salt.  Using your finger tips 'rub' the butter into the flour until the mixture resembles fine breadcrumbs and you no longer have any large lumps of unmixed butter
Add 4 tblsp of cold water and work gently to bring the mixture together to form a dough, adding more water if needed.  Try not to knead the dough too much as this is what makes it tough once cooked
Once you have the dough formed, flatten it into an oval disc, wrap in cling-film and put in the fridge for at least 30 minutes or overnight (or freeze!)
Preheat the oven to 180 Fan / 200 C / 400 F / Gas 6
Remove the pastry from the fridge and on a floured work surface, roll out the pastry till it's about the thickness of a £1 coin.  Remember to turn the dough frequently as you roll to help prevent the pastry sticking to the table
Cut into shapes with a knife - I made mine 3 x 3 1/2 inch rectangles.  Brush a little beaten egg around all edges of half of your pastry shapes
Place your filling in the centre, flattening slightly - you don't want it too domed or your tops won't fit!
Lay the top pieces of pastry down, pressing the edges together to seal then crimp with a fork
Brush the tops with a little more beaten egg and sprinkle with your available seeds
Bake for 25 minutes until lovely and golden brown
These are lovely warm but just as lovely chilled - great for lunchboxes!
Recipe by The Cook & Him at https://thecookandhim.com/recipes/leftovers-mini-pies/