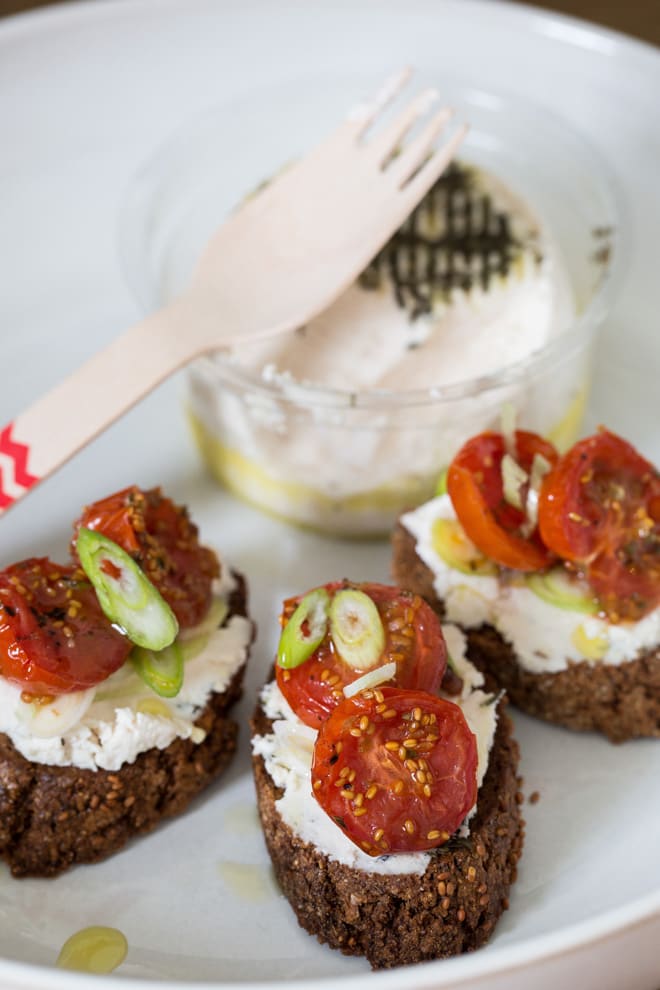 Cherry Tomato and Goat's Cheese Crostini
Prep: 15 mins | Cook: 20 mins | Total: 35 mins | Quantity: 20 crostini
Ingredients
1 baguette – this Rye Bread is lovely when toasted
1 cup/approximately 15 cherry tomatoes – halved
1/2 tsp dried oregano
1 tsp olive oil
2 tsp balsamic vinegar
1/4 cup red wine
1 tblsp Hodmedod's Camelina Seeds
Salt and pepper
Instructions
Preheat the oven to 180 Fan / 200 C / 400 F / Gas 6
Slice the baguette about 1cm thick, place flat on a baking tray in one layer, drizzle with a little olive oil over each slice then bake for 10-15 minutes.  Keep and eye on them, you want them just golden but not burnt!  Leave to cool completely
Put the halved cherry tomatoes into a small bowl and gently toss with  the oregano, olive oil, vinegar, red wine, camelina seeds, a few grinds of black pepper and a sprinkle of sea salt
Tip into a baking dish or tin and roast for 20 minutes.  You can use these warm or chilled - either is delicious!
To serve, simply spread the goat's cheese on the crostini bases and top with a couple of halves of cherry tomatoes.  Drizzle a little of the juice in the baking tin over each crostini too.  Yum!
Recipe by The Cook & Him at https://thecookandhim.com/recipes/cherry-tomato-and-goats-cheese-crostini/