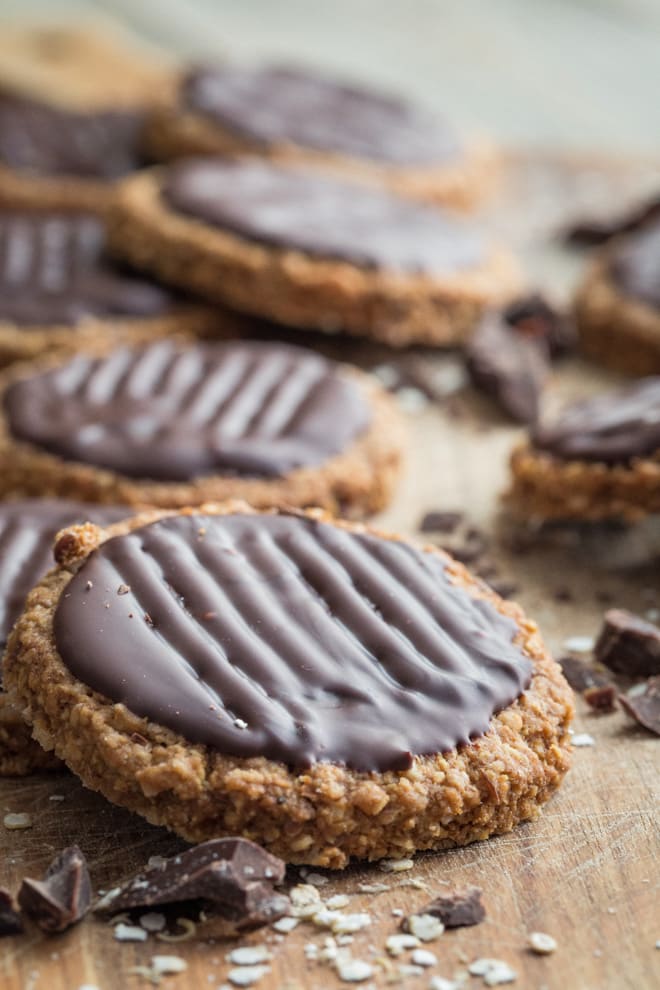 Chocolate Digestives
Prep: 20 mins | Cook: 20 mins | Total: 40 mins | Quantity: 16 - 18 biscuits
Ingredients
3 tblsp coconut oil
2 cups Hodmedod's Quinoa Flakes
2 tblsp flax seeds
1/2 tsp baking soda
1/2 tsp cinnamon
vanilla extract
50g dairy free dark chocolate
1/4 – 1/3 cup cold water
Instructions
Preheat your oven to 160 Fan / 180 C / 350 F / Gas 4 and line a large baking tray (or two smaller ones) with parchment or a silicon mat
Gently melt the coconut oil then set aside
Put 1 cup of the quinoa flakes and all of the flax seeds into a blender and whizz till you have what looks like flour
Tip this into a large bowl along with the remaining 1 cup quinoa flakes, baking soda and cinnamon
Stir the vanilla into the melted coconut oil then add this to the dry ingredients, stirring till everything is well coated. 
Add the cold water 1 tblsp at a time until you have a workable dough - you don't want it too wet or too crumbly as you need to roll the dough out
If you want to keep these biscuits gluten free roll the dough out between 2 sheets of parchment to around 1/2 cm thick.  Then you can make the biscuits whatever shape you fancy - cut into squares with a knife or use a shaped cutter
Keep cutting and re-rolling till you've used all the dough, placing them onto the baking tray(s)
Bake for 15 minutes, turning the tray halfway through baking.  Leave to cool completely
Melt the chocolate in the microwave or over a bain-marie then use a teaspoon to spread a little of the chocolate over each biscuit.  You can leave plain or impress a fork into the chocolate to make stripes 
If you can't wait for the chocolate to set at room temp, put the biscuits in the fridge for 5 minutes.  Enjoy!
Recipe by The Cook & Him at https://thecookandhim.com/recipes/chocolate-digestives/