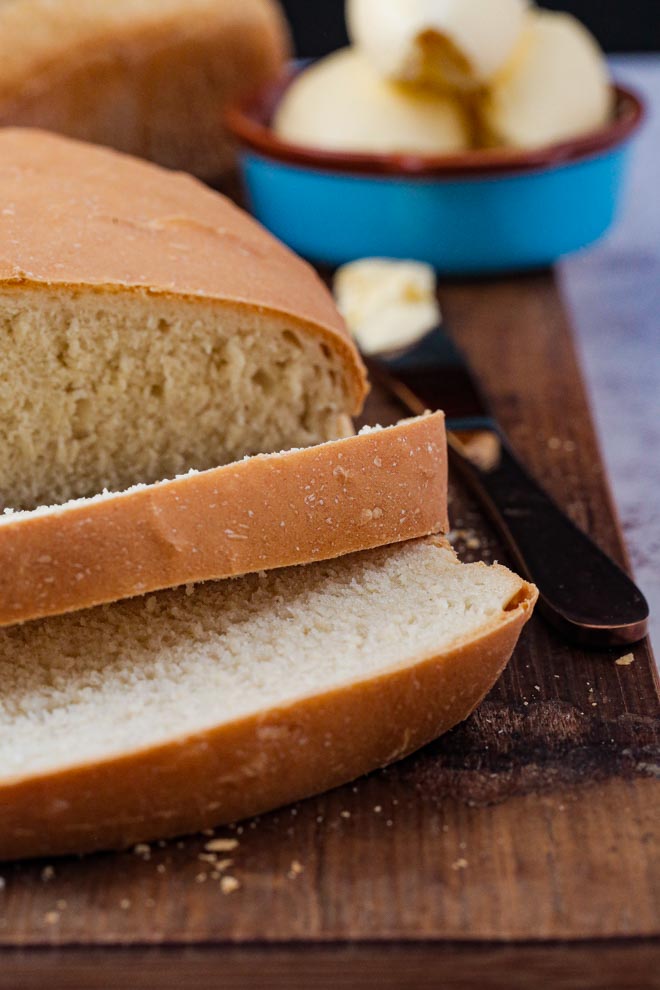 Easy Homemade White Bread Recipe
Prep: 15 mins | Cook: 45 mins | Total: 60 mins | Quantity: 2 loaves
Ingredients
1 cup (250ml) water
1/2 cup (125ml) non-dairy milk
1 tblsp sugar
1 tblsp active dried yeast
4 cups (630g) strong white bread flour
1/2 tblsp salt
1/4 cup (50g) vegan butter
Instructions
Put the water, milk and sugar into a saucepan and warm just until body temperature. It only takes a minute, maybe less - keep testing it so it doesn't get too hot
Whisk in the yeast, cover the pan with a tea towel and leave 5-10 minutes until the top becomes frothy
Tip the flour, salt and butter into a large bowl and use your fingertips to rub the butter into the flour until no lumps of butter remain
Add the frothy yeast mixture to the bowl of dry and mix together until it starts to form a dough. Then tip out onto your work surface and continue kneading for 5-10 minutes until the dough is smooth and elastic
Put the dough into a clean, lightly oiled bowl, cover with a tea towel and leave to prove somewhere warm until doubled in size. This can take anything from 30 minutes to over an hour
Once it's proved tip the dough back out and knock back - this helps eliminate any air pockets. Then shape your dough into free form loaves or use loaf tins
Again leave to prove until roughly doubled in size. Just before it's ready to be baked preheat your oven to 180 Fan / 200 C / 400 F / Gas 6
Bake the loaves for 45-50 minutes until golden. To test if the bread is cooked tap the bottom of one of the loaves - if it's baked it will sound hollow
Leave to cool for 15 minutes in the tins (if using) before turning out onto a wire rack to cool completely
Fresh bread is best only for a day or two, but you can easily slice and freeze any leftovers and use for toast!
Recipe by The Cook & Him at https://thecookandhim.com/recipes/easy-homemade-white-bread-recipe/