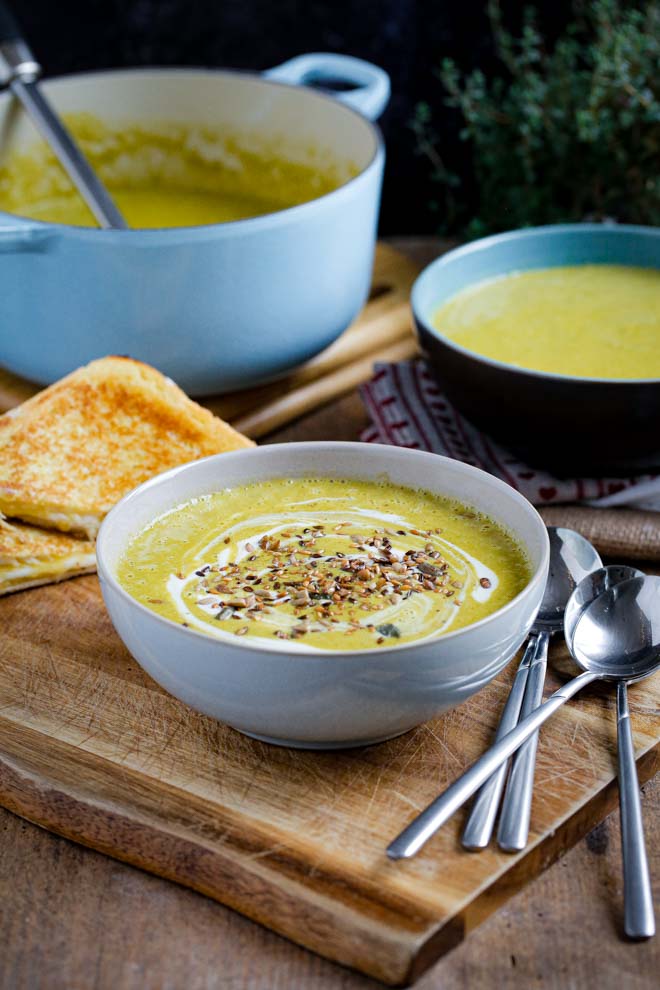 Creamy Broccoli Soup | With Toasted Cheese Sandwiches!
Prep: 10 mins | Cook: 25 mins | Total: 35 mins | Quantity: 4 servings
Ingredients
Soup:
1/2 tblsp oil
1 tblsp (15g) vegan butter
1 large onion – peeled and roughly chopped
2 sticks of celery – roughly chopped
1 large carrot – roughly chopped
4 large cloves garlic – peeled and roughly chopped
3 tblsp oat flour or plain flour
2 + 1/2 cups (900ml) vegetable stock
3/4 cup (180ml) white wine
1 heaped tsp miso paste
2 tblsp nutritional yeast
1 tsp dried mixed herbs
2 heads of broccoli – broken into florets and thick stalk roughly chopped
3/4 cup (180ml) vegan single cream
salt and pepper
Toasted Cheese Sandwiches to serve:
4 slices of bread
margarine or softened vegan butter
couple of handfuls of vegan cheddar and mozzarella – grated
Instructions
Peel and prep all your veggies
Heat a large saucepan over a medium flame and add the butter and oil until the butter is melted
Add the onion, celery and carrot and garlic and cook, stirring from time to time, for a few minutes until just starting to caramelise
Add the broccoli then the flour and stir to coat the veggies
Add the vegetable stock and white wine then stir in the miso paste, nutritional yeast and herbs
Put a lid on the pan and gently bubble for 20-25 minutes until the broccoli is softened. Stir once or twice during this cooking time
Add the cream then use and immersion blender or stand to puree the soup. If using a stand blender you will probably need to do this in a couple of batches
Season with salt and pepper to taste
To make the toasted cheese sandwiches spread 4 slices of bread with margarine or softened vegan butter
Place two of the slices buttered side DOWN in a large frying pan then top with a combination of cheddar and mozzarella
Top with the other two slices of bread, buttered side UP and turn on the heat
Fry for around 5 minutes until crisp and golden on the bottom then carefully flip the sandwiches over and repeat with the other side
Serve immediately with the hot soup!
Recipe by The Cook & Him at https://thecookandhim.com/recipes/vegan-creamy-broccoli-soup/