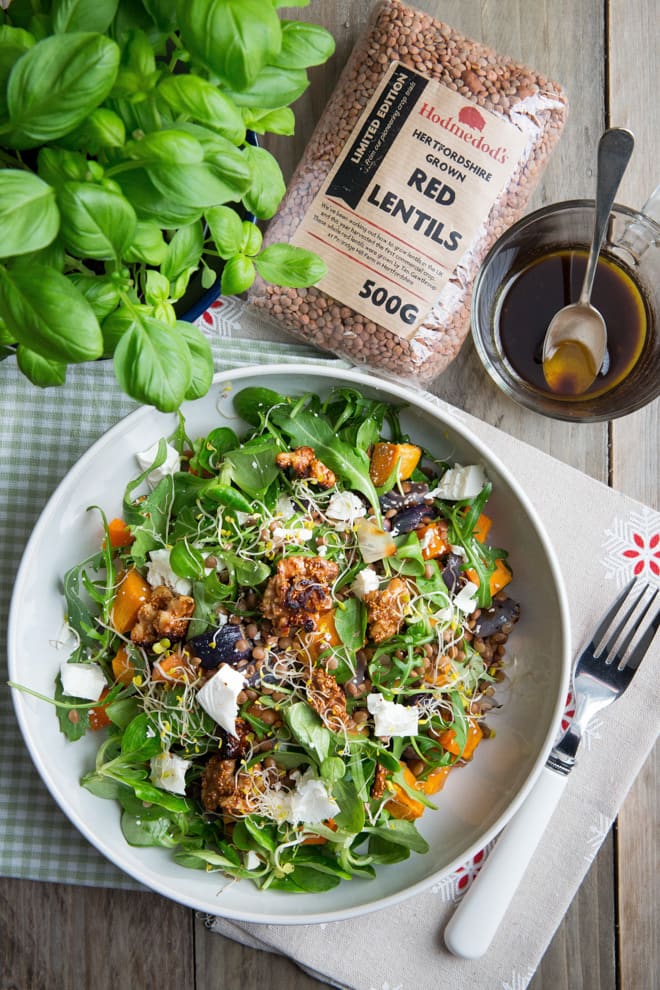 Lentil, Roasted Veg and Feta Salad
Prep: 20 mins | Cook: 25 mins | Total: 45 mins | Quantity: 1 serving
Ingredients
1 carrot – peeled or scrubbed clean and roughly diced
1 red onion – peeled and roughly diced
1 sweet potato – peeled and roughly diced
4 sprigs fresh thyme, leaves only
salt and pepper
Drizzle of olive oil
Optional
pinch dried chilli flakes
1/2 cup Hodmedod's Red Lentils
1/2 cup walnuts
2 tsp maple syrup
1 tblsp Hodmedod's Camelina Seeds
2-3 good handfuls of salad leaves – we love a mixture of baby salad leaves, rocket, shredded little gem, lamb's lettuce and alfalfa sprouts
50g feta cheese
Dressing
2 tsp balsamic vinegar
2 tblsp olive oil
1 tsp mustard – whatever your preference – I've used dijon, wholegrain and English and they all work!
Optional
Instructions
Preheat the oven to 180 Fan / 200 C / 400 F / Gas 6 and line a baking sheet with parchment or a silicon mat
Toss all your prepared veg and thyme leaves with a good pinch each of salt and pepper and a drizzle of olive oil (and optional dried chilli flakes)
Tip onto your prepared baking sheet and roast in the oven for 30 minutes, stirring halfway through
While they're roasting, cook your lentils by putting into a small saucepan and enough cold water to completely cover.  Bring to the boil then simmer for around 15 minutes until soft.  Drain and set aside
For the maple glazed walnuts put the walnuts, maple syrup and camelina seeds into a small frying pan and toss frequently over a medium heat until the outsides of the walnuts begin to caramelise.  Set aside to cool
Whisk together your dressing ingredients (or use a sealed container to shake together!)
To assemble put all your salad leaves into a large bowl, tip on the lentils, cooked vegetables and dressing and toss everything together until well coated in the dressing. 
Put into a serving bowl and scatter over the walnuts.  Enjoy!
Recipe by The Cook & Him at https://thecookandhim.com/recipes/lentil-roasted-veg-and-feta-salad/