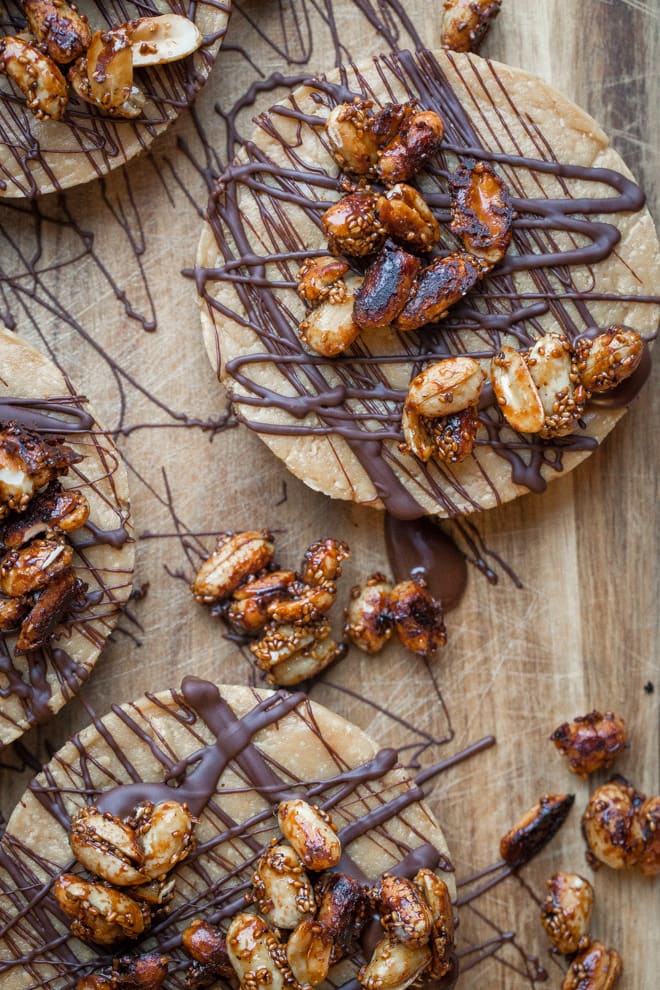 Peanut Butter Truffle Tart
Prep: 45 mins | Cook: 0 mins | Total: 45 mins | Quantity: 4 tarts
Ingredients
Crust
1 cup mixed nuts
4 dates – stone removed
1 heaped tblsp raw cacao powder
1 tblsp coconut oil – melted
Top layer
1 cup Jackpot Peanut Butter
1 tblps coconut oil -melted
1/3 cup maple syrup
Topping
1/3 cup raw jumbo peanuts
1 tblsp camelina seeds
1 tblsp maple syrup
50g dairy free dark chocolate
Instructions
If you're not using loose bottomed tins cut a circle of greaseproof to fit the bottom of each tart tin - this helps to get them out of the tin!
Put the nuts and dates (stone removed) into a food processor and blitz until finely chopped.  Add the raw cacao powder and melted coconut oil and pulse till well incorporated
Divide this mixture between 4 mini tart tins, push out to the edges of the tin, flattening as you go - I use my fingers or the back of a teaspoon to do this
Put the peanut butter, melted coconut oil and maple syrup into your food processor (no need to wash it from blitzing the nuts) and blend until well mixed and smooth
Again, divide this mixture between the four tins pushing out to the edges and smoothing/flattening as you go
Put the tins into the fridge for an hour or so until chilled
To remove from the tins run a clean knife round the edge of each tin and tip out - don't worry, the tarts will stay intact
To make the caramelised nuts put the jumbo peanuts, camelina seeds and maple syrup into a small frying pan and toss for a few minutes over a medium heat until caramelised.  Set aside to cool
Break the chocolate into pieces and melt in the microwave or over a bain-marie then use a teaspoon to drizzle over the tarts
Before the chocolate completely sets sprinkle over the caramelised nuts
Notes
The mini tins I used were 4 inches/10 cm in size. 
If you use smaller ones you'll get more tarts! 
Or you could make one large tart and serve it in slices if you don't have any individual mini tins!
Or you could even make them in a cupcake tin - just make sure to put a disc of parchment in the bottom to make them easier to remove once chilled!
Recipe by The Cook & Him at https://thecookandhim.com/recipes/peanut-butter-truffle-tart/