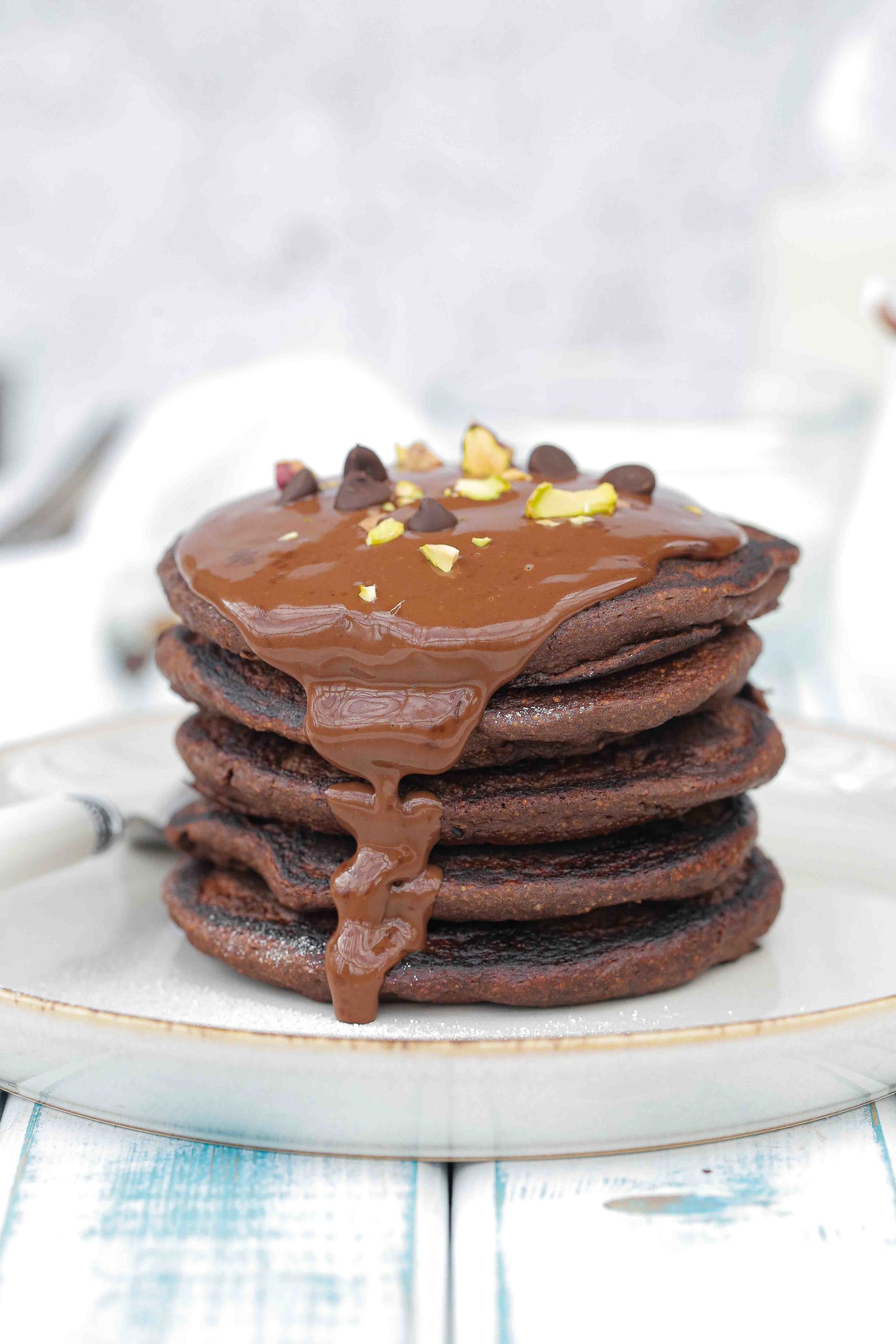 Chocolate Pancakes With Chocolate Sauce
Prep: 20 mins | Cook: 15 mins | Total: 35 mins | Quantity: 12-14 pancakes
Ingredients
Pancakes:
2 cups (200g) rolled oats
1/4 cup (55g) light brown sugar
1 teaspoon baking powder
1 teaspoon bicarbonate of soda
1/3 cup (30g) raw cacao powder
1 cup (225ml) plant milk
1 teaspoon vanilla extract
1 tablespoon apple cider vinegar
3 medium bananas – peeled
Chocolate Sauce:
1/4 cup (60g) dairy free dark chocolate
1/2 cup (125ml) vegan cream
1 tablespoon caster sugar
1 tablespoon (15g) vegan butter
Instructions
Put all the pancake ingredients into a blender cup and whizz until smooth
Heat a large frying pan or skillet over a medium heat then spoon or pour in 2-3 piles of the mixture, spreading each one out slightly and spacing each pancake apart from the others.
Cook for 1-2 minutes until bubbles start to form on the top. Flip each pancake over carefully (but confidently!) and cook for another minute on the other side
Repeat until you've used all the pancake batter - keep them warm in a low oven or reheat in the microwave to serve
Sauce method 1 - melt together the chocolate and cream in a microwave then stir in the sugar and butter until smooth
Sauce method 2 - heat the cream and sugar in a saucepan then pour over the chocolate and butter, stirring until smooth
Notes
Store any extra cooled pancakes in the fridge - reheat in the microwave or even toaster!
Recipe by The Cook & Him at https://thecookandhim.com/recipes/chocolate-pancakes-with-chocolate-sauce/