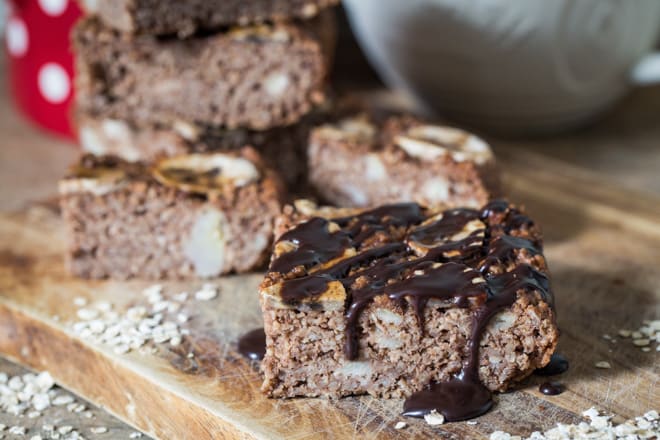 Chocolate Banana and Peanut Butter Baked Oats
Prep: 15 mins | Cook: 45 mins | Total: 60 mins | Quantity: 8 bars
Ingredients
1 tblsp ground flax seeds
2 large ripe bananas (the riper the better!)
2 heaped tblsp peanut butter
1 cup unsweetened nut milk
1/2 tsp vanilla extract
2 cups rolled oats
1 tsp baking powder
1 tsp ground cinnamon
Optional
1 banana for decoration
sprinkle of coconut sugar
Instructions
Preheat your oven to 170 Fan / 190 C / 375 F / Gas 5 and line a 7 x 9 inch (18 x 24 cm) baking tin or dish with parchment, covering the base and sides
In a small dish or mug mix the ground flax seeds with 3 tblsp cold water and set aside
Peel 2 ripe bananas, break into chunks and put in a large(ish) bowl.  Mash with a potato masher or fork
Add the peanut butter and Sweet Freedom Choc Shake and whisk everything together
Whisk in the flax egg, nut milk and vanilla essence
Add the oats, baking powder and cinnamon and stir till well mixed
Pour into the prepared tin then top with optional sliced banana and sprinkle with coconut sugar if using (this just gives a lovely caramely coating over the top)
Bake for 45 minutes until risen and set.
Serve immediately or allow to cool completely in the tin before cutting into bars
Store in the fridge for up to 1 week or freeze in cut portions for a very quick grab and go breakkie!
Recipe by The Cook & Him at https://thecookandhim.com/recipes/chocolate-banana-and-peanut-butter-baked-oats/