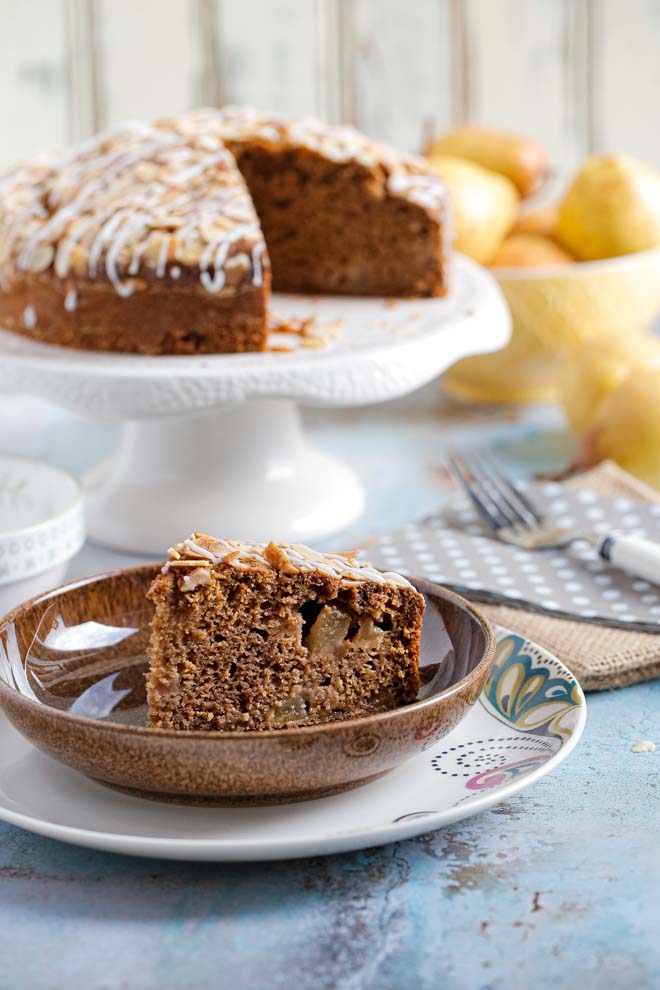 Pear and Almond Cake
Prep: 30 mins | Cook: 75 mins | Total: 105 mins | Quantity: 10 slices
Ingredients
Cake mix:
5 small firm pears
1 tsp ground cinnamon
1 tsp ground nutmeg
1 cup (250ml) almond milk
1/3 cup (65ml) light vegetable oil
1 tblsp apple cider vinegar
1 + 1/2 cups (250g) plain flour
3/4 cup (120g) coconut sugar (or sub with light brown sugar or golden caster sugar)
1/2 cup (60g) ground almonds
1/2 tsp bicarbonate of soda
2 tsp baking powder
Topping:
1/3 cup (35g) flaked almonds
2 tblsp icing sugar
Instructions
Peel, core and roughly dice the pears then put in a saucepan with the cinnamon and nutmeg
Cook over a low heat for 10 minutes, stirring from time to time until softened. Set aside to cool while you make the cake batter
Preheat your oven to 160 Fan / 180 C / 350 F / Gas 4 and grease, flour and base line an 8 inch cake tin
In a jug, whisk together the milk, oil and cider vinegar and set aside
In a large bowl whisk together the flour, sugar, ground almonds, bicarb and baking powder
Pour the jug of wet ingredients into the bowl of dry and mix very well together - stir up from the bottom of the bowl to make sure no flour pockets remain
Stir in the cooked pears then pour the mixture into your prepared tin
Sprinkle the flaked almonds over the top of the cake and use your fingers to very gently push them into the cake batter - this helps stop them falling off!
Bake for 1 hour and 15 minutes or until a skewer or cocktail stick inserted into the centre of the cake comes out clean with no raw cake clinging to it. If not, just return the cake to the oven and bake for a few more minutes, checking again
Leave the cake to cool in the tin for 15 minutes before lifting out and placing on a wire rack to cool completely
Once cooled, mix the icing sugar with just enough water (it really doesn't take much!) to make a thick but runny paste
Drizzle the icing over the top of the cake and allow to set for 5 minutes
Serve immediately and store any leftovers in an airtight container at room temperature for 3-4 days
Notes
Instead of making runny icing you can also simply dust the top of the cake with icing sugar once it's cooled or glaze it as soon as it comes out of the oven with maple or agave syrup. You could even use some warmed apricot jam for a really sticky, shiny glaze!
Recipe by The Cook & Him at https://thecookandhim.com/recipes/pear-and-almond-cake/