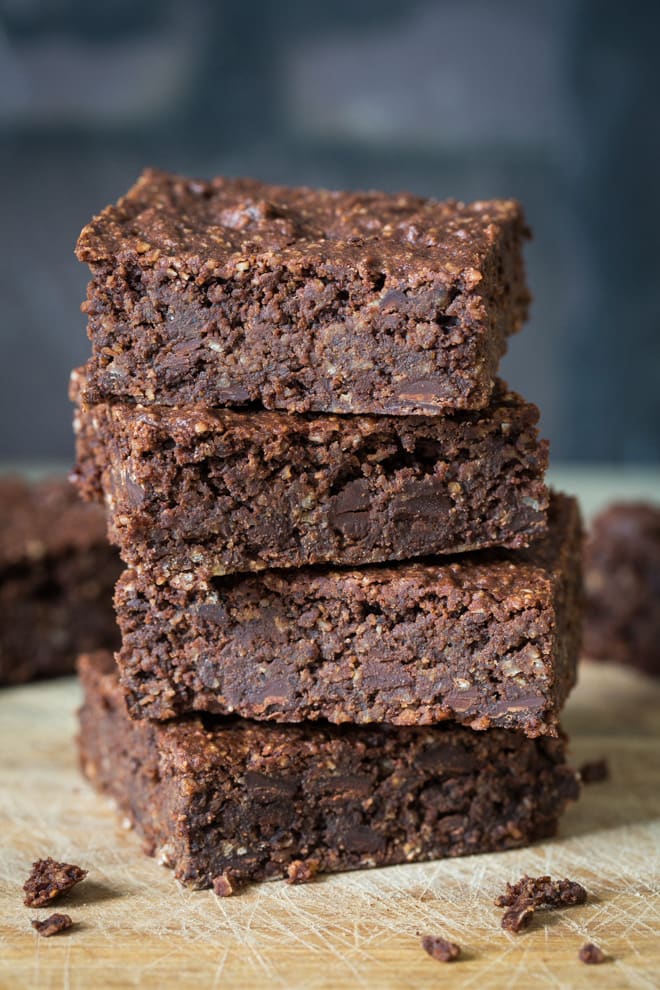 Chocolate and Blackcurrant Brownies
Prep: 30 mins | Cook: 30 mins | Total: 60 mins | Quantity: 12 bars
Ingredients
2 tblsp ground flax seeds
150g dairy free dark chocolate (see note for recommendations)
2 tblsp coconut oil
1 cup rolled oats
1/2 cup ground almonds
2 tblsp Arctic Power Blackcurrant Powder
1/2 cup coconut sugar
1 tblsp raw cacao powder
1 tsp baking powder
1/2 cup coconut yoghurt
1/2 tsp vanilla extract
1/2 cup dairy free chocolate chips
Instructions
Preheat your oven to 170 Fan / 190 C / 375 F / Gas 5 and line a 7 x 9 inch / 18 x 24 cm tin with parchment, covering the base and sides
In a small bowl or mug mix the ground flax seeds with 5 tablespoons of water and set aside
Break the chocolate into pieces then melt with the coconut oil in a microwave or over a bain-marie (a heatproof dish set over a saucepan of barely simmering water)
In a food processor or blender whizz the oats to a very fine powder.  Tip into a large bowl along with the ground almonds, blackcurrant powder, coconut sugar, raw cacao powder and baking powder
Tip in the yoghurt, vanilla, flax egg, melted chocolate and chocolate chips and stir until well combined
Spoon into the prepared tin and bake for 30 minutes until set - it will firm up more as it cools!
I'd recommend leaving it at least a few minutes out of the oven to prevent burnt mouths!  It also cuts better when it's left to cool!
Notes
We've tried a LOT of vegan chocolate to find the best - all in the name of research of course:
Doisy & Dam - Maca, Vanilla and Cacao Nibs - some of the best damn chocolate I've ever tasted!
Conscious Chocolate - The Dark Side - lovely company, raw and handmade
Callebaut - Dark Chocolate Callets - a little more expensive but this was the stuff I used in a professional kitchen.  This is serious chocolate ?
Recipe by The Cook & Him at https://thecookandhim.com/recipes/chocolate-and-blackcurrant-brownies/