The Best Vegan Chocolate Review
We love chocolate, and let's be honest, who doesn't? But, as vegans, we can often find ourselves limited and then pushed into eating plain old dark chocolate because, well, they just don't put milk in it! But chocolate is supposed to be creamy, and kinda sensual.  It's supposed to melt at body temperature, coat your mouth and leave you wanting more.
Not all vegan chocolate does this.  So, purely for the benefit of you guys, we have spent weeks tasting literally dozens and dozens of dairy free chocolate, from all the major UK supermarkets and online retailers. We have narrowed these down to the ones we love and have given our thoughts on them here.
Following this vegan chocolate review guide, you can be sure that there'll be no Mockolate here!
The Review
We contacted a large number of companies who provided us with their vegan chocolate to review.  Some of the companies we contacted declined to be involved but we bought their products anyway to ensure that this review was fair, unbiased and included all of the major brands. We also visited, Tesco, Asda, Sainsbury's, Aldi, Lidl and Morrison's and bought everything that was labelled as vegan chocolate for this review.
Wherever possible we have provided a link so you can buy the products directly, and in the interests of full disclosure, some of the links are affiliate links which pay us a small commission for our referral – at no extra cost to you!
The products below are in alphabetical order and not in order of preference.  As we said, if they made it to the review, they are all good!
Adams Cold Pressed Chocolate
Coconut & Banana £4.99 (70g) – Direct
Mint or Goji and Pistachio Sample Bars £3.00 (2 x 22g) – Direct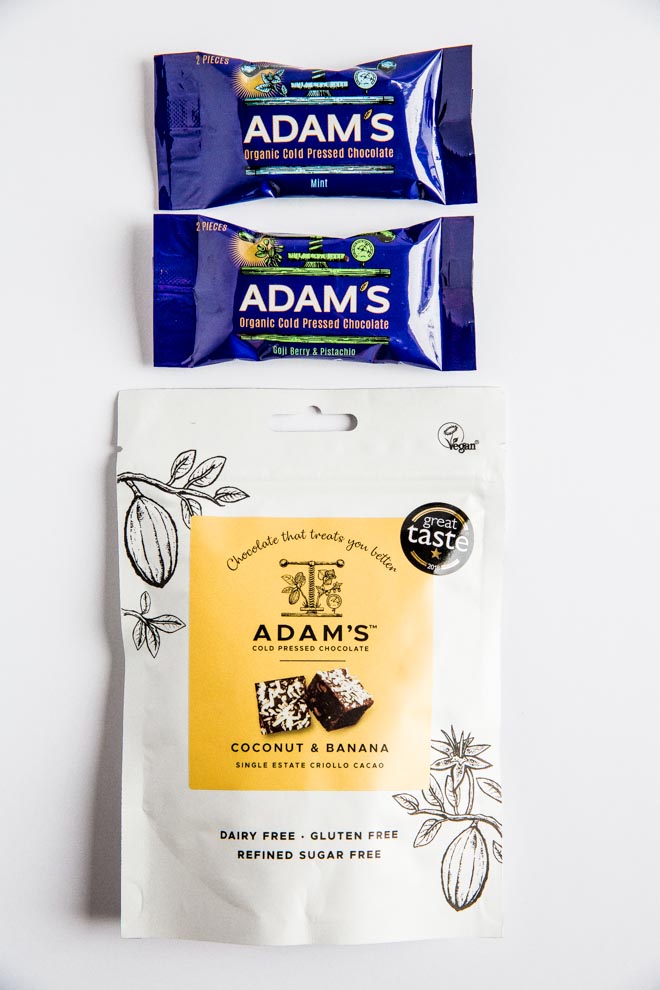 Coconut & Banana
Him – Really smooth texture with crunchy bits of cacoa nibs, not too sweet but definatly not too bitter – I like that a lot
The Cook – Lovely little bite sized pieces, fantastic rich and dark flavour.
Goji Berry and Pistachio
Him – Really nice, great flavour of pistachio comes through subtly
The Cook – Lovely chewy goji berry and a nice crunch from the pistachio – really quite decadant
Mint
Him – Really good and a nice strong mint flavour – just as good as an After Eight mint!
The Cook – Personally I'd like it a little sweeter, but a wonderfully smooth texture and very minty.
Variety Pack £6.00 (3 x 40g bars) – Amazon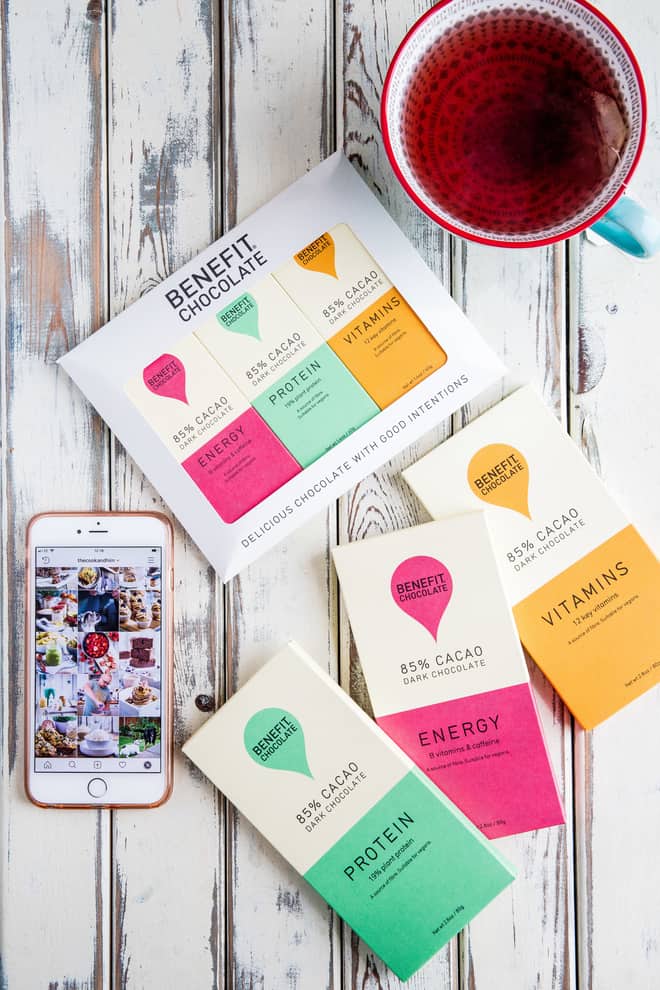 The variety pack is presented in a lovely cardboard sleeve, making it perfect for a chocolate loving vegan friend or, just to snaffle all to yourself. There are three different flavours in the Benefit Chocolate Variety Pack:-
Plant Protein Vegan Chocolate
The Protein Bar is enriched with almond butter, coconut and pea protein which contributes to the maintenance of normal bones and muscle mass, and you know how much "Him" loves his plant based protein!
Him – Personally, a little too bitter for me, but we all know I have a sweet tooth! It melts in the mouth very well and is very smooth.
The Cook – Very nice, it has a lovely rich and dark flavour, nice and creamy and for me and just about sweet enough.
Vitamins Vegan Chocolate
The Vitamins Bar gives you 50% of your recommended daily intake of 12 vitamins which all contribute to the normal function of the immune system, so that sounds like something we had to try!
Him – Very rich, very dark but again, just a little too bitter for my tastes.
The Cook – Lovely firm texture, melts wonderfully and quite bitter, but for me that's not a bad thing!
Energy Vegan Chocolate
The Energy Bar delivers three key B vitamins including B5 B6 and B12 which contribute to a normal energy yielding metabolism, and we know important B12 is for us Vegans.
Him – Again, just too bitter for me, being perfectly honest, not one for me!
The Cook – Fantastically rich and creamy, if you're having a dark chocolate craving, this will hit the spot!
We spoke with Aviva from Benefit Chocolate  who told us that they are a truly independent family-owned business that places superior quality and taste at the heart of its brands. Every product uses only the finest ingredients, farm-to-bar, including the best cocoa beans in the world. They have the years of expertise to craft innovative products and they create chocolate that always tastes great and is loved across generations.
Benefit Chocolate, which comes in three varieties; PROTEIN, ENERGY and VITAMINS, was launched at the start of 2018 following consumer research that showed a demand for great tasting chocolate that's also good for you. The chocolate in the bars is different from your regular bar because it has higher levels of cacao and lower levels of sugar compared to the market average (85% cacao compared to 54%).  In addition, cacao offers numerous natural health benefits including high levels of antioxidants and flavanols for increased blood flow and fibre; as well as being a great source of calcium.
Booja Booja – Vegan Hazelnut Chocolate Truffles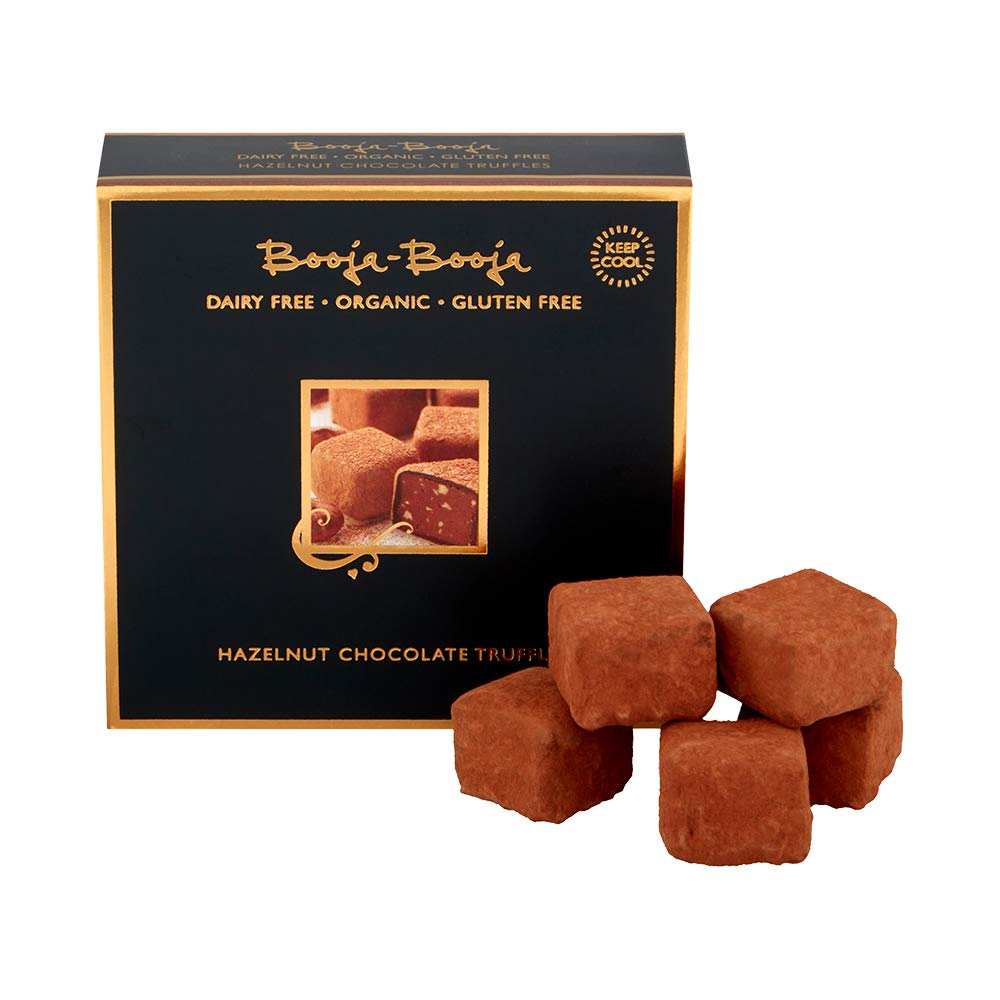 Booja Booja have a wide range of Chocolate Truffles, all Vegan and they do a great dairy-free ice cream too. We tried the "Vegan Hazelnut Chocolate Truffles" and we're highly impressed!
Him – They're actually surprisingly tiny, dainty even. They are beautifully packaged and would made a fantastic gift for any vegan or someone with a dairy intolerance. They're perfectly sweet with a bitter dusting, something usually I am not a fan of, but these are really good.
The Cook – These are really nice and I love the texture. Personally I could take them a little sweeter but that not stopping me pop pop popping them in my mouth!
Cachao – Pure
£9.50 (60g) – Direct from Cachao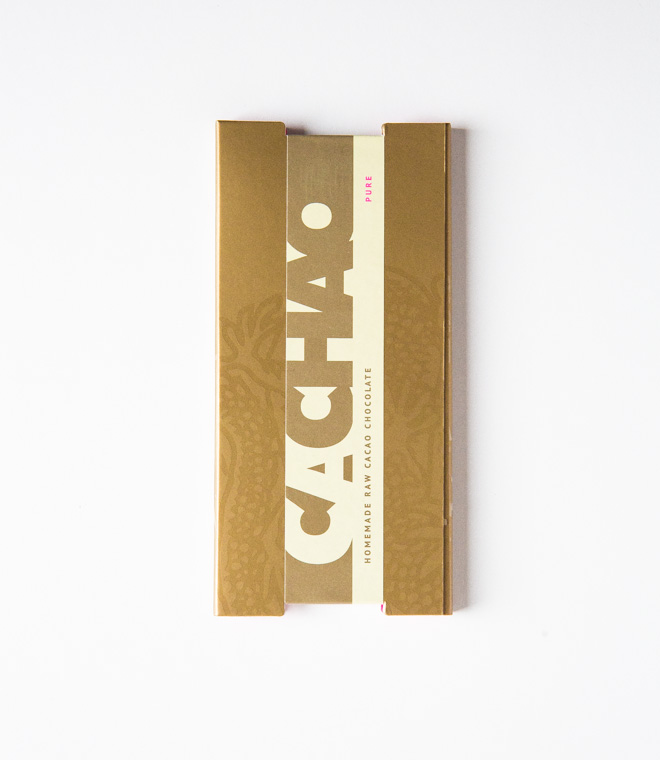 This bar of chocolate seems really special before you even open it, Beautifully packaged in its gold sleeve with a vibrant pink liner. Reading about the process its clear that this is handmade with great care and attention and we're expecting big things.
Him – This is seriously rich and decadent chocolate, and by weight, its one of the most expensive bars in our review, and that really come through in its quality, super smooth, super dark and really special. If you're in the mood for a very special bar of dark chocolate then this is undoubtedly for you. Another one that would make a very special gift for a vegan or anyone looking for dairy free chocolate.
The Cook – This is so very dark and actually gets better the more you eat. Once your taste buds 'acclimatise' to its richness this is a very special bar of chocolate and one I'd definitely recommend. You can tell its a raw chocolate as it not too creamy, quite brittle almost.
We spoke to Amara from Cachao who told us:-
"When it comes to producing the finest chocolate, ingredients and process are everything…. Master chocolatier Tino Wolter spent thirty months perfecting recipes and sourcing the highest quality ecologically farmed products. He studied ancient methods and tested hundreds of recipes in search of the perfect balance between taste, texture and nutrition. The result was Cachao: chocolate in its most pure and natural form, rich in nutrients and full of flavors."
"Fresh ingredients from the best organic farmers within driving distance of our chocolate manufactory. We're purists at heart and keeping things as nature intended is important to us- it's the reason we collaborate with producers that have a deep respect for the land and food they cultivate. Fruits, herbs and nuts are harvested during peak season and processed locally or on-site by Tino Wolter. Coffee does not grow in Europe, so when it came to selecting a coffee supplier we decided to partner with a local "bean to cup" roasting company in Palma with values that mirror our own."
"Most commercially available cacao is roasted at 110°C- 160°C for 30 minutes, a speedy process that depletes the plant of it's health benefits. Unroasted cacao undergoes a very different process in order to preserve its many flavours and natural qualities- the beans spend 2 weeks fermenting and are laid out to dry under the sun. We source our cacao from food forests in Peru and Ecuador where where it grows in a sustainable environment amongst mango, pepper, vanilla and coconut palm trees. Relying on ancient wisdom, local workers use special techniques to cultivate, harvest and process the cacao. After it arrives at the Cachao Chocolate Manufactory the cacao undergoes a carefully controlled production process lasting 4 days to ensure the temperature of the chocolate never exceeds 42°C."
Choctaw – Vegan Friendly Truffles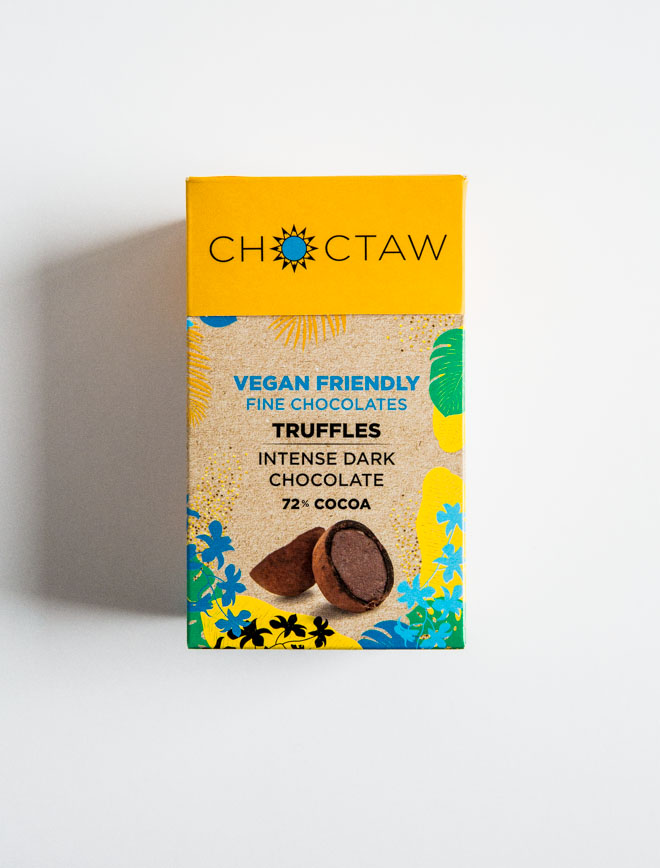 Him – Much too bitter for me, the bitter cacao dusting on the outside is so strong that, even once I bite into the truffle, its all I can taste – defitantly one for the bitter chocolate fans, but not me. I'm not going back for seconds and that, ladies and gentlemen, is a very rare thing!
The Cook – Yummy chocolate dusted shell with a smooth and rich dark filling, really delicious. I'm glad "Him" doesn't like them – all the more for me!
Doisy & Dam Vegan Chocolate
Maca, Vanilla & Cacao Nibs £5.00 (80g) – Amazon
Coconut & Lucuma £5.00 (80g) – Amazon
We love "Doisy and Dam" and have made lots of things using their chocolate over the last few years, so we already know just how good their chocolate is in vegan baking.  But we've never really sat down and just eaten it raw as it were.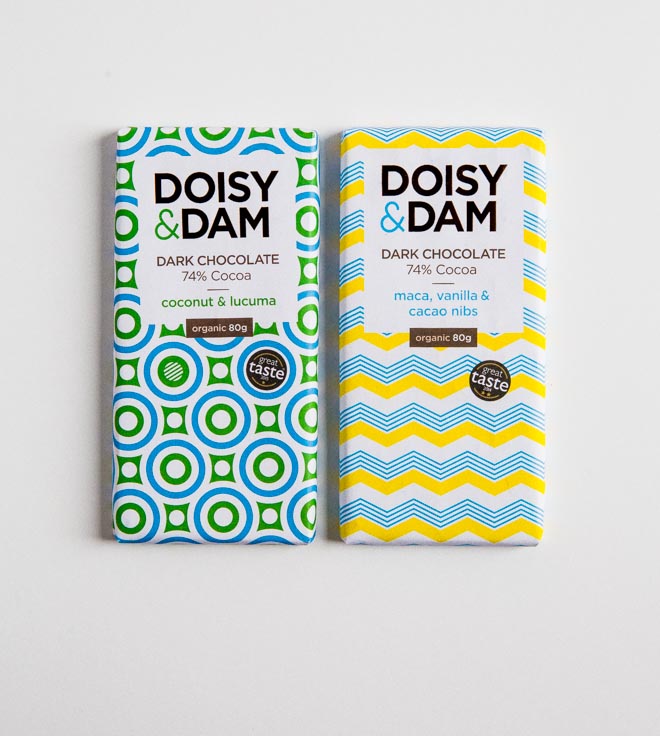 Maca, Vanilla & Cacao Nibs Vegan Chocolate
Him – Now I really like this, vanilla and chocolate is always going to be a good combination , the maca is such a subtle taste anyway so you'd hardly notice it but the crunchy cacao nibs are a wonderful addition, a nice sudden burst of gentle bitterness.
The Cook – Wonderful, nice dark chocolate, not smooth but that's expected with the cacoa nibs, a really lovely flavour. This stuff eats just as well as it cooks.
Coconut & Lucuma Vegan Chocolate
Lucuma? Well, its crammed full of antioxidants, vitamin B, minerals, fiber and carbohydrates, has a super low GI score meaning it's a great (and oh-so-healthy) sweetener.
Him – Not too bitter, perfectly sweet enough (and you know I have a sweet tooth), the coconut comes through nice and strong too.
The Cook – Really good quality chocolate. Not too dark and not too coconutty, it leaves a really nice aftertaste too.
Kinnerton – Just Chocolate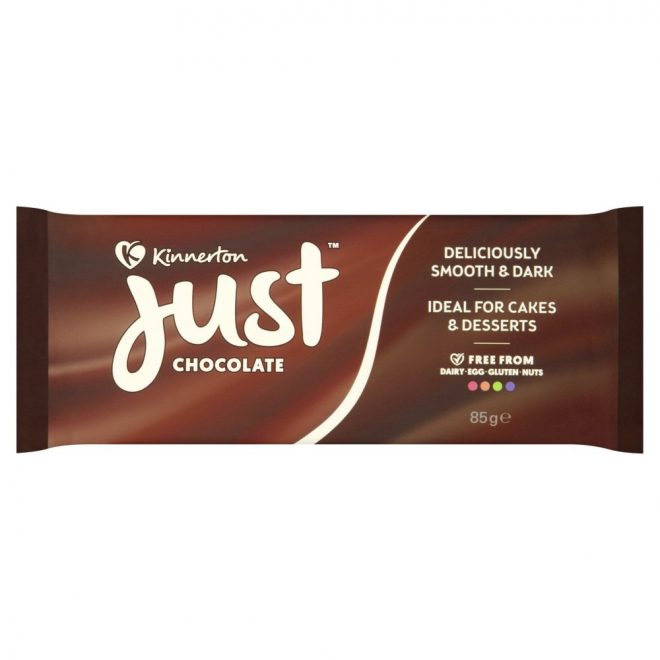 Him – Actually really good. Considering this is the parent company of NOMO Chocolate I'm not surprised as its just as good (oddly twice the price though?)
The Cook – Absolutely lovely, rich and dark flavour, almost with a hint of coffee – defiantly one I'd recommend.
Livia's – Million Squares – Salted Caramel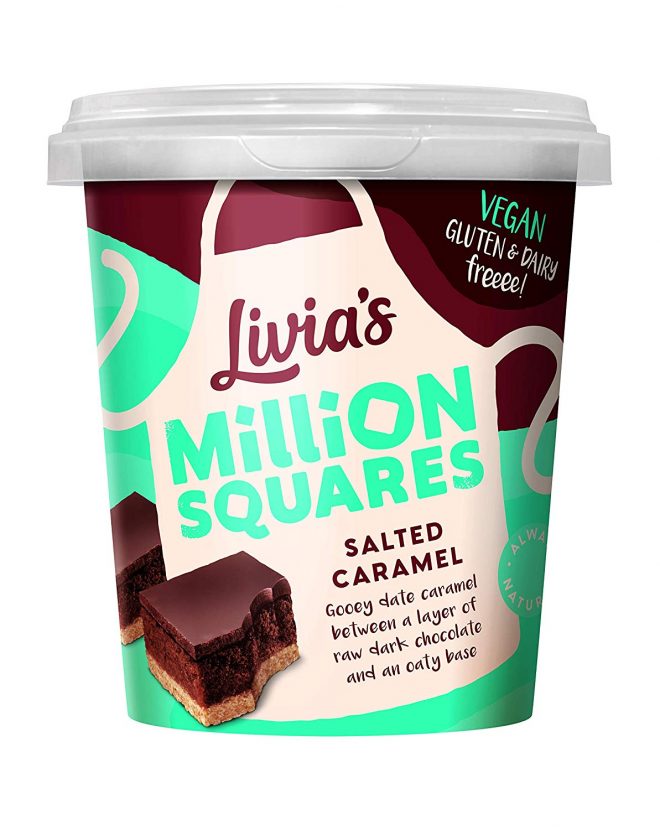 Him – All natural ingredients, nice and gooey, lovely biscuit base – could stand to be a little sweeter, maybe a little too bitter.
The Cook – Nice layers, not too salty, could stand to be a little more chocolatey. Lovely and gooey though!
Moo Free – Original Dairy Free Chocolate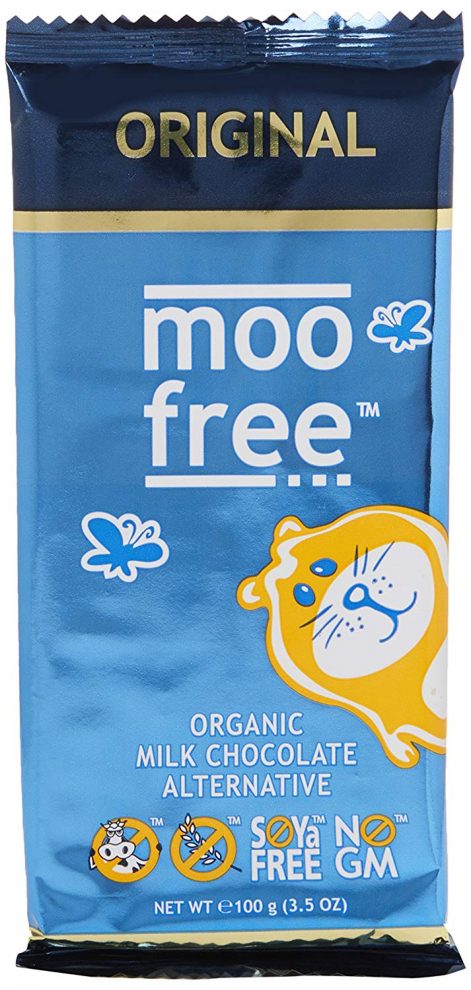 Him – Nice and creamy, reminds me of the chocolate that you used to get as Christmas tree decorations when we were kids, that's not meant as a criticism, its just a taste that takes me back.
The Cook – Smooth, creamy and a little too sweet for me! However I love their chocolate chips for baking with!
Nomo – Dairy Free Chocolate
Deliciously Dark £24.00 (12 x 85g) – Amazon
Deliciously Creamy £24.00 (12 x 85g) – Amazon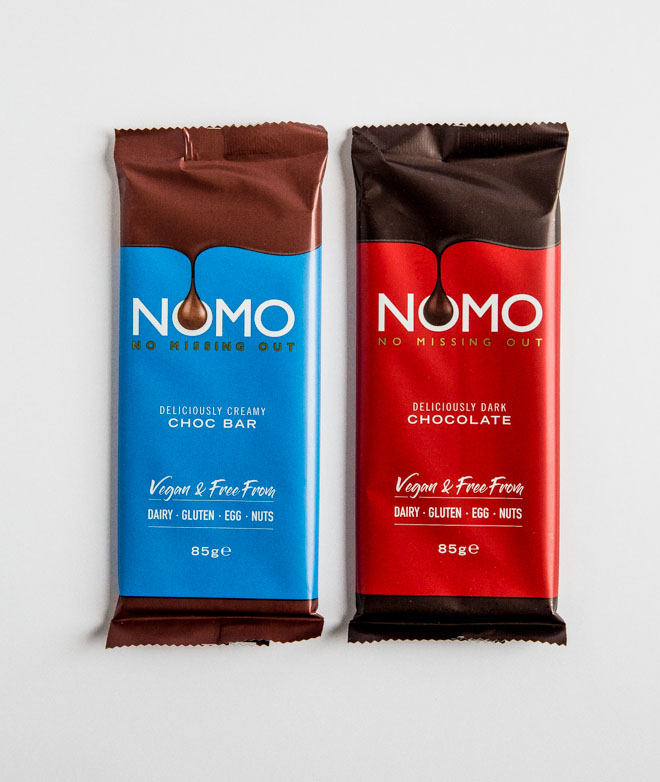 NOMO Deliciously Creamy Dairy Free Chocolate
Him – Now, this stuff is really, really good, perfect texture, wonderfully creamy, coats your mouth like a good chocolate should. Seriously as good as a bar of Dairy Milk. These guys have got it right, fantastic product, great price and now available in so many supermarkets. Definitely one to try.
The Cook – Pretty much what "Him" said, there really is nothing to tell this apart from a good milk chocolate, one of the best if you're looking for a quick chocolate fix.
NOMO Deliciously Dark Dairy Free Chocolate
Him – I really hope these guys continue to make this stuff, its so good.
The Cook – NOMO know what they are doing! Not overpowering, not too sweet, really really good.
Pure Heavenly
Chocolate Orange £3.50 (80g) – Direct
Dark £3.50 (80g) – Direct
Mint £3.50 (80g) – Direct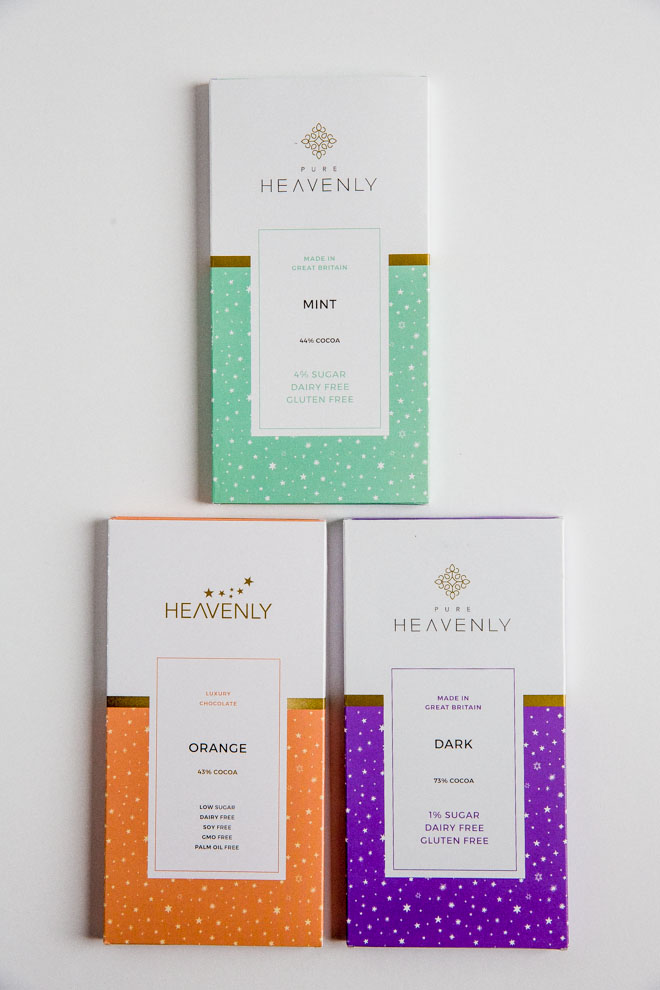 We tried a few flavours from the extensive range of Pure Heavenly, the full range is Dairy free, Soy Free, Gluten Free, Palm Oil Free and GMO free and has less than 1 teaspoon of sugar in each bar.
Pure Heavenly Orange Dairy Free Chocolate
Him – Wonderfully smooth texture, not too bitter and yet not too sweet with a lovely subtle orange flavour. Very reminiscent of the classic Terry's Chocolate Orange but a vegan and dairy free version – love it!
The Cook – Lovely texture and flavour, the orange is defiantly there but its not too overpowering and doesn't linger on your taste buds, which is a very good thing!
Pure Heavenly Dark Dairy Free Chocolate
Him – This is the best of all the dark chocolate bars I've tasted, not too bitter but you can still tell it's supposed to be a dark chocolate.
The Cook – Beautifully creamy and perfectly sweet enough. Not cloyingly rich, just a really lovely plain dark chocolate.
Pure Heavenly Mint Dairy Free Chocolate
Him – Really tasty indeed, fantastic strong mint taste without being excessive, great texture and perfectly sweet enough.
The Cook – Absolutely gorgeous! The smell reminds me of after eight mints and takes me right back to my parents house at Christmas as that was the only time we ever got them as a treat! The taste is delicious, rich, dark and just minty enough.
Sainsbury's – Free From Range
White Choc Bar (100g) – £1.00 Direct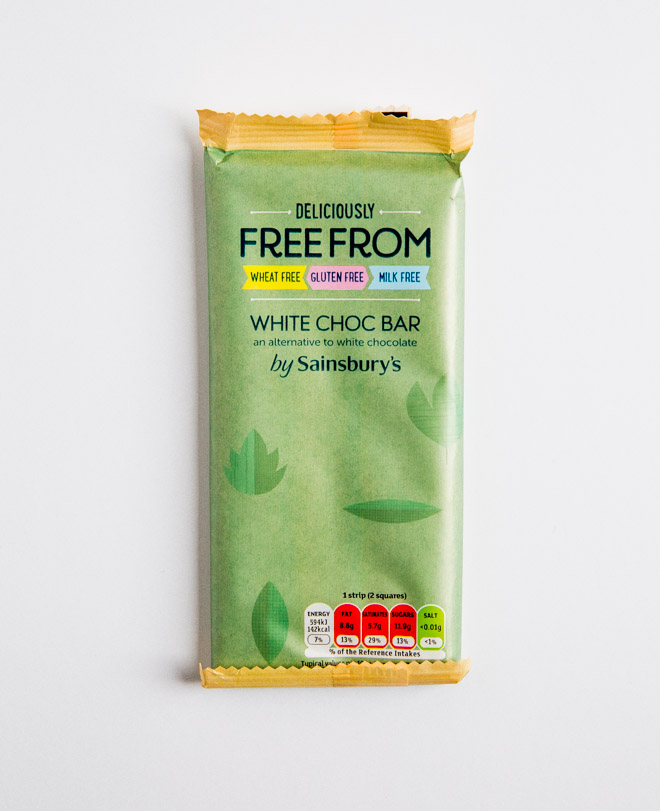 Sainsbury's Free From Choc Bar
Him – Really good! I am a massive fan of white chocolate which is something I have struggled for find as a vegan, this gets a big thumbs up from me.
The Cook – You honestly wouldn't know this was vegan chocolate! A little overly sweet but white chocolate can very often be that way, nice and smooth and creamy – I like it!
Seed & Bean
Cornish Sea Salt £11.00(4 x 85g) – Amazon
Espresso £12.50(4 x 85g) – Amazon
Coconut & Raspberry £11.00(4 x 85g) – Amazon
Manderin & Giner £8.60 (4 x 85g) – Amazon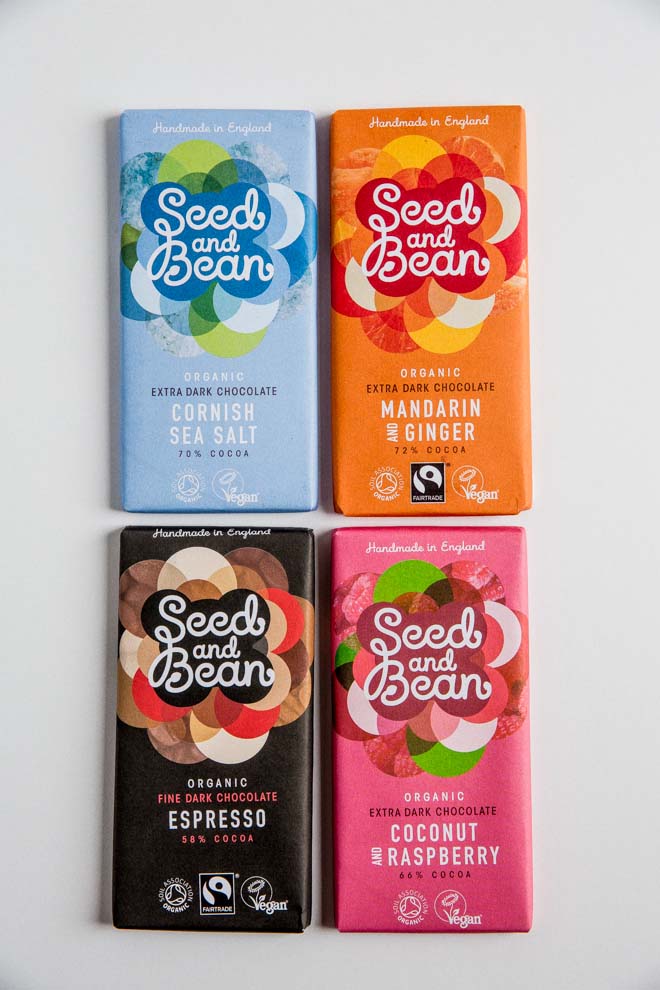 We tried a few flavours from the extensive Seed & Bean Vegan and Dairy Free range. With a mouth-watering 15 different flavours to choose from, their award winning, wild variety means that there's a tasty treat for everyone to enjoy.
Cornish Sea Salt
Him – Really nice! I'm not usually a fan of salted chocolate but this might have just converted me, so much so that I've just eaten the rest of the bar 🙂
Sam – Lovely, rich and dark, not overly salty, one I'd defiantly recommend.
Coconut & Raspberry
 Him – Honestly, thats really, really nice. I'm not a fan of coconut in anything, but I love raspberry. A wonderful strong raspberry taste and fantastically creamy chocolate – it's a yes from me.
The Cook – Wow, that's exceeded my expectations!  As this is made with coconut oil there is no gritty coconut texture and the combination of dark chocolate and sweet raspberry is just sublime. Looking forward to stealing the rest of the bar from Him.
Mandarin & Ginger
Him – Really good. I am a massive fan of ginger and this is a great combination. It reminds me of Christmas and would make a great gift.
The Cook – Hmm, I can't stand ginger in anything, so I'm going to pass on this one 🙁
Espresso
Him – That's Amazing! Simply fantastic! I love coffee ( I have a huge cafetiere in front of me as I type) and that's really, really good.
The Cook – Well, shock news, I hate coffee, even the smell makes me feel ill – but, I've put my big girl pants on and tried it – It's really good, actually, really really good. I may need to revisit coffee once again.
We spoke to Zara at Seed & Bean to told us "Seed & Bean was founded in June 2005 with the idea to create an ethical range of confectionery. The focus was on always using organic ingredients, using small-scale suppliers and being brave and wild with flavours; chocolate with a wild side. Seed and Bean is 100% organic; our products are ethically sourced; and all of our chocolates are handmade in England. We also pride ourselves on being Fairtrade where possible, and our packaging is 100% compostable; including the inner foil. Our production facility is deliberately small: our batch size is just 45 litres, compared to large industrially-produced chocolatiers who make batches of 20-50,000 litres a batch! When it comes to chocolate, we really are chocolate artisans. Live on the wild side of taste with our adventurous and unique flavours, using only 100% organic ingredients. Our adventurous English Botanical flavours are unique and delicious, as well as 100% organic and ethical. There is something for everyone in our vast range of 22 flavours."
Tesco – Free From Range
White Choc Bar £0.45 (35g) – Direct
Choc Bar £0.45 (35g) – Direct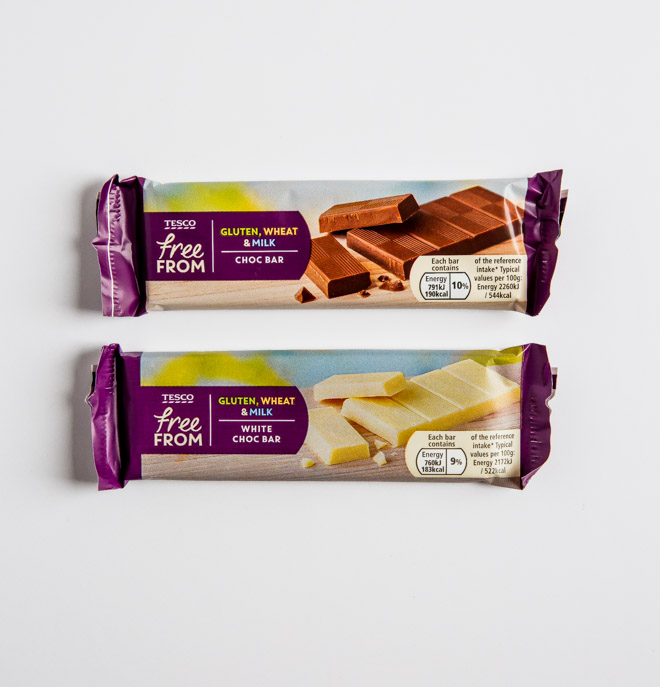 Tesco Free From Choc Bar
Him – Well, its pretty good considering its so cheap! If you're wandering the aisles at Tesco's and seeking a dairy free chocolate fix then there nothing wrong with grabbing one of these.
The Cook – Actually really good for such a cheap bar of chocolate – really smooth and creamy, not overly sweet, not bad at all and for the price you really can't complain.
Tesco Free From White Choc Bar
Him – If you're looking for a white vegan chocolate and only have 45p to spend well you cant really go far wrong with this. Its sweet, creamy and kind of like a good old fashioned Milky Bar.
The Cook – Very food, again for 45p what more do you want? Sweet and creamy with a good strong vanilla aftertaste.
The Chocolatier
Salted Caramel Truffles £9.95 (115g) – Amazon
Baked Apple & Cinnamon Truffles £9.95 (115g) – Amazon
Salted Chocolate Peanut Butter Spread £6.65 (210g) – Amazon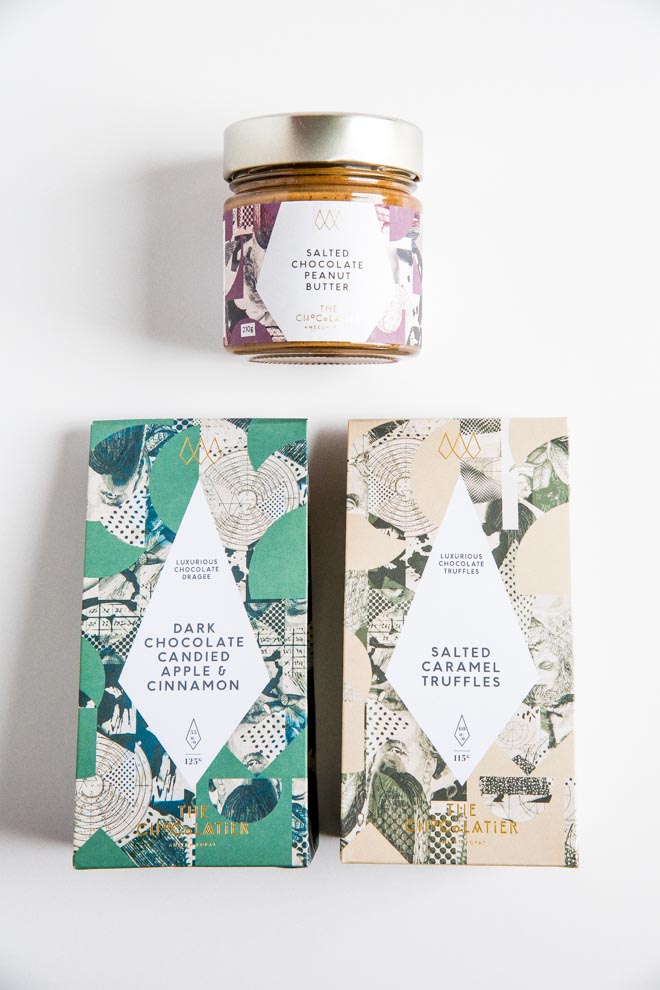 Baked Apple & Cinnamon Truffles
Him – Wow, Just wow. There really is nothing I can say to tell you how good these are. You only have to look at Aneesh's resume to know that these are going to be something special and they really, really are.
The Cook – Absolutely delicious, the chewy apple centre is just perfect and the mild flavour of cinnamon is so delicate, combine this with the flavour of chocolate and these are something seriously spectacular.
Salted Caramel Truffles
Him – As expected these are absolutely perfect! The cacao dusting is just right and the truffle centre truly is as smooth as silk, just like the Baked Apple Truffles, these are something really special – stop reading and go and buy them!
The Cook – From the packaging to the sublime truffle texture these are utterly, utterly perfect!  These really would make a truly lovely gift.
Salted Chocolate Peanut Butter Spread
Him – Yet again, words fail me. If you you like peanut butter, and I am a massive fan, then you really need to try this. Wonderfully smooth and creamy with a fantastic salted chocolate taste running through it. Honestly – try this on a toasted bagel for something super decadent as a breakfast treat.
The Cook – A pure joy to eat – the right amount of chocolate, the right amount of salt, the right amount of peanut butter – can't wait to try the other flavours they have available!
We spoke to Aneesh Popat, the founder and  award winning chocolatier and an ambassador of fine chocolate. His clientele includes royalty, Michelin starred restaurants, luxury hotels, department stores and leading global brands – this guy knows his stuff and is seriously serious about chcolate. He told us "The Chocolatier maintains wellbeing as a core value creating handmade indulgent chocolates with a selection of the finest single origin cacao in the world, using natural ingredients without any cream or butter. My scientific background and passion for fine chocolate has made us renowned for our unique and experimental flavour combinations.  The Chocolatier mission is to 'change the world one chocolate at a time'. Every chocolate expertly made and savoured, makes a positive difference by contributing to the education and materials for children in India. The Chocolatier also focuses on carefully sourcing ethical cacao from plantations to support the conservation of nature and wildlife."
Edit 7th August 2019: The Chocolatier have a "Monthly Club" where you can have a wonderful box of Ganache Truffles delivered directly to you. Every month you will receive 18 fresh handmade chocolates across 6 inspired flavours with a different theme every month, Our readers can use discount code COOKANDHIM at the checkout for an amazing 50% of the first box.
 TL;DR? (Too Long, Didn't Read, for anyone over 25….)




Conclusion
Well, all of the Vegan Chocolate that made it into the review is good chocolate! Believe me, the discard pile was huge! Over 50 brands didn't make it, one was quite literally the worst thing I have ever eaten – yes, worse than Jackfruit!
So generally you can feel pretty confident that any of these will hit the chocolate spot if you are a vegan, dairy free or are looking to give a gift of chocolate to a vegan. There is a huge variety in price, availability and consequently quality in these vegan chocolates, but they are all good.
If you're looking for a quick, small bar of choc as a treat when out and about in your local supermarket then you cant go far wrong with the Tesco and Sainsbury's own brand. If you can get any of the NOMO products then you wont be disappointed at all.
If I was looking to give an extra special gift to some one the it has to be either the Cachao Pure, its only available directly from them so you'll need to plan a little ahead, or alternatively The Chocolatier Truffles truly are to die for.