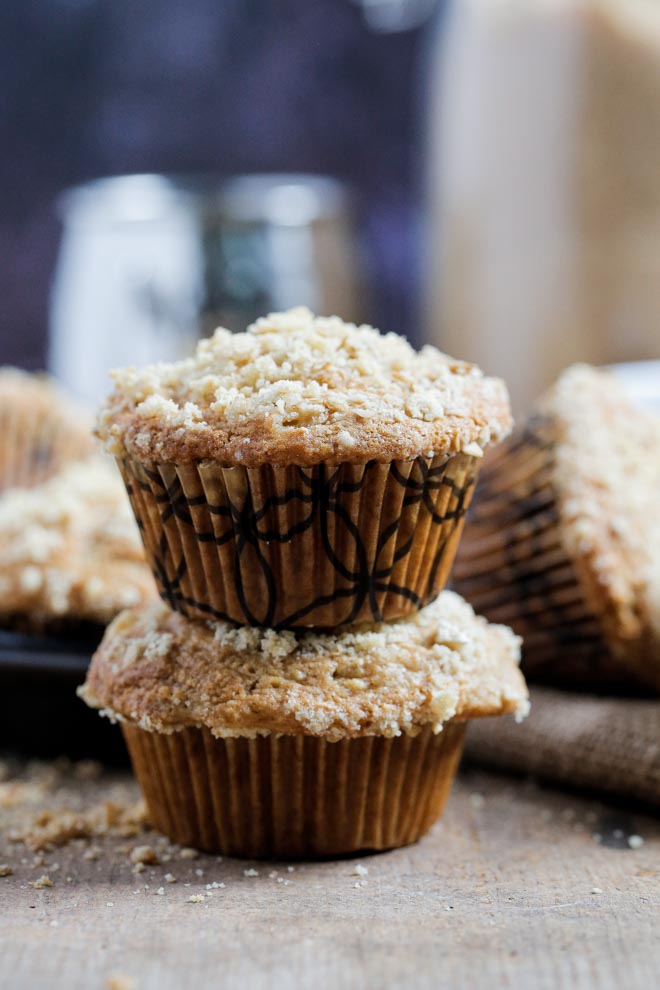 Posted in Recipes on 18.07.2020
Caramel Apple Muffins
prep: 30 mins / cook: 25 mins / inactive: 0 mins / total: 55 mins / quantity: 12 muffins Print recipe?
Soft, juicy apples give so much flavour to these caramel apple muffins! Top with cinnamon streusel for the perfect afternoon treat!
There's also a *secret* ingredient that gives these caramel apple muffins the 'caramel' bit.  Making caramel can be an enormous faff.  Hot bubbly liquid that VERY easily burns, then sets like concrete when it goes cold.  Not any more!  Oh thank you Foodie Flavours and your wonderful little bottles.  I LOVE caramel flavour.  That slightly acrid, burnt sugar taste.  But it's ALL sugar (not exactly healthy) and can be very temperamental getting the perfect consistency.
The smell of the caramel flavouring just in the bottle alone had me drooling.  It smells like toffee apples, candy floss and fairgrounds.
I'm also craving autumn right now.  Summer in the UK is so hit and miss.  It's either too hot (for me anyway) or meh.  And no Wimbledon this year *sob*.  We're also between hot spells right now and everything feels just a bit uninspiring.  I love a clear, crisp autumn morning, a chilly dog walk and darker nights that mean candles and hot chocolate.
So for now I'll just have to make do with all the flavours of autumn in my mouth by way of these caramel apple muffins.
One of Phil's favourite desserts is apple crumble.  And I wanted to get those flavours into these caramel apple muffins.  Including the crumble topping.
How to make caramel apple muffins:
Cook the apples.  Why?  Because I couldn't imagine a hard chunk of apple in these delicately soft, squidgy muffins.  Same with this spiced vegan apple cake.  Yes it's an extra step.  But yes it's SO worth it.
Make the streusel topping.  So it's ready to sprinkle onto your muffins before baking.
Mix the milk with the vinegar.  This makes the milk curdle slightly giving it a richer flavour.  The vinegar also reacts with the baking soda to enhance the leavening, resulting in a better 'crumb' or texture.
Mix together the dry ingredients.  If you have a nut allergy, just omit the ground almonds and replace with the same amount of plain flour.  The almonds do give a lighter texture to the muffins though.
Add the oil and caramel flavour to the milk.  Just 20 drops of the caramel flavour is needed.  These little bottles really do pack a flavour punch!
Add the wet ingredients to the dry ingredients.  Mix well, but try not to over-mix.  Make sure there are no hidden pockets of flour by stirring up from the bottom of the bowl.
Spoon the mixture into your muffin cases.  This makes 12 good sized muffins.  Maybe even 14 if you want slightly smaller ones.  But I had a 12 hole tin and couldn't be bothered to get out a second tin.
Sprinkle over the streusel topping.  Then use your finger tips to push it down ever so slightly into the muffin batter.  This helps stop it falling off because who wants a streusel-less muffin?!
Bake until golden and lovely.  Because that's what they'll be 😉
You can leave off the streusel topping but I honestly don't recommend it.  The oats give a slight texture to a very soft muffins as well as a sweet, crisp, all round lovely experience in your mouth!  It also only takes a couple of minutes to make.
First time I made the streusel topping I over-estimated just how much I was going to need and had WAY too much raw mix left.  Which I just plonked on a tray and baked right along with the muffins.  That alone was worth making the extra for and I do it every time I make these caramel apple muffins now!  It's like a cross between a crumble and a breakfast cereal and makes the best porridge topping!
These muffins keep pretty well in a lidded container for a few days.  They also freeze too and lose nothing of their flavour but the streusel topping does lose its 'crispness'.  I'll sacrifice that to have a ready supply of caramel apple muffins.
Love muffins as much as we do?  Here's some of our tried and tested favourites (all vegan too!):
I'd love to hear from you if you make these Caramel Apple Muffins.  Just leave a comment as it's so helpful and I love to hear how the recipe worked out for you!  Thank you so much 🙂
Don't forget to follow us on YouTube, Facebook or Pinterest for even more recipe inspiration and chat, competitions, behind the scenes and so much more!
Caramel Apple Muffins
prep: 30 mins / cook: 25 mins / inactive: 0 mins / total: 55 mins / quantity: 12 muffins
Ingredients
Muffins:
3 apples – peeled and chopped small
1/2 tsp ground cinnamon
1 cup (240ml) unsweetened non-dairy milk
1 tsp apple cider vinegar
1 + 1/2 cups (225g) plain flour
1/2 cup (60g) ground almonds
2 tsp baking powder
1/2 tsp bicarbonate of soda
1/2 cup (125g) light brown sugar
1/4 cup (60ml) vegetable oil
20-25 drops Foodie Flavours Natural Caramel Flavouring
Streusel Topping:
3 tblsp plain flour
1 tblsp (15g) vegan butter
2 tblsp demerara sugar
1 tblsp rolled oats
Instructions
Cook the apples in a medium saucepan with the cinnamon for 5-10 minutes, stirring occasionally until they're golden and soft
Preheat your oven to 180 Fan / 200 C / 400 F / Gas 6 and line a 12 hole muffin tin with cases
Make the streusel by rubbing the butter and flour together between your fingertips until there's no lumps of butter left. Then stir in the sugar and oats and set aside
For the muffins put the milk and vinegar into a bowl, whisk, then set aside while you weigh out the dry ingredients. This curdles the milk slightly, giving a richer flavour
In a large bowl put the flour, almonds, baking powder, bicarbonate of soda and sugar and mix together
Whisk the oil and caramel flavour into the the milk and vinegar
Pour the wet ingredients onto the dry ingredients and mix well, stirring up from the bottom of the bowl to make sure you don't leave any flour 'pockets'
Divide the mixture evenly between your muffin cases
Sprinkle over the streusel topping then, using your fingertips, lighly push it into the muffin batter - this helps prevent it falling off once the muffins are baked!
Bake for 25-30 minutes until risen and golden - test one of the muffins by inserting a cocktail stick into the centre of the muffin. It should come out clean, with no raw cake mix still clinging to it
Leave to cool in the tin for 5 minutes before transferring to a wire rack to cool completely
Store in and airtight container for up to 4-5 days or freeze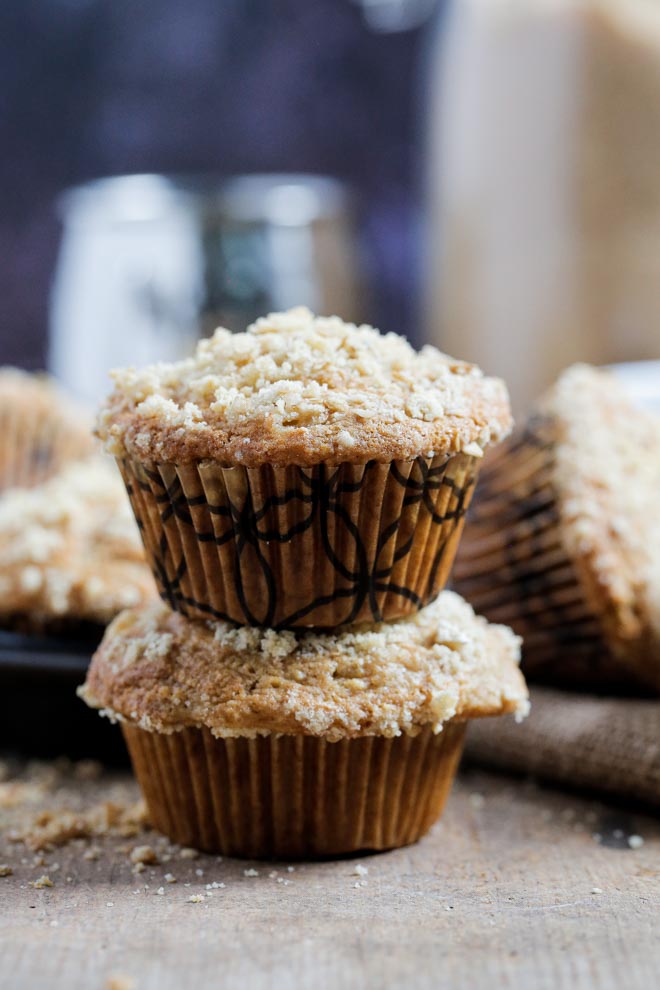 Hello and welcome to The Cook & Him.
We are Sam (The Cook), Phil (Him) and our little dog Nooch. What started with a plan to shed a few pounds back in 2016, soon became obvious that eating healthy doesn't have to be bland and boring.
So, combining Sam's 15 years of experience working within Michelin starred restaurants and our love for deliciously healthy food, we're creating recipes for you to make and enjoy. We've added our own unique spin on traditional and contemporary vegetarian and vegan recipes that keep you (and your pets!) healthy and full.  And we make sure they just work.
All things autumn - warming soups, savoury bakes and delicious sweet treats!
and I would like to see...
Or search for a recipe or post by keyword