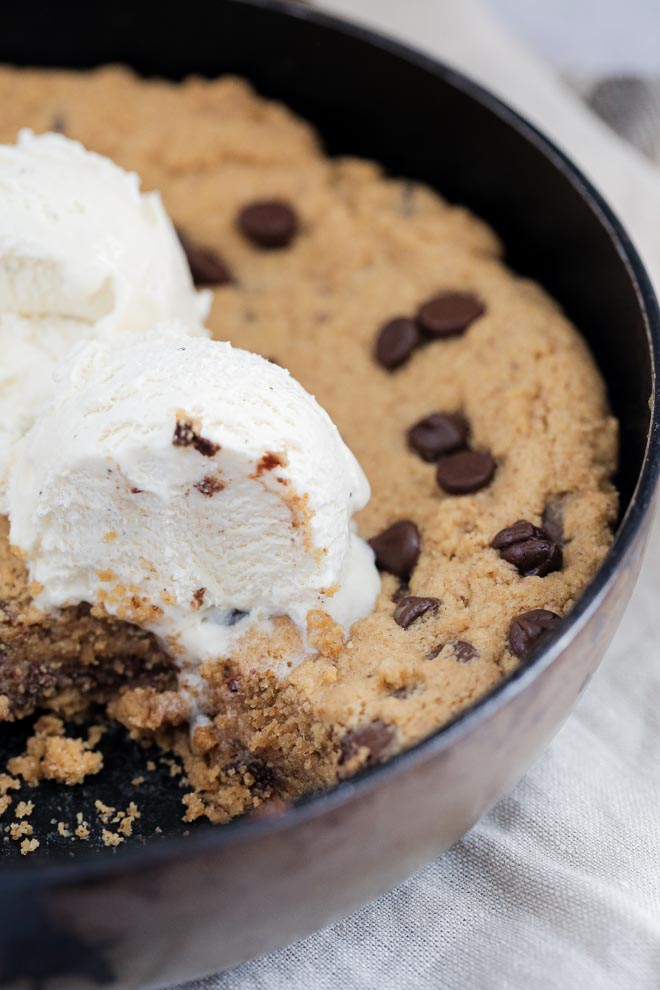 Posted in Recipes on 03.09.2020
Chocolate Chip Skillet Cookie
prep: 15 mins / cook: 25 mins / inactive: 0 mins / total: 40 mins / quantity: 4 servings Print recipe?
Warm, gooey and delicious this vegan chocolate chip skillet cookie is easily made in advance, baked fresh and a real crowd favourite!
Years (and years) ago when I was at catering college there used to be a tiny little 'hole in the wall' shop not far from campus that baked fresh cookies.  Warm, hot and gooey, they were the thing of legend amongst the students and mum and dad always used to treat me to one if they ever came to pick me up from a hard day of learnin'.  This chocolate chip skillet cookie not only tastes bloody incredible, it also brings back so many happy memories.
What is a skillet cookie?
A skillet cookie (or pizookie) is basically one giant cookie baked in a skillet or oven-proof frying pan and served fresh and warm.  And the only improvement that can be made on those single serve cookies is the addition of ice cream.  Lots and lots of ice cream.  Because who doesn't love THAT combination?
Vegan ice cream has come on in leaps and bounds recently and there are so many amazing brands to choose from.  There's a quite a few that I would challenge anyone to even recognise as vegan.
This skillet cookie is a bit of an adaptation of my vegan cookies recipe.  Which are basically perfect, stick to your teeth chocolate chunk heaven.
How to make a pizookie:
Cream together the fats and sugar.  This can be done by hand, especially if you're using the soft tub margarine rather than the harder block kind.  Or you can use a stand mixer.  I've also used light soft brown sugar for this giant cookie instead of regular granulated as it contains molasses to give richer, more caramel undertones.
Add the milk and flour.  I've also used a teaspoon of baking powder to give the pizookie a lovely lightness without losing any density of flavour.  Mix everything together until it just starts to form a dough.
Add the chocolate chips.  You could also use chopped dark chocolate if you want larger, more melty chunks of chocolate in your vegan cookie.
Tip into your oven-proof skillet.  Cast iron skillets are perfect for this but I've just used a regular oven-proof skillet or frying pan.  Just make sure there's no plastic bits on it that could melt if you put it in the oven.
Bake until lightly golden and just set.  This takes 20-25 minutes.  Test at 20 as maybe your like your cookie on the side of slightly underdone.
Leave to cool for about 5 minutes.  Then serve straight from the pan with big scoops of vegan ice cream on top.  Couldn't be simpler 🙂
Be prepared to have to fight off the hungry masses should you be in the mood to take photographs before everyone tucks in.
And just hope they leave you some.
Love chocolate cookies as much as we do?  Here's some of our tried and tested favourites (all vegan too!):
I'd love to hear from you if you make this Vegan Chocolate Chip Skillet Cookie.  Just leave a comment as it's so helpful and I love to hear how the recipe worked out for you!  Thank you so much
Don't forget to follow us on YouTube, Facebook or Pinterest for even more recipe inspiration and chat, competitions, behind the scenes and so much more!
Chocolate Chip Skillet Cookie
prep: 15 mins / cook: 25 mins / inactive: 0 mins / total: 40 mins / quantity: 4 servings
Ingredients
1/2 cup (115g) vegan butter or margarine
1/4 cup (65g) almond butter
1/4 cup (65g) tahini
3/4 cup (90g) soft light brown sugar
1/4 cup (60ml) unsweetened non-dairy milk
1 cup (130g) plain flour
1 tsp baking powder
1/2 cup (100g) dairy free chocolate chips
Dairy free ice cream to serve (optional but recommended!)
Instructions
Preheat your oven to 160 Fan / 180 C / 350 F / Gas 4
Put the vegan butter, almond butter, tahini and sugar into a large bowl or the bowl of a stand mixer
Beat until well mixed, soft and creamy
Add the milk, flour and baking powder and bring together until it just forms a soft dough then stir in the chocolate chips
Lightly oil or grease your skillet then tip in the dough and and push out to the edges, flattening the surface
Bake for 20-25 minutes until golden and just set
Leave to cool for 5 minutes then top with ice cream and serve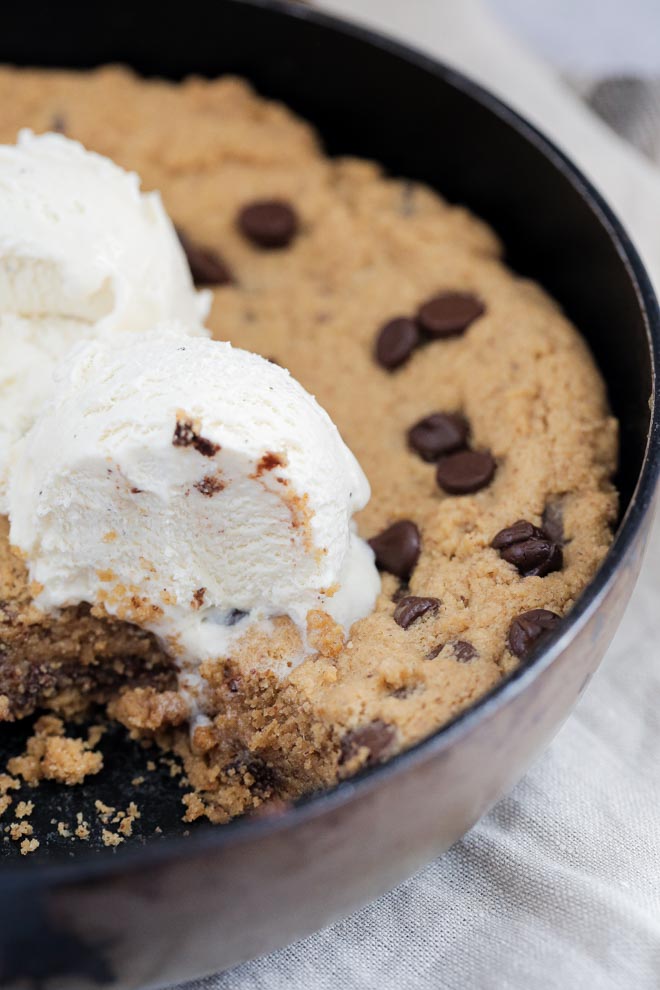 Hello and welcome to The Cook & Him.
We are Sam (The Cook), Phil (Him) and our little dog Nooch. What started with a plan to shed a few pounds back in 2016, soon became obvious that eating healthy doesn't have to be bland and boring.
So, combining Sam's 15 years of experience working within Michelin starred restaurants and our love for deliciously healthy food, we're creating recipes for you to make and enjoy. We've added our own unique spin on traditional and contemporary vegetarian and vegan recipes that keep you (and your pets!) healthy and full.  And we make sure they just work.
All things autumn - warming soups, savoury bakes and delicious sweet treats!
and I would like to see...
Or search for a recipe or post by keyword