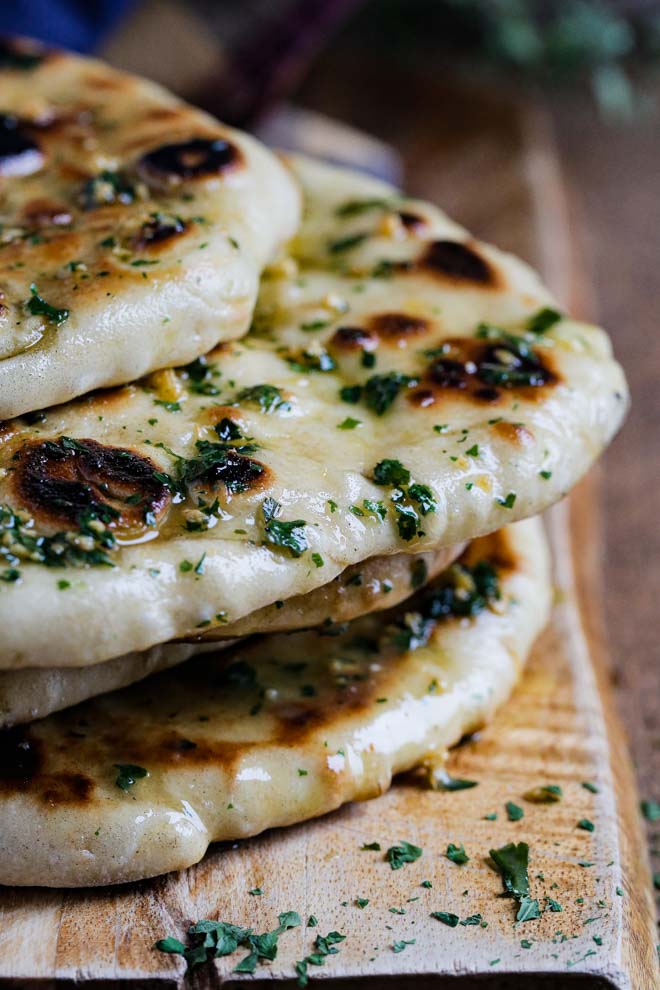 Posted in Recipes on 22.02.2021
Garlic and Herb Butter Naan Bread
prep: 15 mins / cook: 20 mins / inactive: 40 mins / total: 1 hour 15 mins / quantity: 8 naan breads Print recipe?
Even if you've never made bread at home before, this soft, chewy naan bread is a great place to start! There are no complicated ingredients and no furious kneading of dough – just mix, prove and cook. Oh and plenty of garlic and herb butter!
If you've ever been intimidated by making your own bread, naan bread – or any type of flatbread – is a great way to introduce yourself to the true delights of creating fresh (and thoroughly delish) bread with your own two hands.  Or several (tiny) hands because this garlic and herb naan is almost impossible to get wrong!
There aren't a lot of complicated, hard to find ingredients.  There's very little effort as this dough doesn't require lots of kneading.  And as there's only one prove, it doesn't take hours from start to finish.
The dough is also very amenable to being made in several stages in advance of actually cooking it.  *Once you've made the dough, you can do a few things with it:
Prove for 30 – 40 minutes, divide, roll and cook.
Chill in the fridge for up to 3 days, divide, roll and cook.
Prove for 30 – 40 minutes, divide and freeze the raw individual balls.
Prove for 30 – 40 minutes, divide, roll and freeze the raw flatbread.
The only thing I've not tried is freezing AFTER cooking the naan bread because once it's cooked it's absolutely impossible to resist that garlicy, chewy, buttery, dribble down your chin naan heaven.  I mean seriously,  I'm a  little addicted.  The smell, the taste, the texture.  Everything is just perfect.
How to make easy, homemade naan bread:
Making any vegan bread is pretty much the same as making non-vegan bread.  It's just a simple swap of a couple of ingredients for their plant based counterparts – yoghurt, milk and butter.  And I promise you, you'd NEVER be able to tell the difference.  There still seems to be a lot of stigma attached to vegan food.  Even in these glorious days of so many major supermarkets and food manufacturers bringing us new vegan options all the time.  And that's without the dedicated vegan only brands and their pioneering ingenuity.  I even had a family member say to me (only at the end of last year) that till they'd tasted my cooking they'd thought vegan food would taste like cardboard smeared in mud.  I'm so glad I've rectified that 😉
Anyway, naan bread …
Warm the milk, water and sugar.  You want to warm it to body temperature.  I talk a LOT about this in bread making.  It simply means warm enough so that when you put your finger in the liquid you can't actually tell if it's hot or cold!  If it's too warm you run the risk of killing the yeast.  This is why you cook/bake yeasted products once they've proved because once the yeast is killed by heat it will no longer rise.  If your liquid is too cold it won't activate the yeast and may also not rise.  Pesky yeast!  But SO worth the extra care!
Once you have the liquid at the right temperature add the yeast.  Then cover with a t-towel and leave for around 10 minutes until the surface of the liquid turns slightly frothy.
Measure the remaining dry ingredients into a large bowl.  Do this while you wait for the liquid to froth – you want the plain flour, baking powder, bicarb, rosemary and salt.  We're using plain flour because flatbread dough doesn't require kneading (so no gluten to be developed and stretched).  The baking powder also helps give the dough a little extra lift, making it chewy rather than dense.  The bicarb causes a chemical reaction that helps produce the carbon dioxide bubbles so synonymous with naan bread.
Add the yeast liquid plus the yoghurt to the bowl of dry ingredients.  And bring the mixture together until it just starts to form a dough.  You can do this by hand or using the dough hook in a stand mixer.  You don't want to mix it too much.  Plain flour contains a lot less gluten than strong bread flour so no need to knead!  The dough should be soft and slightly sticky.  Pop into a lightly oiled bowl, cover and leave somewhere warm for 30-40 minutes.
Or see above for what you can do with the dough once it's made*
Divide the proved dough into balls.  If you're using a large frying pan to cook them in cut the dough into 8.  If you're using a small pan you will need divide the dough into more balls so that they fit your pan without being too thick once they're rolled out.
Roll each of the dough balls out until they're about 1/2 cm ( or .2 of an inch) thick.  Don't worry about getting it perfectly round.  The more rustic the better when it comes to naan bread!  Keep them separate while you're cooking them i.e. don't stack them!  If you don't have the space to roll them all out and have them placed apart from each other roll and cook them in stages.  You can keep the cooked naan bread warm in a low oven while you cook the rest.
Heat your pan till it's quite hot.  Brush one side of the naan bread with oil and plop it into your pan oiled side down.  Cover the pan with a lid and cook 1-2 minutes until golden and crisp on the bottom and large bubbles have formed on the top.
Remove the lid and brush the top side with a little more oil.  Then flip the naan, push down lightly and cook 1-2 minutes on the other side until golden.  I prefer my naan bubbles a little charred (I'm a burn toast lover too!) but you do you and cook to your preference!
Lift the cooked naan out, flip so the bubbles side is top then brush with the garlic and herb butter.  This is what takes naan bread from yummy to OMGJUSTKEEPITCOMING.
If you're cooking a lot at once you can cook them all, put on a baking tray and re-warm in a medium oven.  If you're only cooking a few you can keep the cooked ones warm in a low oven.
Whatever you do though, MAKE THESE GARLIC AND HERB NAAN BREADS.  Yes I'm shouting a little because life's too short to live without warm, freshly cooked, I'm drooling at the thought right now naan bread.  Seriously.
If you love all things bread and are inspired to give more involved bread making a go – after making these vegan naans of course …
White Loaf – simple, no fuss, no frills, no additions.
Kombucha bread – bread and gut healthy kombucha rolled into one!
Cheese and Tomato Pizza Bread – so so so good.  Got a lovely walkthrough video for it too.
Pumpkin Spice Pull Apart Bread – for all you fellow sweet bread lovers out there.  I've got ya.
I'd love to hear from you if you make this Garlic and Herb Naan Bread recipe! Just leave a comment as it's so helpful and I love to hear how the recipe worked out for you! Thank you so much!
Don't forget to follow us on YouTube, Facebook or Pinterest for even more recipe inspiration and chat, competitions, behind the scenes and so much more!
Garlic and Herb Butter Naan Bread
prep: 15 mins / cook: 20 mins / inactive: 40 mins / total: 1 hour 15 mins / quantity: 8 naan breads
Ingredients
Naan Bread:
2 tblsp (30ml) water
3/4 cup (185ml) oat milk
1/2 tblsp caster sugar
1/2 tsp dried active yeast
2 cups (350g) plain flour
1/2 tsp baking powder
1/4 tsp bicarbonate of soda
1/2 tsp salt
1 tsp dried rosemary
1/4 cup (60ml) plain non-dairy yoghurt
2-3 tblsp olive oil
Garlic and Herb Butter:
2 tblsp olive oil
2 tblsp vegan butter
2 cloves garlic – peeled and crushed
small handful of fresh parsley – stalks removed and finely chopped
Instructions
Put the water, milk and sugar into a saucepan and heat to just body temperature - so that when you put your finger in the liquid you can't tell if it's hot or cold!
Remove from the heat and whisk in the yeast. Cover with a t-towel and set aside for 10 minutes until the top starts to look frothy
In a large bowl put the flour, baking powder, bicarbonate, salt and rosemary and stir together
When the yeast liquid is ready pour into the bowl of dry ingredients along with the yoghurt and bring everything together until it forms a soft, slightly sticky dough. Don't knead too much - just enough to make a soft dough. If it's too sticky add a little more flour.
Put into a clean, lightly oiled bowl, cover with a t-towel and leave somewhere warm for 30-40 minutes until it's risen slightly
Meanwhile make the garlic and herb butter by putting the butter, oil and crushed garlic into a saucepan and heating gently and the garlic is just starting to sizzle. Don't overcook and burn the garlic (it's not a nice taste or smell!)
Add the chopped parsley to the butter and set aside
When it's ready tip onto a floured surface and divide into 12 balls
Roll out each ball until it's around 1/2 cm ( .2 of an inch) thick - it doesn't need to be perfectly round, the more rustic the shape the better!
If you have the space, roll out all the balls and lay them apart separately, otherwise roll and cook in batches
To cook, heat a frying pan until very hot
Brush one side of the dough with a little olive oil and place the dough oil side down onto your frying pan
Put on a lid and cook for 1-2 minutes until the bottom is lightly golden and the top is very bubbly
Remove the lid, brush the top side with oil and flip, cooking again for 1-2 minutes until the bubbly side is cooked and slightly charred
Remove from the pan, flip so the bubbly side is top again and brush with the garlic and herb butter
If you're not serving immediately you can keep the cooked naan warm in a very low oven while you cook the remaining dough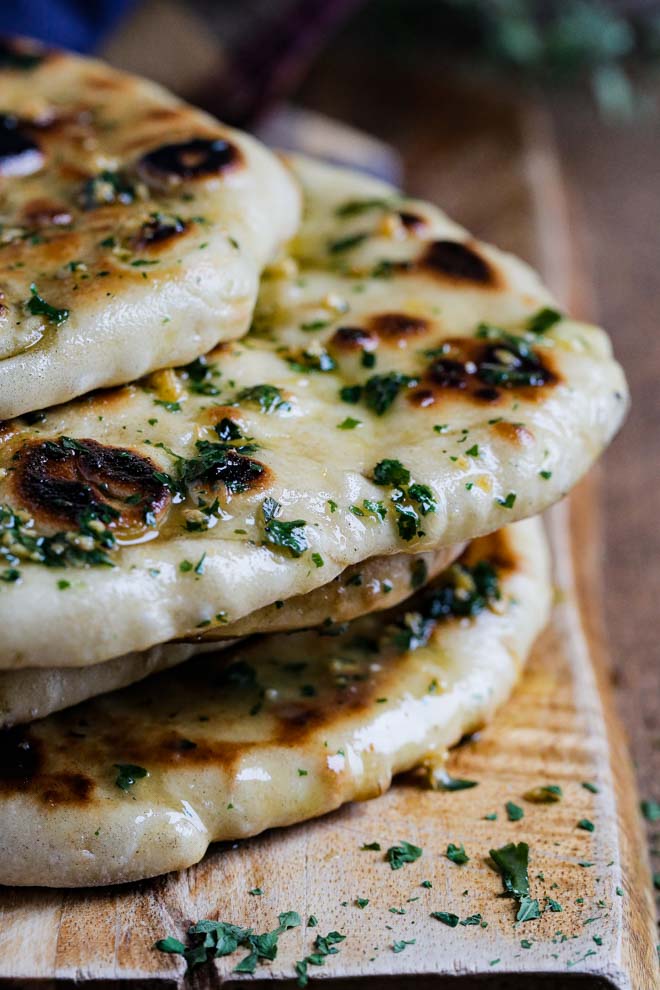 Hello and welcome to The Cook & Him.
We are Sam (The Cook), Phil (Him) and our little dog Nooch. What started with a plan to shed a few pounds back in 2016, soon became obvious that eating healthy doesn't have to be bland and boring.
So, combining Sam's 15 years of experience working within Michelin starred restaurants and our love for deliciously healthy food, we're creating recipes for you to make and enjoy. We've added our own unique spin on traditional and contemporary vegetarian and vegan recipes that keep you (and your pets!) healthy and full.  And we make sure they just work.
All things autumn - warming soups, savoury bakes and delicious sweet treats!
and I would like to see...
Or search for a recipe or post by keyword