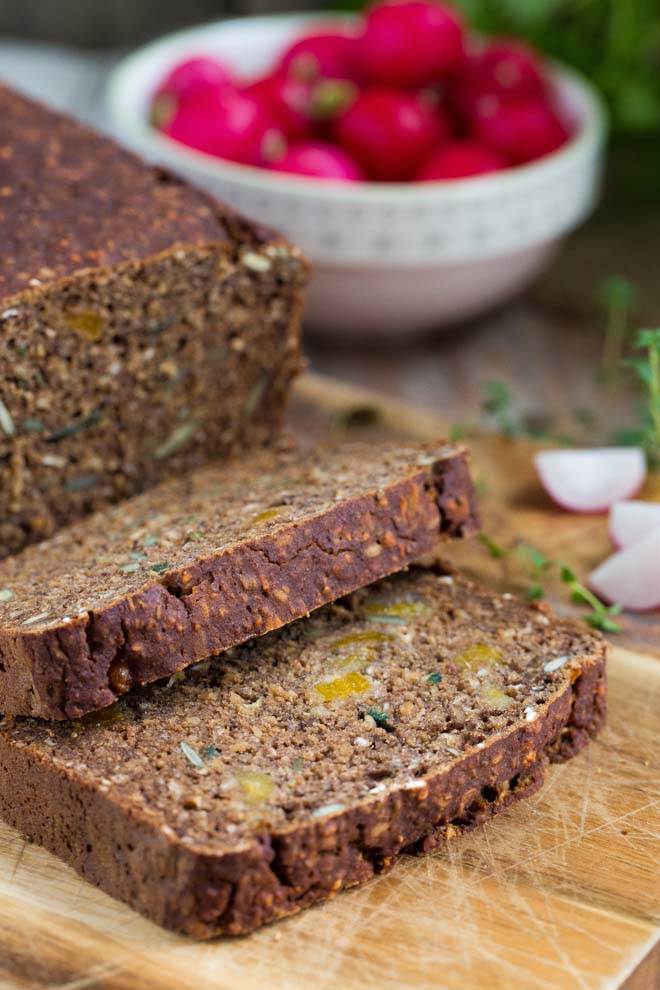 Posted in Recipes on 05.08.2019
Gluten Free Bread
prep: 15 mins / cook: 60 mins / inactive: 15 mins / total: 1 hour 30 mins / quantity: 1 x 9 inch (23cm) loaf Print recipe?
Full of seeds, fruit and buckwheat flour this Gluten Free Bread is so easy to make but doesn't compromise on flavour!
Historically I've had some 'issues' making things gluten free.  Namely cake.  I cannot seem to get the fu damn things to rise.  They're flat, sad and make me sad.  But the lovely people at Hodmedods sent me a bag of their British Buckwheat Flour to try and after having some delicious success with these Summer Fruit Galettes I thought I'd tackle gluten free bread next.
Happy to say I had way more success with wheat free bread than with cake.
You may be wondering what buckwheat is and why it's gluten free if it's called 'wheat'.
Buckwheat is the seeds of a flowering plant rather than a grain and because it's been cultivated for more than 8000 years it's often referred to as an 'ancient grain'.  It's related to rhubarb and sorrel and the groats can be cooked much like rice, made into porridge or ground into flour.  It's also a reasonable source of fibre and protein and may contribute to blood sugar control.
What is gluten?
The dictionary definition says gluten is "a mixture of two proteins present in cereal grains, especially wheat, which is responsible for the elastic texture of dough".
As a (former) pastry chef I've become very familiar with gluten and its properties over the years.  It's present in all wheat flours and its elastic property is what makes pastry short and crisp and bread stretchy with all those lovely little air pockets.  For pastry you want to NOT work the gluten.  Doing so results in tough, chewy pastry rather than delicate and crisp.  You use a light touch and as little handling as possible.  The exact opposite is needed for bread where the gluten in the dough is stretched and torn.  This allows the moisture to expand the dough and form air pockets that gives bread that open texture rather than the close, solid texture of pastry.
For this gluten free bread I've gone for an easy, no yeast loaf.  Just mix the ingredients together, pour into your tin and bake.  It's a little more dense in texture than a yeast loaf but I think that's quite delicious.  The buckwheat flour gives it an incredible malty flavour and it makes amazing sandwiches and toast!
I've also crammed in dried apricots and seeds because whilst I love a good old fashioned plain white loaf from time to time I also love finding 'bits' in my bread too!
And whilst neither Phil nor I have gluten intolerance I love experimenting with ingredients and textures in food.  Ingredients you might not normally use can end up being a complete revelation.
Looking for more gluten free recipes?  Look no further – we've got sweet, savoury and everything in between 😉
However if you're looking for a non-gluten-free loaf we also have you covered:
If you make this recipe or any of the recipes from The Cook & Him we'd LOVE to see! Just snap a picture and share it on Instagram using #thecookandhim and tagging @thecookandhim in the photo itself (as this guarantees we'll see your picture!
)
And don't forget to follow us on Instagram , Facebook or Twitter for even more recipe inspiration and chat, competitions, behind the scenes and so much more!
Gluten Free Bread
prep: 15 mins / cook: 60 mins / inactive: 15 mins / total: 1 hour 30 mins / quantity: 1 x 9 inch (23cm) loaf
Ingredients
1 + 1/2 cups (190g) buckwheat flour – I used Hodmedods
1 cup (110g) oat flour (just whizz the oats in a blender or food processor)
3 tblsp (35g) chia seeds
3 tblsp (25g) ground flax seeds
1/2 cup (80g) mixed seeds (my mix had sesame, sunflower, pumpkin and whole golden flax seeds)
1/4 cup (35g / approximately 6) dried apricots – diced small
2 tsp bicarbonate of soda
1 tsp salt
1 + 1/2 cups water
2 tblsp maple syrup
2 tblsp apple cider vinegar
Instructions
Grease a 9 x 5 inch (23 x 13 cm) loaf tin. I dust in some extra buckwheat flour and use a strip of parchment as well to help prevent the loaf sticking but my tin is old and losing its non-stick!
In a large bowl whisk together the buckwheat flour, oat flour, chia seeds, ground flax seeds, mixed seeds, diced apricots, bicarbonate of soda and salt
In a medium bowl whisk together the water, syrup and vinegar then stir into the bowl of dry ingredients
Mix well, making sure no pockets of flour remain. Leave the dough to rest for 15 minutes - this allows the chia seeds to absorb some of the liquid and swell
Preheat your oven to 170 Fan / 190 C / 375 F / Gas 5
Bake the loaf for 1 hour, carefully remove from the oven and leave to cool in the tin for 10-15 minutes before tipping out onto a wire rack to cool completely. Store in an airtight container once cold
This bread freezes really well - I slice any that I'm not going to eat and freeze in little bags. It also makes great toast if it's starting to go stale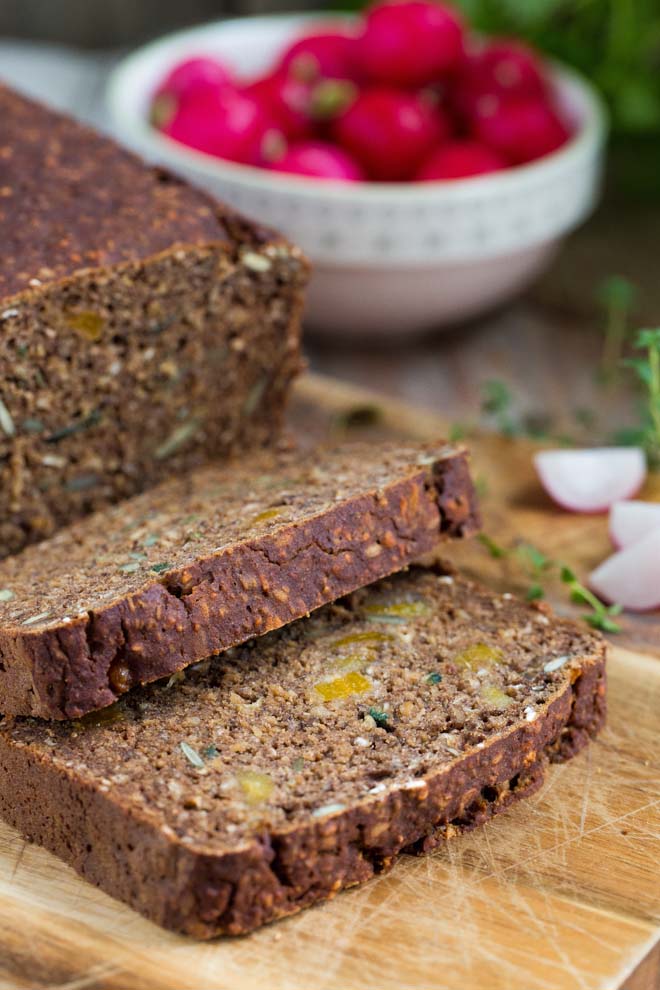 Some products I used in today's post...
Some of the links above are affiliate links, which pay us a small commission for our referral at no extra cost to you! Thank you for supporting The Cook & Him.
Hello and welcome to The Cook & Him.
We are Sam (The Cook), Phil (Him) and our little dog Nooch. What started with a plan to shed a few pounds back in 2016, soon became obvious that eating healthy doesn't have to be bland and boring.
So, combining Sam's 15 years of experience working within Michelin starred restaurants and our love for deliciously healthy food, we're creating recipes for you to make and enjoy. We've added our own unique spin on traditional and contemporary vegetarian and vegan recipes that keep you (and your pets!) healthy and full.  And we make sure they just work.
All things autumn - warming soups, savoury bakes and delicious sweet treats!
and I would like to see...
Or search for a recipe or post by keyword