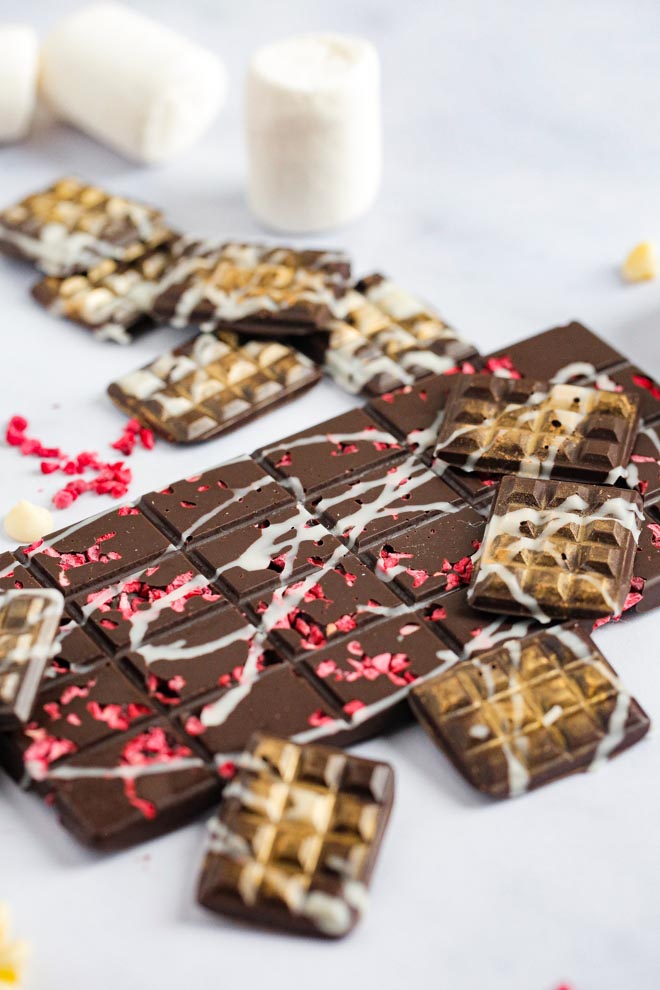 Posted in Recipes on 22.03.2021
Honey Flavoured Chocolate Bars
prep: 10 mins / cook: 0 mins / inactive: 60 mins / total: 1 hour 10 mins / quantity: serves 2-4 Print recipe?
Super quick and easy these Honey Flavoured Chocolate Bars are a great homemade alternative to the traditional (and overly packaged!) Easter egg!
I've been a little impressed this year with just how many vegan Easter eggs are available.   But disappointed with all the packaging that still comes with them.  I know they're delicate and fragile things, but a thin bit of chocolate (that tastes like any old regular bar or chocolate) surrounded by THAT MUCH plastic feels quite wrong to me.  My answer?  Make your own honey flavoured chocolate bars instead!
"Vegan honey?" I also hear you say.  Well yes, and as always thanks to innovative people and companies like Foodie Flavours who bring us tastes that we may miss as vegans.  I'm not getting into the debate here about whether vegans should eat honey (I had enough of that on Christmas Day), I'll leave that to you and your conscience.  And in no way does this natural flavouring replicate any perceived health benefits of honey.  But damn it tastes so like it!  I've even been adding a couple of drops to my morning porridge for that wonderfully warming honey flavour I miss.
This honey flavoured chocolate is also ridiculously easy to make.  Because all of Foodie Flavours natural flavourings and essences pack quite a punch in just a few drops a little goes a really long way.  It also doesn't really alter a recipe.  Adding actual honey to melted chocolate would affect the chocolate consistency once it sets.  Chocolate is a wonderful thing but it's also a delicate balance of ingredients that give it that melt on the tongue, slightly sensuous texture.
The honey flavouring (which is all vegan by the way) gives the melted dark chocolate a rich, slightly sweeter flavour.  Honestly, I have to stop making this as we can't stop eating it!
Making these homemade chocolate bars couldn't be easier:
Start by melting the chocolate.  I recommend a good quality dark chocolate bar – with a high cacao percentage.  Something around 70%.   This gives a really rich flavour of its own, compounded by the sweet honey flavour.
Add about 20-25 drops of the honey flavouring.  Dip a finger to taste.  Cookie's perks.
Pour the melted chocolate into your moulds.  Leave to set in the fridge for around and hour.
Now, while that's as easy it can possibly get you can of course fancy up your chocolate bars.  I got a 2 silicon mould set – one makes a large chocolate bar and the other makes those dinky little, Instagram trendy mini chocolate bars.   There are a tonne of different chocolate mould shapes on Amazon – you can really go to town with your homemade creations!
For the small chocolate bars I painted some edible gold lustre dust into the crevices before pouring in the melted chocolate.  For both mould shapes I drizzled a little melted vegan white chocolate a la Pablo Picasso before pouring in the melted dark chocolate.  For the larger bars I also scattered in some freeze dried raspberry pieces also before pouring in the dark chocolate.  And OMGOSH it tastes amazing!!  Just the right amount of fruity, chocolatey, honey sweetness, rich dark cocoa flavour.
Side note, the freeze dried raspberries also make a great porridge topper.  Because yes it's March, yes it's still freezing here and yes I'm still eating porridge every single day.
Did you know we also wrote a Vegan Chocolate Review post?  Lots of honest opinion about LOTS of the vegan chocolate currently available.  All that taste testing though.  The hardship 😉
I'd love to hear from you if you make these Honey Flavoured Chocolate Bars! Just leave a comment as it's so helpful and I love to hear how the recipe worked out for you! Thank you so much!
Don't forget to follow us on YouTube, Facebook or Pinterest for even more recipe inspiration and chat, competitions, behind the scenes and so much more!
Honey Flavoured Chocolate Bars
prep: 10 mins / cook: 0 mins / inactive: 60 mins / total: 1 hour 10 mins / quantity: serves 2-4
Ingredients
Instructions
Place your silicon moulds onto a tray or something sturdy to transport to the fridge
If using, brush the edible lustre dust into the crevices of some/all of your moulds
Melt the white chocolate then use a teaspoon to drizzle/flick it across the moulds
If using, scatter in the freeze dried raspberry pieces
Melt the dark chocolate then pour that in the moulds to completely fill each one
Put the moulds on the trays in the fridge for around an hour until set
Store in the fridge or at room temperature
Notes
The quantity of chocolate I've listed exactly fills the two moulds I've linked
If melting chocolate in the microwave do it in a few seconds bursts, stirring each time. Chocolate (especially white chocolate and in such a small quantity) can very easily burn in the microwave. No-one wants that horrible acrid smell!!
Alternatively melt the chocolates in bowls set over saucepans of barely simmering water. Once the water boils, turn off the heat and allow the temperature of the bowl to continue to melt the chocolate. This is a longer way of doing it but almost guarantees no burnt chocolate!
For even fancier chocolate you could use food colouring in the melted white chocolate!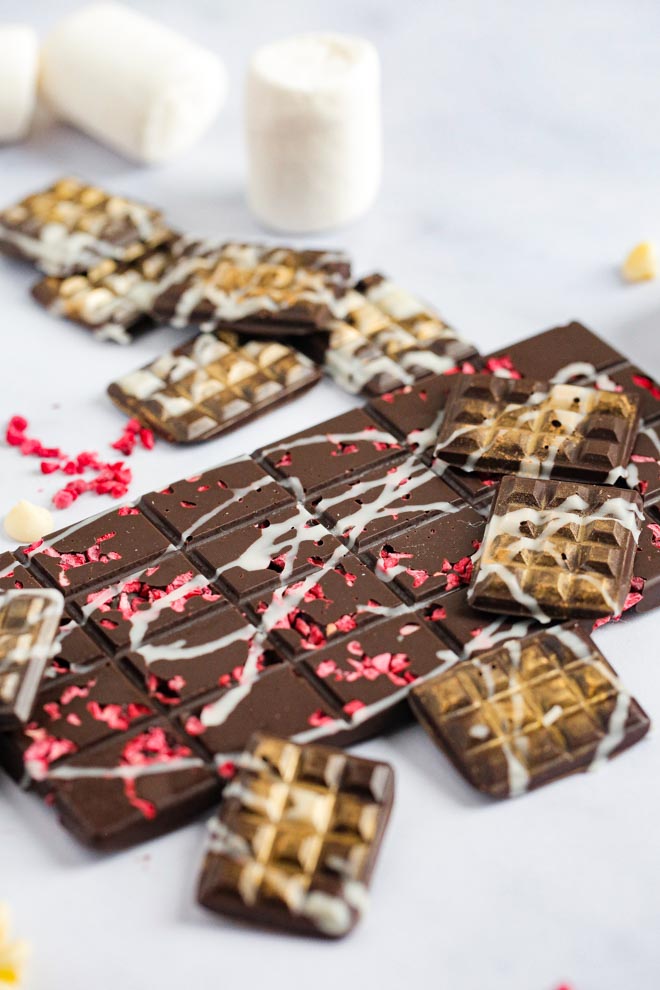 Hello and welcome to The Cook & Him.
We are Sam (The Cook), Phil (Him) and our little dog Nooch. What started with a plan to shed a few pounds back in 2016, soon became obvious that eating healthy doesn't have to be bland and boring.
So, combining Sam's 15 years of experience working within Michelin starred restaurants and our love for deliciously healthy food, we're creating recipes for you to make and enjoy. We've added our own unique spin on traditional and contemporary vegetarian and vegan recipes that keep you (and your pets!) healthy and full.  And we make sure they just work.
All things autumn - warming soups, savoury bakes and delicious sweet treats!
and I would like to see...
Or search for a recipe or post by keyword