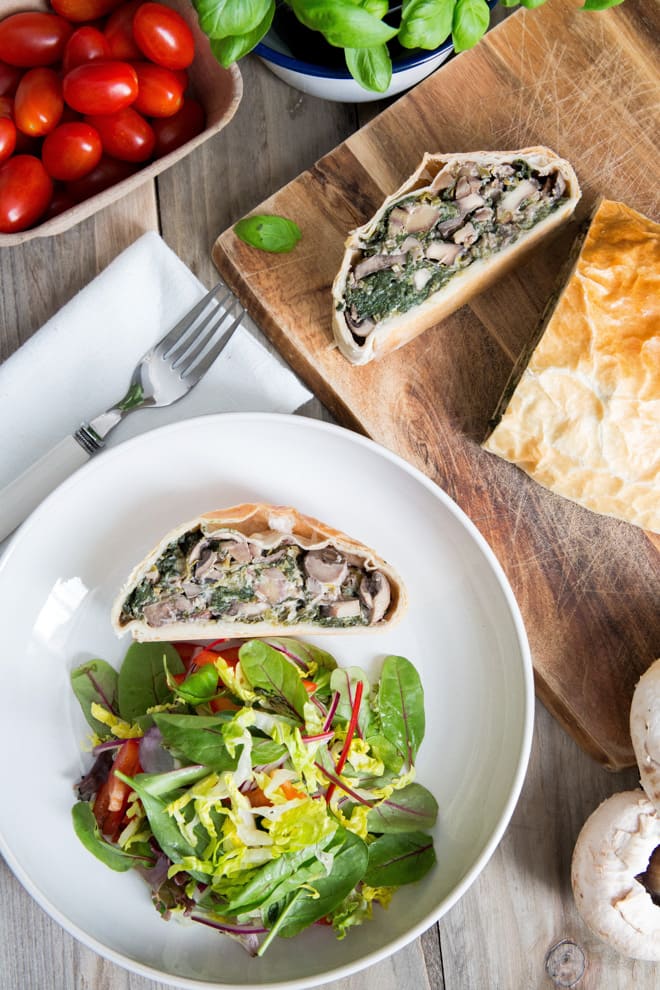 Posted in Recipes on 18.12.2017
Mushroom and Chestnut Wellington
prep: 30 mins / cook: 45 mins / inactive: 0 mins / total: 1 hour 15 mins / quantity: 6 - 8 portions Print recipe?
"I'm strong to the finish cause I eats me spinach" ~ Popeye The Sailor Man
The title says Mushroom and Chestnut Wellington but this delicious pastry parcel is also utterly jam packed with the good 'n green stuff – spinach.  Originating in Persia and part of the same family of nutritional powerhouses that include beets, chard and quinoa, it's been widely used in Europe since the 12th century where it became a desirable leafy green known for good health.  This is still true today and popular for its remarkable abilities to restore energy, increase vitality and improve the quality of the our blood.
It's SO good for you I actually feel all sitting on a cloud virtuous every time we have it.  Fact.
As for this wellington, it's also a veggie homage to my dear ol' Dad who loved the more traditional version.  I miss my Mum and Dad.  Every.  Single.  Day.  But being in the kitchen is where I feel particularly closest to Dad because he LOVED cooking.  Always said if he could have his life over again he'd swap cobbling for cooking (sounds like a good autobiography title ?)
Now … don't be scared of just how much spinach is going in this thing …
… as it cooks down to virtually nothing.  You'll also need to flex those Popeye muscles to squeeze as much water as possible out of it once you've wilted it.  And I mean SQUEEZE.  Give it a squeeze, squeeze a bit more, give a last squeeze then one more squeeze for luck!
Once you've squeezed the fu heck out of it you can then start to impart flavour with deliciously earthy leeks
and lots of fresh herbs, alongside gorgeously firm chestnut mushrooms as well as actual chestnuts, garlic and vegan cream cheese.
There's a bit of faffing that follows as you'll need to wrap the whole thing in cling film and chill in the fridge for an hour or so.
This just helps the 'sausage' hold its shape when you try and roll it up in the pastry, making it nice and smooth rather than all lumpy bumpy!
Now when this cooks, unless you actually are Popeye with his muscles and have done a superhuman job of squeezing out the spinach it's GOING TO LEAK.  Do not panic.  Simply mop up the offending spinach juice with a bit of kitchen roll.  If you're worried about soggy bottoms don't be, it cooks perfectly fine, even with the leaks!
So, my parting gift to you is another recipe in your arsenal of veggie Christmas alternatives .. though we loved this one SO much it's more of a "wellington for life not just for Christmas"
If you make this recipe or any of the recipes from The Cook & Him we'd LOVE to see! Just snap a picture and share it on Instagram using #thecookandhim and tagging @thecookandhim in the photo itself (as this guarantees we'll see your picture!
)
And don't forget to follow us on Instagram , Facebook or Twitter for even more recipe inspiration and chat, competitions, behind the scenes and so much more!
Mushroom and Chestnut Wellington
prep: 30 mins / cook: 45 mins / inactive: 0 mins / total: 1 hour 15 mins / quantity: 6 - 8 portions
Ingredients
400g fresh spinach
couple of drizzles of olive oil
2 leeks – finely sliced and thoroughly washed
4-5 cloves garlic – peeled and crushed
20 fresh sage leaves – shredded
6 sprigs fresh thyme leaves
2 vegetable stock cubes
500g chesnut mushrooms – thinly sliced
200g whole cooked and peeled chestnuts – crumbled
150g vegan cream cheese
375g pack of ready rolled light puff pastry
Salt and pepper
1-2 tblsp unsweetened almond milk and a pinch of turmeric to glaze – whisked together
Instructions
In a large frying pan wilt the spinach.  I did this in 2 stages, wilting 1/2 then adding the other 1/2 once the first lot had cooked down.  
Tip into a colander and allow to cool and start to drain
No need to wash the frying pan, simply add the leeks and garlic to it along with a drizzle of olive oil and saute gently until the leeks start to soften
Add the fresh herbs, veggie stock cube, mushrooms and crumbled chestnuts.  Cook over a medium heat, stirring occasionally, for 3-4 minutes then stir in the vegan cream cheese.  Take off the heat and allow to cool while you squeeze the spinach
Squeeze as much liquid out of the spinach as you can.  I do this in a few small batches, using a clean t-towel, twisting the ball of spinach in the t-towel
Add the spinach to the frying pan and stir through along with plenty of salt and pepper
Lay a couple of long lengths of cling film across a clean work surface so that they overlap each other, then tip the spinach mixture into a line along it.  Wrap the cling film round it so it completely and tightly encases it.  Mine was about 14 x 3 1/2 inches when rolled
Carefully lift onto a board and chill in the fridge for about an hour
Preheat your oven to 180 Fan / 200 C / 400 F / Gas 6 and line your largest baking sheet with parchment or a silicon mat
Unravel your pastry onto a lightly floured work surface then using a rolling pin, roll out till it's around 18 x 13 inches in size
Lay the spinach sausage on one half lengthwise.  Cut a line across the top of the cling film with a sharp knife then carefully lift and 'plop' the contents into the middle of your puff pastry sheet
Brush the edges with some of the milk and turmeric glaze then wrap the pastry round the filling, completely encasing, tucking the seam on the underside and folding over the two ends
Lift the whole thing onto your baking sheet, brush with more glaze and bake for 45-50 minutes until golden
Notes
It's unlikely the pie won't leak.  Don't worry, simply mop up the excess juice off the tray with some kitchen roll.
Once it's baked you can either serve immediately or cool then chill in the fridge for up to 5 days.  Reheat in the oven 180 Fan / 200 C / 400 F / Gas 6 for around 30-40 minutes (check the middle is piping hot!)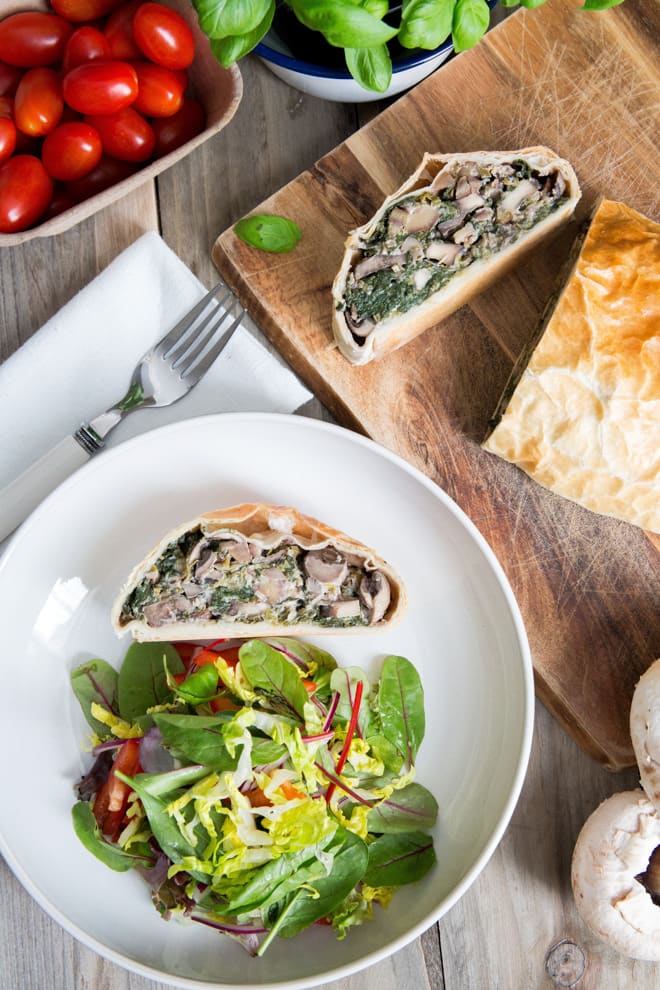 Some products I used in today's post...
Some of the links above are affiliate links, which pay us a small commission for our referral at no extra cost to you! Thank you for supporting The Cook & Him.
Hello and welcome to The Cook & Him.
We are Sam (The Cook), Phil (Him) and our little dog Nooch. What started with a plan to shed a few pounds back in 2016, soon became obvious that eating healthy doesn't have to be bland and boring.
So, combining Sam's 15 years of experience working within Michelin starred restaurants and our love for deliciously healthy food, we're creating recipes for you to make and enjoy. We've added our own unique spin on traditional and contemporary vegetarian and vegan recipes that keep you (and your pets!) healthy and full.  And we make sure they just work.
All things autumn - warming soups, savoury bakes and delicious sweet treats!
and I would like to see...
Or search for a recipe or post by keyword