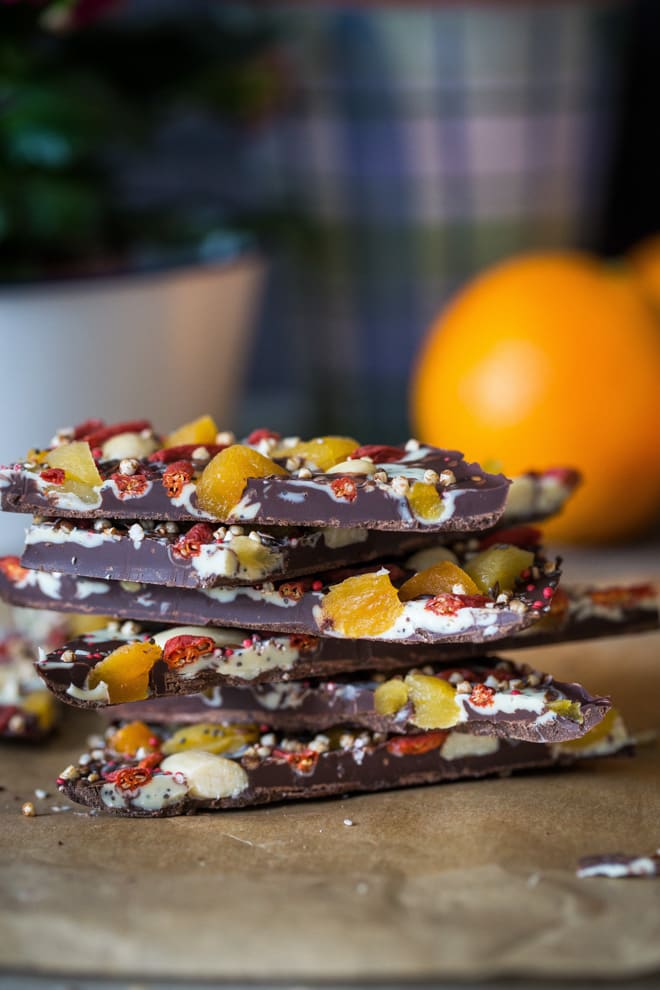 Posted in Recipes on 10.03.2018
Nutty St Clements Chocolate Bark
prep: 30 mins / cook: 0 mins / inactive: 0 mins / total: 30 mins / quantity: 8 portions (approx.) Print recipe?
Unleash you and/or your child's inner Picasso with this very art nouveau dahhhling chocolate concoction!  If ever there was a thing the word concoction was invented for THIS is it.  Goopy melted dark and white chocolate swirled together before literally throwing all manner of jewel like fruits, nuts and seeds into a scattered carefree ensemble across the top.
I talk a LOT about chocolate on this blog.  Mostly because I love chocolate but also because it's a deliciously fantabulous thing that comes in SO many different guises and is SO versatile.  It can be found in the most decadent of desserts to mouth-watering savoury dishes and everywhere in between!
I think I've also tried pretty much all chocolate on the planet.  And I'm sorry to any American readers but I DO NOT like your white chocolate Hershey's kisses!!  There are a few that absolutely stand out on the chocoholic spectrum.  Cadbury because I grew up with it.  Hotel Chocolate because it's rich and luxurious and I like to put on a posh frock and a tiara and pretend I'm a princess when eating this stuff.  Conscious Chocolate because it's raw and 100% vegan.  And now Doisy & Dam.  This stuff is bona fide delicious artisan chocolate with an absolute plethora of unusual and disgustingly delicious flavours.
Here I've used their Lemon, Poppy Seed & Baobab alongside Goji & Orange to make a very traditional St Clements flavour combination!
And honestly, this couldn't be simpler to make.  Melt, melt, drizzle, chuck, chill.  Done! ?
You can be as fancy as you want.  Swirl, don't swirl – who cares, this chocolate work of art is YOURS!  What you put on top is also kinda up to you, but I wanted to marry the flavours to the St Clements theme.  Golden sunshine dried apricots and extra goji berries, whole almonds alongside flax seeds and chia seeds for a healthy bit of ooomph and nutty crunch.
If you make this recipe or any of the recipes from The Cook & Him we'd LOVE to see! Just snap a picture and share it on Instagram using #thecookandhim and tagging @thecookandhim in the photo itself (as this guarantees we'll see your picture!
)
And don't forget to follow us on Instagram , Facebook or Twitter for even more recipe inspiration and chat, competitions, behind the scenes and so much more!
Nutty St Clements Chocolate Bark
prep: 30 mins / cook: 0 mins / inactive: 0 mins / total: 30 mins / quantity: 8 portions (approx.)
Ingredients
Instructions
Break both the chocolates into chunks then melt in separate bowls either in the microwave or over a bain-marie (a bowl set over a saucepan of barely simmering water).  Stir occasionally until all the chocolate is melted
Line a 9 x 9 tray with a piece of greaseproof then pour in the melted dark chocolate, smoothing out to the edges
Using a teaspoon, drizzle/flick the melted white chocolate over the dark chocolate.  You can leave it as is or drag a knife or toothpick to 'feather' the two chocolates together
Evenly sprinkle over the remaining ingredients then put in the fridge for 10-15 minutes until the chocolate is set
Use a large sharp knife to cut diagonally across at angles
Can be kept in the fridge or at room temperature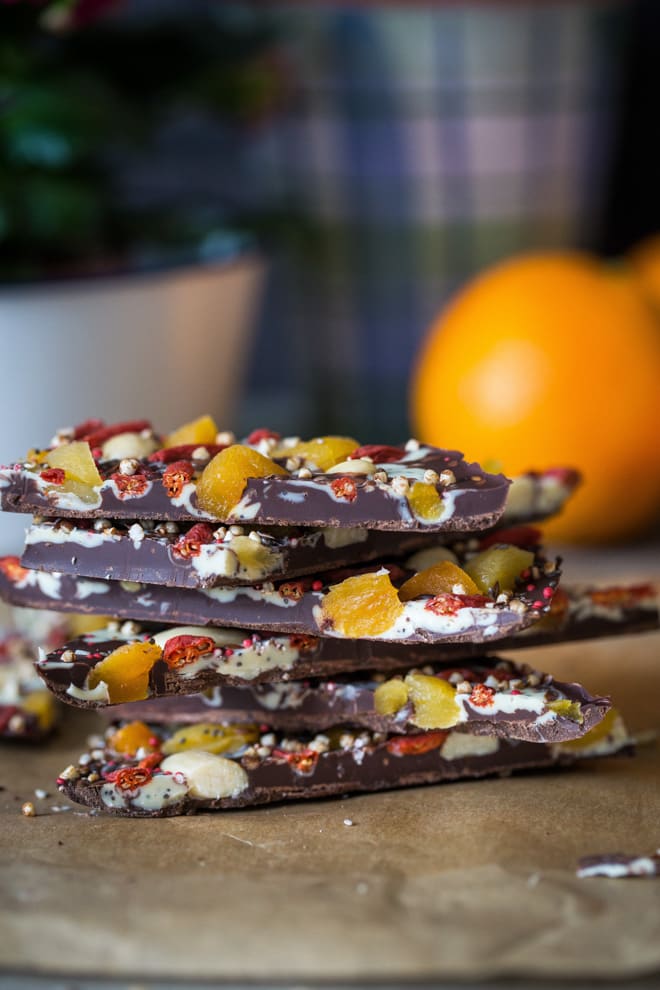 Some products I used in today's post...
Some of the links above are affiliate links, which pay us a small commission for our referral at no extra cost to you! Thank you for supporting The Cook & Him.
Hello and welcome to The Cook & Him.
We are Sam (The Cook), Phil (Him) and our little dog Nooch. What started with a plan to shed a few pounds back in 2016, soon became obvious that eating healthy doesn't have to be bland and boring.
So, combining Sam's 15 years of experience working within Michelin starred restaurants and our love for deliciously healthy food, we're creating recipes for you to make and enjoy. We've added our own unique spin on traditional and contemporary vegetarian and vegan recipes that keep you (and your pets!) healthy and full.  And we make sure they just work.
All things autumn - warming soups, savoury bakes and delicious sweet treats!
and I would like to see...
Or search for a recipe or post by keyword