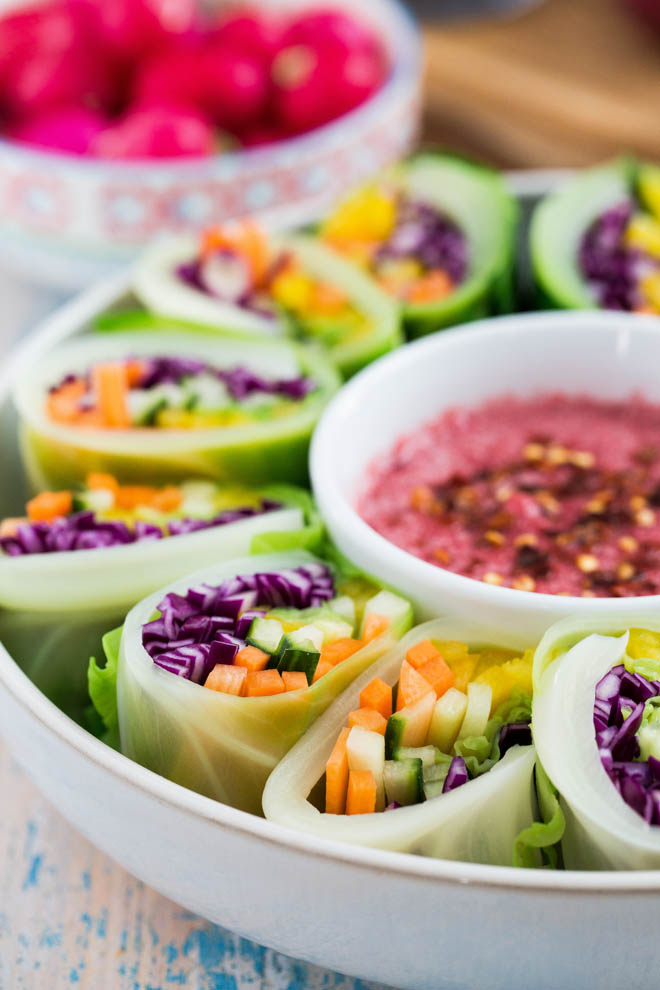 Posted in Recipes on 13.11.2019
Rainbow Vegetable Spring Rolls with Spiced Plum Sauce
prep: 20 mins / cook: 10 mins / inactive: 0 mins / total: 30 mins / quantity: 6 spring rolls Print recipe?
Brighten the darkest day with these rainbow vegetable spring rolls! Colourful fresh veggies wrapped in sweetheart cabbage served with a spiced plum sauce!
The day I made and photographed these beautifully bright veggie spring rolls it rained and rained and rained.  All the live long day.  It's currently November, the clocks have gone back and the  mornings are frosty and cold.
And because of the weather I've recently been gravitating towards all the warming bowls of comfort food.  Usually followed by Christmas cake.  Yes I know I mentioned it's still only November but Phil has decided after 46 years of not liking dried fruit but recently discovering he loves fruit cake, he now has all that fruit-cake-less time to make up for.
And I don't know about you but if I don't eat something raw, fresh and *green* for a few days my body starts to crave it.  It's like nature's way of telling us to counter-balance all that Christmas cake richness 😉
When I first thought about making these I intended to use those rice paper wrappers that become translucent when soaked in water.  Giving a glimpse of all those beautiful fresh veggies hiding inside.  But I struggled to find ones that were readily available and above all else, I don't want someone to be put off making any of my recipes because of a hard to get hold of ingredient.
So the rice paper morphed into cabbage leaves and I think that was a pretty good compromise.  Unlike the rice paper, the cabbage doesn't dry out on these spring rolls if you make them in advance of eating them.  Quite the opposite.  The cabbage stays fresh and moist (even after a couple of days) and so keeps the veggies inside fresh as well.
How to make veggie spring rolls
I start with the sauce.  Feel free to add more or less spice depending on taste.  You might know by now I'm a complete spice wimp and a few flakes on top of the plum sauce are about all I can handle!  One vital ingredient however is the Plum essence from Foodie Flavours.  Why add extra plum flavour to a fresh plum sauce?  All of the flavourings and essences from Foodie Flavours are super intense.  And plums can be a bit of a bland background in this sauce when you add in things like fresh ginger, garlic and warming spices.  I wanted the pretty plum colour for the sauce but also wanted a lovely strong plum flavour for a really tasty kick with the spring rolls.
To construct the spring rolls, they really are as simple as they look.  I even almost hesitate to call this a recipe!  There IS a tiny bit of cooking involved as the cabbage leaves have to be blanched as they need to be soft and flexible to be rolled up.
You'll need a large saucepan of boiling water and I blanch 2-3 leaves at a time for just a couple of minutes.  Have a large bowl of iced water standing by as this immediately halts the cooking and allows the cabbage leaves to retain their wonderful bright green colour.
Have a few sheets of kitchen paper handy and layer up the blanched and refreshed cabbage leaves between them.  This just helps dry them enough so the spring rolls don't end up soggy and waterlogged.
Next, lay each cabbage leaf flat with the stalk end nearest you, add your veggies in a pile at the bottom, tuck the sides in over the veg then roll up like a burrito!
The beauty of these is if you're feeding a crowd or people with different tastes/likes/dislikes you can let each person build the spring rolls themselves!  Just have different veggies or even other additions like baked tofu, roasted nuts, dried fruits, bean sprouts etc.  This is perfectly healthy finger food and oh so pretty with it 😉
If you make this recipe or any of the recipes from The Cook & Him we'd LOVE to see! Just snap a picture and share it on Instagram using #thecookandhim and tagging @thecookandhim in the photo itself (as this guarantees we'll see your picture!
)
And don't forget to follow us on Instagram , Facebook or Twitter for even more recipe inspiration and chat, competitions, behind the scenes and so much more!
Rainbow Vegetable Spring Rolls with Spiced Plum Sauce
prep: 20 mins / cook: 10 mins / inactive: 0 mins / total: 30 mins / quantity: 6 spring rolls
Ingredients
Spring Rolls:
6 sweetheart cabbage leaves
1/4 red cabbage
1/4 cucumber
1/2 yellow pepper
1 large carrot – peeled or scrubbed clean
Ice cubes
Spiced Plum Sauce:
1 large or 2 small ripe plums – stone removed and roughly chopped
1 clove garlic
1 cm piece fresh ginger – or sub with 1/2 tsp dried)
1 tblsp liquid aminos – or sub with soy sauce
1/2 tblsp apple cider vinegar
1 tblsp maple or agave syrup
1/4 tsp  ground all spice
1/2 tsp ground cinnamon
10-15 drops Foodie Flavours Plum Essence
Optional: pinch of dried chilli flakes
Instructions
Begin with the sauce - put all the sauce ingredients into a food processor or blender and whizz until smooth and thick. Tip into a small bowl
For the spring rolls bring a large pan of water to the boil
Fill a large bowl with cold water and add the ice cubes
Blanche the sweetheart cabbage leaves 2-3 at a time in the boiling water for just 2 minutes. You might need to use a spoon to push them into the water until they soften enough to be submerged
Carefully lift out with a slotted spoon or fish slice and plunge into the iced water
Repeat until you've blanched all of the leaves
Drain the cooked leaves then layer between sheets of kitchen paper, patting dry
Prepare all the other veggies:
Thinly slice the red cabbage
Cut the carrot into slices then cut into matchsticks
Do the same with the cucumber but discard the seeded core
Deseed and slice the pepper
To make the spring rolls lay one of the cabbage leaves flat in front of you with the stalk end nearest you. Lay a selection of the sliced veggies on top of the leaf at the end nearest you. Fold the side pieces of cabbage over the veggies then roll the leaf up like a burrito
Cut the spring roll in half and sit cut side up in a bowl
Repeat with the remaining cabbage leaves
Serve immediately or cover and store the spring rolls and sauce in the fridge for 2-3 days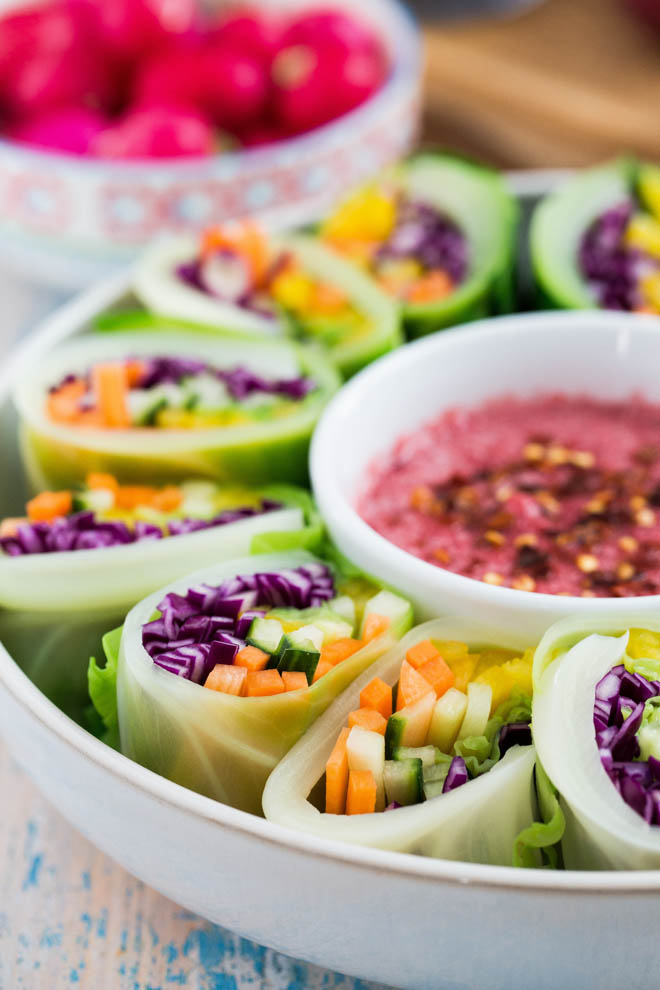 Some products I used in today's post...
Some of the links above are affiliate links, which pay us a small commission for our referral at no extra cost to you! Thank you for supporting The Cook & Him.
Hello and welcome to The Cook & Him.
We are Sam (The Cook), Phil (Him) and our little dog Nooch. What started with a plan to shed a few pounds back in 2016, soon became obvious that eating healthy doesn't have to be bland and boring.
So, combining Sam's 15 years of experience working within Michelin starred restaurants and our love for deliciously healthy food, we're creating recipes for you to make and enjoy. We've added our own unique spin on traditional and contemporary vegetarian and vegan recipes that keep you (and your pets!) healthy and full.  And we make sure they just work.
All things autumn - warming soups, savoury bakes and delicious sweet treats!
and I would like to see...
Or search for a recipe or post by keyword