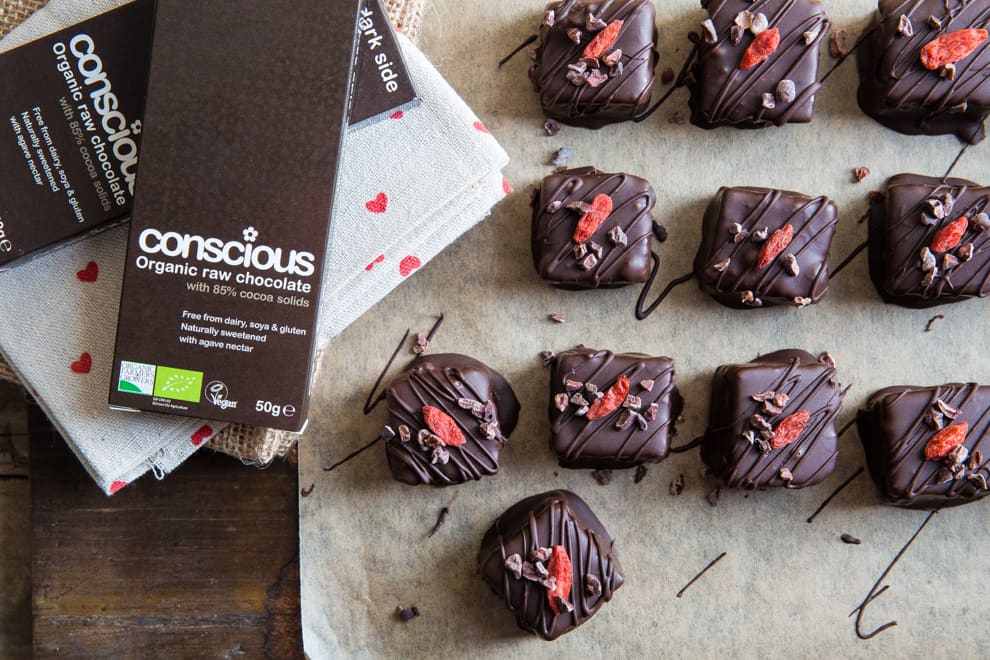 Posted in Recipes on 23.11.2017
Raw Goji Brownie Bites
prep: 30 mins / cook: 0 mins / inactive: 2 hours 0 mins / total: 2 hours 30 mins / quantity: 20 - 25 squares Print recipe?
Where do I start with these.  Do I talk about the melt in the mouth, bites of heaven that these little squares are?  Or do I wax genuinely lyrical about the chocolate divine-ness that IS Conscious Chocolate?  Chocolate that is rich, decadent and VEGAN!  Oh OH and did I mention that it's also sugar, gluten and soya free as well?!
All of their organic raw chocolate bars (and there's quite a range!) are made and wrapped by hand in their kitchens in East Grinstead, West Sussex.
So, you're looking for a post work out/after dinner/heck I just deserve it chocolate pick me up that tastes better than chocolate truffles.  And of course you don't want any refined crap in them because you're trying to be all healthy and glowy but the chocolate/sugar cravings aren't just calling, they're actually YELLING at you.  EAT ME.  Well then welcome to dates my friends.  These naturally sweet little miracles are all you need to turn nuts, peanut butter, some chewy goji berries, some antioxidant rich raw cacao powder and a dash of vanilla into the perfect little treat.  And then you cover them in rich, dark, smooth as silk SUGAR FREE chocolate.  I swear, does life actually get any better??
You don't HAVE to dip them in the chocolate.  It is another step and a fairly time consuming one at that.  And they taste pretty good nekkid.
BUT.  Promise me you'll try them dipped at least once before you go to the great Chocolate Fountain In The Sky.
You also don't have to do the extra drizzly bit on top.  I just want you make these SO BAD I had to make them look as "get them in my mouth now" good as possible ?
But just in case you're still on the fence about dipping …
Can I rest my case now?  I'll just be over here waiting for you to melt the chocolate …
If you make this recipe or any of the recipes from The Cook & Him we'd LOVE to see! Just snap a picture and share it on Instagram using #thecookandhim and tagging @thecookandhim in the photo itself (as this guarantees we'll see your picture!
)
And don't forget to follow us on Instagram , Facebook or Twitter for even more recipe inspiration and chat, competitions, behind the scenes and so much more!
Raw Goji Brownie Bites
prep: 30 mins / cook: 0 mins / inactive: 2 hours 0 mins / total: 2 hours 30 mins / quantity: 20 - 25 squares
Ingredients
1 cup walnuts
1/3 cup pecan nuts
1/3 cup cashew nuts
1 cup rolled oats
12 medjool dates – stones removed
1/3 cup goji berries
1/2 cup peanut butter
1/4 cup raw cacao powder
1 tsp vanilla extract
2 tblsp coconut oil
150g (roughly 3 bars)  Conscious Chocolate – The Dark Side
Optional
cacao nibs + extra goji berries for sprinkling
Instructions
Line a 9 x 9 inch dish or tin with greaseproof or cling film, covering the base and sides.  Set aside
Add the walnuts, pecans, cashews and oats to a food processor and whizz until the nuts are fairly finely chopped.   Tip out into a bowl
To the food processor add the stoned dates, goji berries, peanut butter, cacao powder, vanilla and coconut oil and pulse until well combined.  This might take quite a few pulses to chop the dates and blend everything back together.  Scrape down the sides of the bowl as needed
Once the dates are well chopped and you have a sticky mess, tip the nuts back into the processor and give a few quick pulses to amalgamate them
Tip into your prepared tin and push out to the corners, flattening the top. Pop into the fridge to chill  for a couple of hours. 
When it's firm enough to cut and hold its shape tip out onto a chopping board and cut into bite sized squares - I cut the whole thing into long strips then cut those strips into squares.  I also trim the edges first to get nice even squares - cookies perks ?
Put back in the fridge while you melt the chocolate
Melt the chocolate over a bain-marie or in the microwave, stirring until smooth. Prepare a flat tray or chopping board with a piece of greaseproof or baking parchment - something that will fit back in your fridge
Dip the squares of brownie into the chocolate, using a fork to turn the pieces making sure each side gets coated.  Allow the excess chocolate to fall off then use another fork/skewer/cocktail stick to push the square off the fork and onto the tray with the greaseproof
If the chocolate is starting to set on the dipped pieces, sprinkle them with the optional cacao nibs and goji berries
Keep dipping until you've either used up all the chocolate or you have no squares left to dip!  Refrigerate for 5-10 minutes till the chocolate is set.  
Store in the fridge in an airtight container
Notes
I honestly can't say how long these last.  I've made them 3 times now and each time they're mysteriously vanished from the fridge in just a couple of days! ?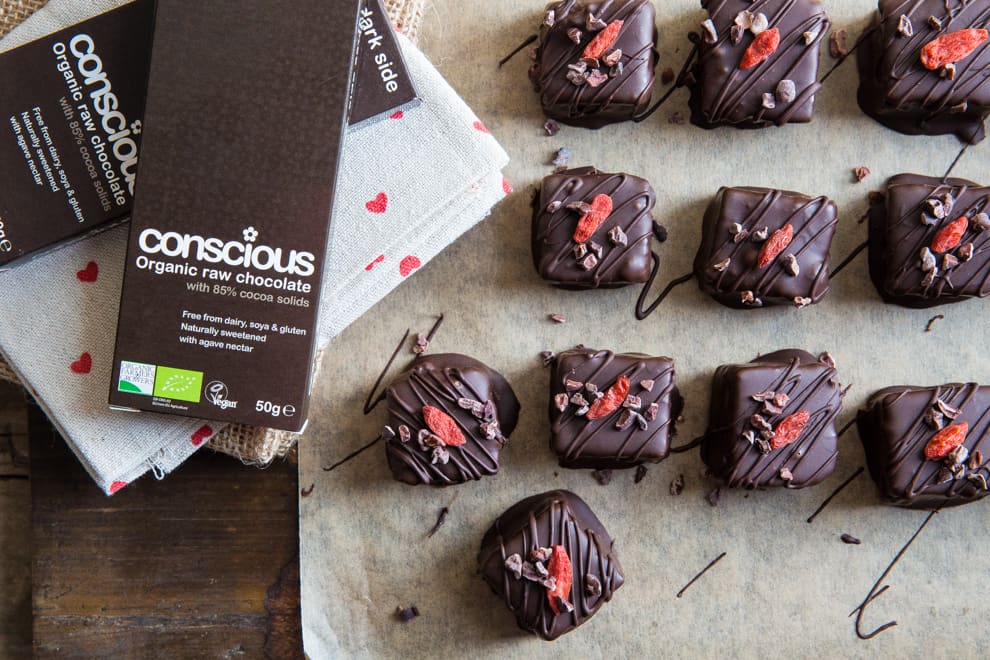 Hello and welcome to The Cook & Him.
We are Sam (The Cook), Phil (Him) and our little dog Nooch. What started with a plan to shed a few pounds back in 2016, soon became obvious that eating healthy doesn't have to be bland and boring.
So, combining Sam's 15 years of experience working within Michelin starred restaurants and our love for deliciously healthy food, we're creating recipes for you to make and enjoy. We've added our own unique spin on traditional and contemporary vegetarian and vegan recipes that keep you (and your pets!) healthy and full.  And we make sure they just work.
All things autumn - warming soups, savoury bakes and delicious sweet treats!
and I would like to see...
Or search for a recipe or post by keyword