Posted in Recipes on 04.05.2018
Red Pepper and Tomato Soup with Roasted Cauliflower
prep: 20 mins / cook: 25 mins / inactive: 0 mins / total: 45 mins / quantity: 4 servings Print recipe?
First it was cold, then it was really cold, then it was wet, then it was too warm and now we're back to cold.  I am literally writing this in the middle of a hail storm!  Couple of weeks ago it was the hottest April in the UK since 1949.  Windows were thrown open, paddling pools were inflated, blankets were washed and put away.  And now the heating's back on and the blankets are unpacked.  What the heck weather?
So instead of the salads I'd been looking forward to with the change of seasons, it's back to soup making.  Not that I'm complaining.  Big bowl of soup, hunk of crusty bread and I'm a happy bunny.  And as tomato is the ONLY soup Phil will eat I'm always looking for ways to jazz it up a little
So if you're wondering 'what the heck is she doing putting berries in a soup' please don't worry.  My marbles are all still in tact.  Mostly.  The goji berries give an amazing pop of flavour and just the right amount of sweetness.  Normally when I'm making a tomato based something I'll add a spoonful of coconut sugar as it really helps enhance the tomato flavour.  No need for extra sweetness with these wonderful little goji berries.  Never tried them?  Here's what they could be doing for you:
They are rich in antioxidants – this helps boost our immune systems and helps fight fatigue and tiredness as well as aid in the protection of eyes from age-related diseases
They are a source of natural plant based protein – which helps with the growth and maintenance of muscle mass as well as building and repairing tissue
Goji berries are loaded with beta-carotene and zeaxanthin – this is a natural pigment found in fruit and vegetables that gives them their yellow and orange colours. The body then converts it into Vitamin A which boosts your immune system and promotes healthy skin
Nutrient rich – they provide our bodies with vitamins B1, B2, B6 and E as well as 22 minerals and 11 amino acids
They also pack a mighty vitamin C punch – which contributes to growth and maintenance of bones and muscle mass
They're full of fibre – an important part of a healthy balanced diet as well as helpful in keeping you fuller for longer
Not bad for a little berry huh!
This soup has so many flavour levels – pungent garlic, sweet red onions and tomatoes, a bit of fire from the red peppers.  Topped off with the addictive thing that is roast cauliflower.  I eat this stuff straight off the tray.  Had to chide myself (again) so I had enough to take the photos!
So if your weather's as hither and thither as ours is, maybe it's time to get soup making again ?
If you make this recipe or any of the recipes from The Cook & Him we'd LOVE to see! Just snap a picture and share it on Instagram using #thecookandhim and tagging @thecookandhim in the photo itself (as this guarantees we'll see your picture!
)
And don't forget to follow us on Instagram , Facebook or Twitter for even more recipe inspiration and chat, competitions, behind the scenes and so much more!
Red Pepper and Tomato Soup with Roasted Cauliflower
prep: 20 mins / cook: 25 mins / inactive: 0 mins / total: 45 mins / quantity: 4 servings
Ingredients
Roasted Cauliflower
1 small cauliflower
1/2 tsp dried thyme
1/2 tsp dried rosemary
1 tsp garlic powder
2 tblsp nutritional yeast
Soup
10 large salad tomatoes
3 large cloves garlic
1 red onion
1 red pepper
1/3 cup goji berries
2 tblsp tomato puree
2 cups / 500 ml vegetable stock
Olive oil
Salt and pepper
Instructions
Start by roasting the cauliflower - preheat your oven to 180 Fan / 200 C  / 400 F / Gas 6 and line a medium tray with parchment or a sillicon mat
Break the cauliflower into florets - not too large, you want bite sized pieces - and put in a bowl with a drizzle of olive oil, the thyme, rosemary, garlic powder, yeast and a good pinch each of salt and pepper
Stir or toss everything together then tip onto your tray and roast for 25-30 minutes until golden and crisp
While that's cooking, make the soup!  Remove the core from the tomatoes, roughly dice the flesh and put into a large saucepan
Peel and roughly chop both the garlic and onion and add that to the pan.  Remove the core and seeds from the red pepper, roughly dice the flesh and add that too along with the goji berries and a drizzle of olive oil
Saute for 5 minutes over a medium heat, stirring frequently then add the tomato puree, stir, then add the veg stock and bubble for 15 minutes, giving an occasional stir until the tomatoes are just starting to go mushy.
Either ladle into a blender cup and blitz till smooth or use a stick blender and pulse until all the veg is well pureed.
Taste and season
Pour into your bowl and drop in a few florets of cauliflower.
Notes
Serve with hunks of crusty bread - these are all perfect:
Rye Bread
Herbed Beer Bread
Oat and Honey Wholemeal Bread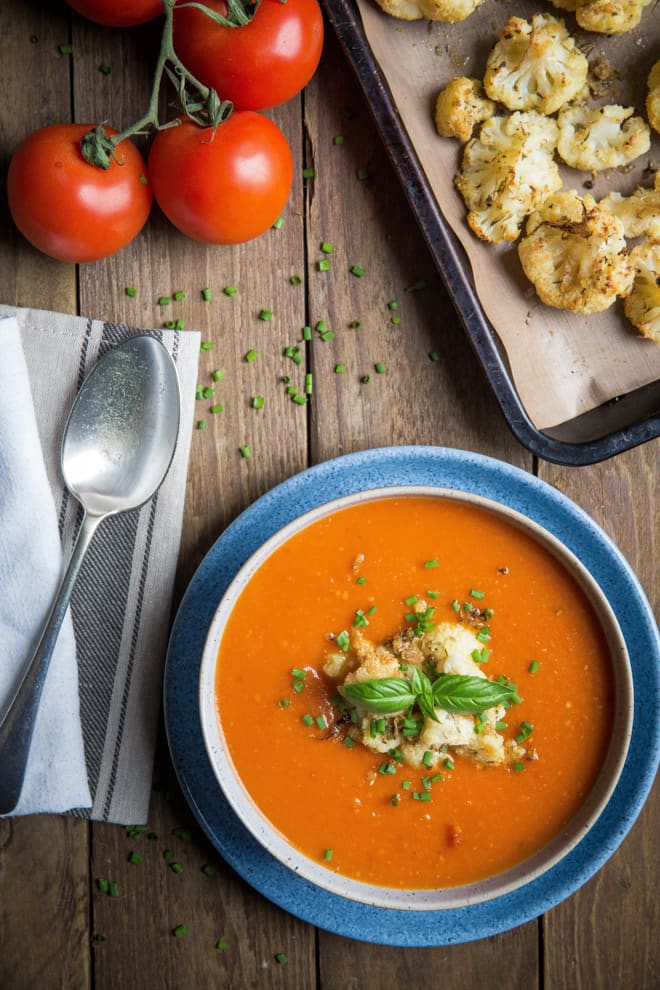 Some products I used in today's post...
Some of the links above are affiliate links, which pay us a small commission for our referral at no extra cost to you! Thank you for supporting The Cook & Him.
Hello and welcome to The Cook & Him.
We are Sam (The Cook), Phil (Him) and our little dog Nooch. What started with a plan to shed a few pounds back in 2016, soon became obvious that eating healthy doesn't have to be bland and boring.
So, combining Sam's 15 years of experience working within Michelin starred restaurants and our love for deliciously healthy food, we're creating recipes for you to make and enjoy. We've added our own unique spin on traditional and contemporary vegetarian and vegan recipes that keep you (and your pets!) healthy and full.  And we make sure they just work.
All things autumn - warming soups, savoury bakes and delicious sweet treats!
and I would like to see...
Or search for a recipe or post by keyword