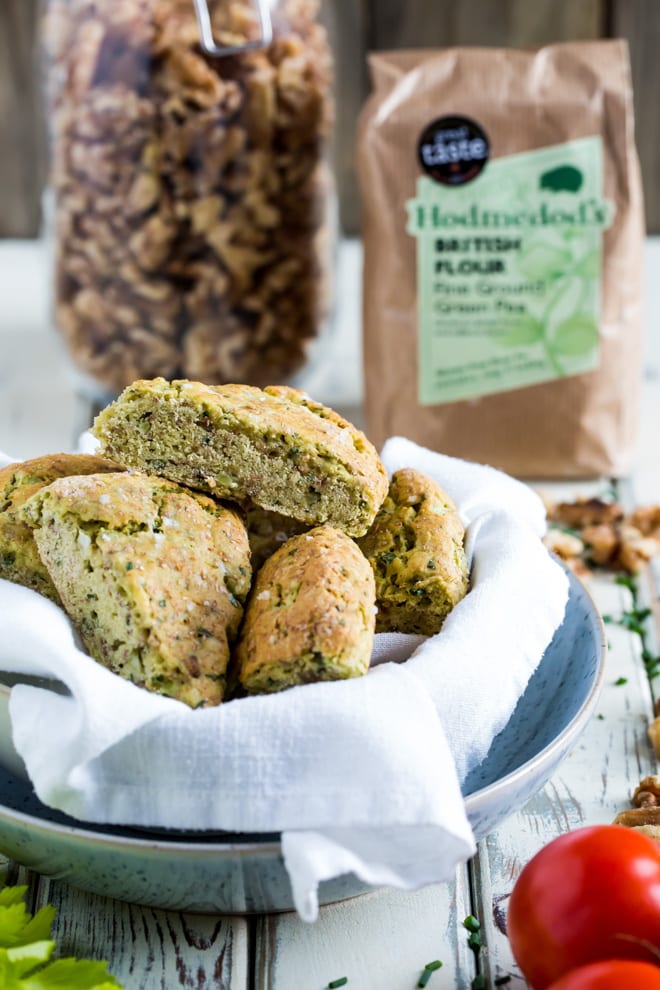 Posted in Recipes on 16.04.2019
Savoury Scones
prep: 20 mins / cook: 20 mins / inactive: 0 mins / total: 40 mins / quantity: 8 scones Print recipe?
Not only are these savoury scones vegan and gluten free but they're perfect for breakfast, brunch, lunch or dunking in your soup!
Scones are one of those things a lot of people don't make themselves as they can be temperamental little buggers.  Too dense, don't rise, a bit bland, too crumbly, too pale.  The list goes on.  Add making these savoury scones vegan as well as gluten free felt like quite the challenge.  Would they still have that lovely buttery flavour synonymous with scones?  Would the green pea flour from Hodmedods have enough 'structure' to hold the rise in this scone recipe?
In all honesty, these were some of the best savoury scones I've made.  Adding in walnut and celery crunch, tangy sun dried tomatoes and aromatic herbs and the gentle background flavour of the green pea flour made these gluten free scones – and I quote – chuffing delicious!  First time I made them we had them with Tomato Soup and everything together was a heady mix of herbs, spices and sheer flavour heaven!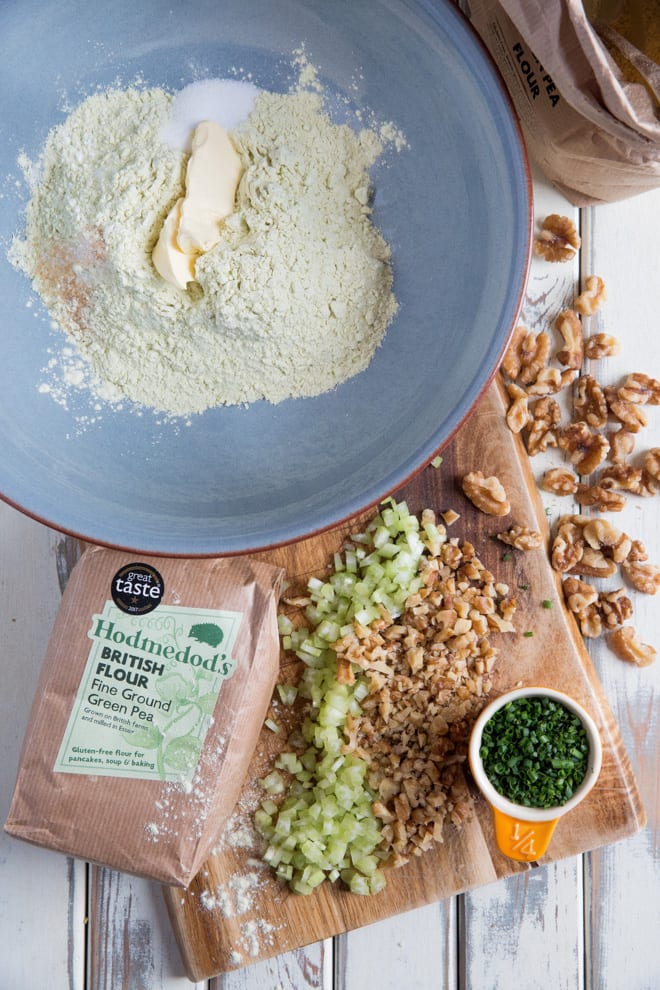 How to Make Scones
There are a few simple steps to follow when making scones:
Follow the recipe – this might seem obvious but wrong quantities can mean you end up with flat/spread/speckled scones.
Lightness of touch – over handling the dough might leave you with a dense, chewy scone.  One of the reasons I've started making my scones in the rounds instead of rolling and individually cutting means all the dough is used and it's only rolled once.  Rather than re-rolling the trimmings and potential over handling.
A sticky, slightly wetter dough will give a better rise – don't add all the liquid at once.  Flours can vary dependent on ambient temperature, air moisture etc so some scone doughs might not need the whole amount of liquid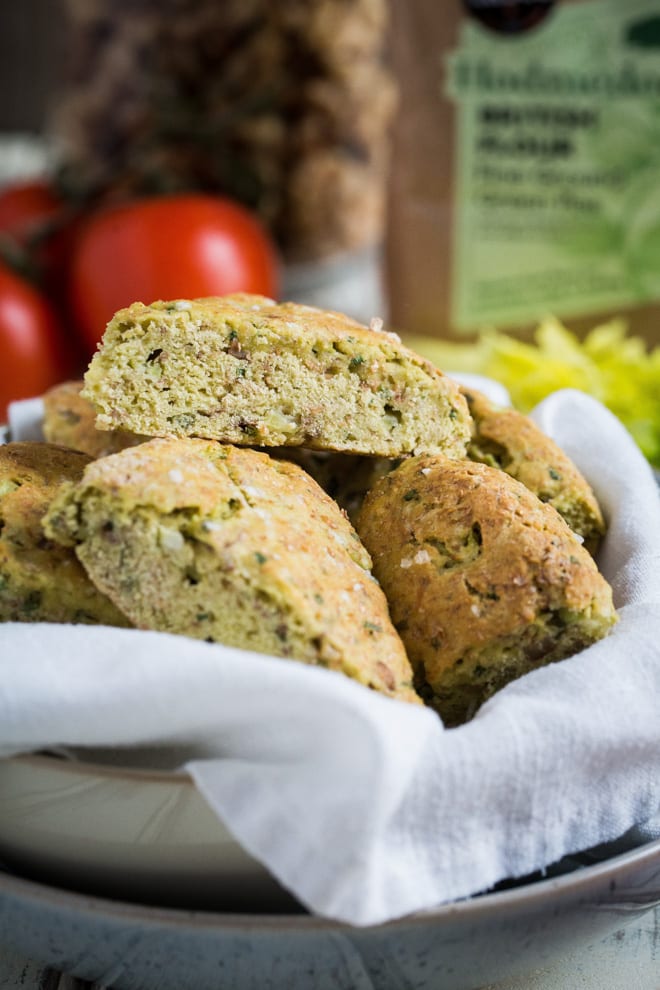 This scone recipe can also be frozen – either before or after baking, giving you fresh, warm scones whenever you fancy.  Which is often in our house.  So you're a brunch lover too?  Spread these thickly with vegan butter and simply enjoy or top with extra sun dried tomatoes, fresh cherry tomatoes, roasted tomatoes, ALL THE TOMATOES.  Or you could go for something a little less tomatoey like a relish, pickled onions, a vegan cheese ploughman's.
BRB, off to make more savoury scones 😉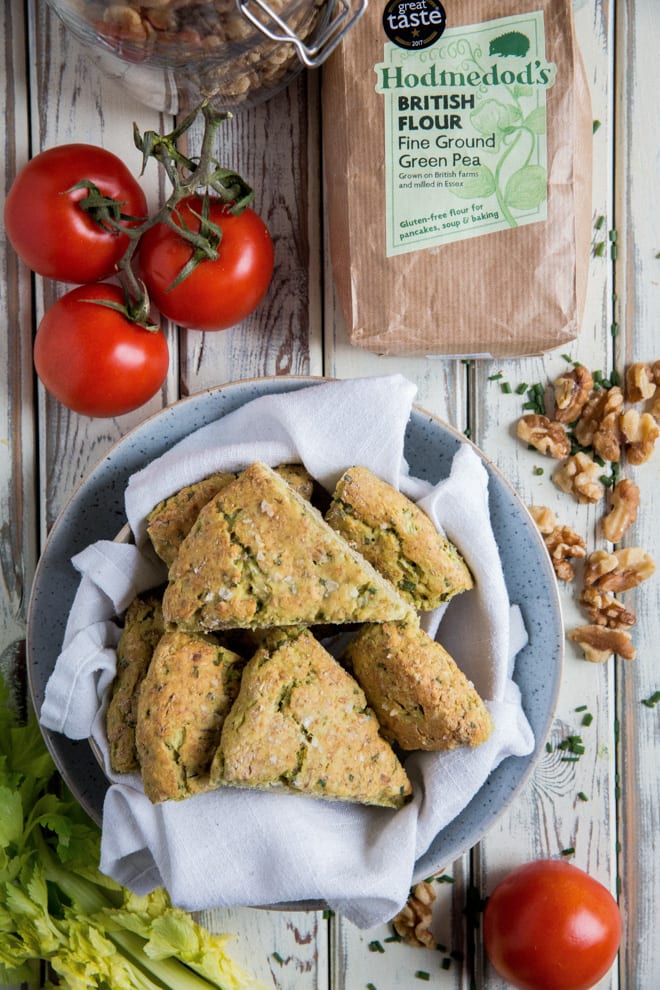 If you make this recipe or any of the recipes from The Cook & Him we'd LOVE to see! Just snap a picture and share it on Instagram using #thecookandhim and tagging @thecookandhim in the photo itself (as this guarantees we'll see your picture!
)
And don't forget to follow us on Instagram , Facebook or Twitter for even more recipe inspiration and chat, competitions, behind the scenes and so much more!
Savoury Scones
prep: 20 mins / cook: 20 mins / inactive: 0 mins / total: 40 mins / quantity: 8 scones
Ingredients
1 + 1/2 cups (180g) Hodmedods Green Pea Flour
1 + 1/2 tsp baking powder
1 tsp salt
1 tsp sugar
2 tblsp (30g) vegan butter
3 tblsp vegan cheese (I used Violife Prosociano) + a little extra for sprinkling on top
1 stick celery
1/3 cup (40g) walnuts
15-20 basil leaves – stalks removed
a few fresh chives
5 sun dried tomatoes
1/3 cup (95g) coconut yoghurt
2-3 tblsp unsweetened almond milk
Instructions
Preheat your oven to 200 Fan / 220 C / 425 F / Gas 7 and line a large baking tray with parchment or a silicon mat
Sift the flour, baking powder, salt and sugar together into a large bowl
Add the vegan butter and lightly, using your fingertips, 'rub in' to the flour until mixed through and no lumps of butter remain
Grate the cheese and add to the bowl. Grate a little extra (you don't need much) and set aside for sprinkling on the top
Very finely chop the celery - I slice the stick a few times lengthways then chop those lengths into tiny pieces. Add to the bowl
Roughly chop the walnuts and add those to the bowl
Shred the basil leaves and snip the chives and add those to the bowl
Roughly dice the sun dried tomatoes, add those to the bowl and stir everything together until well mixed
Add the coconut yoghurt and enough almond milk to make a tacky (but not wet!) dough
Tip onto a floured surface and gently form the dough into a large ball. Place onto your prepared tray
Roll with a rolling pin or use your hands to push into a large circle roughly 3/4 inch tall
Deeply score into 8 equal segments, not quite cutting through to the bottom of the dough (particularly if you're using a silicon mat underneath!)
Brush with a little milk and sprinkle with the extra cheese. You can also add a few flakes of sea salt too
Bake for 18-20 minutes until firm and set and slightly golden on top. Cool on the tray for 5 minutes before carefully lifting onto a cooling rack to cool
Serve while still warm or chill and store in an airtight container or chill and freeze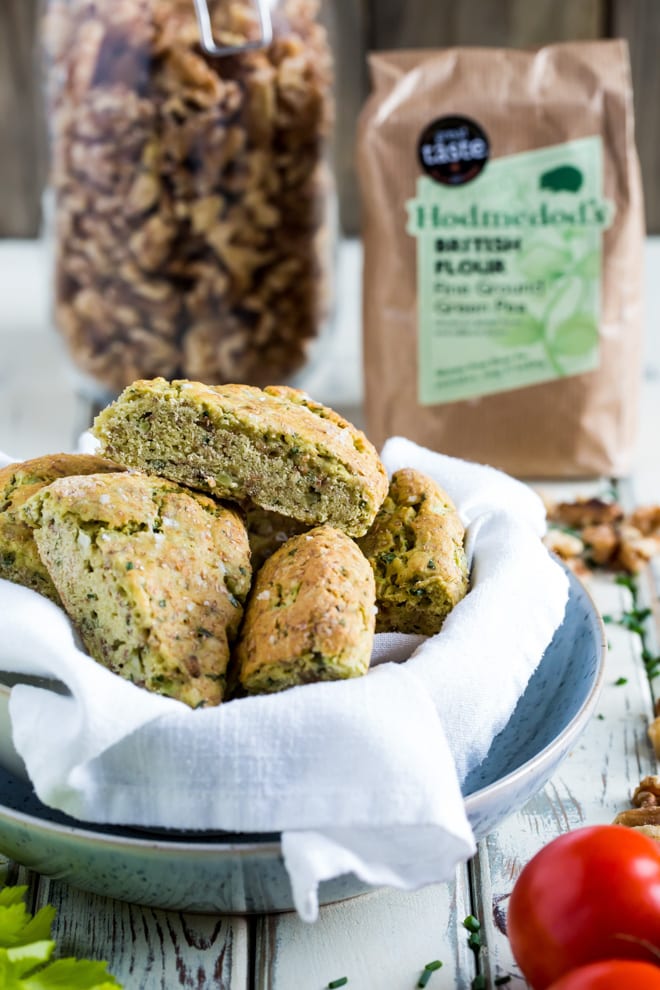 Hello and welcome to The Cook & Him.
We are Sam (The Cook), Phil (Him) and our little dog Nooch. What started with a plan to shed a few pounds back in 2016, soon became obvious that eating healthy doesn't have to be bland and boring.
So, combining Sam's 15 years of experience working within Michelin starred restaurants and our love for deliciously healthy food, we're creating recipes for you to make and enjoy. We've added our own unique spin on traditional and contemporary vegetarian and vegan recipes that keep you (and your pets!) healthy and full.  And we make sure they just work.
All things autumn - warming soups, savoury bakes and delicious sweet treats!
and I would like to see...
Or search for a recipe or post by keyword