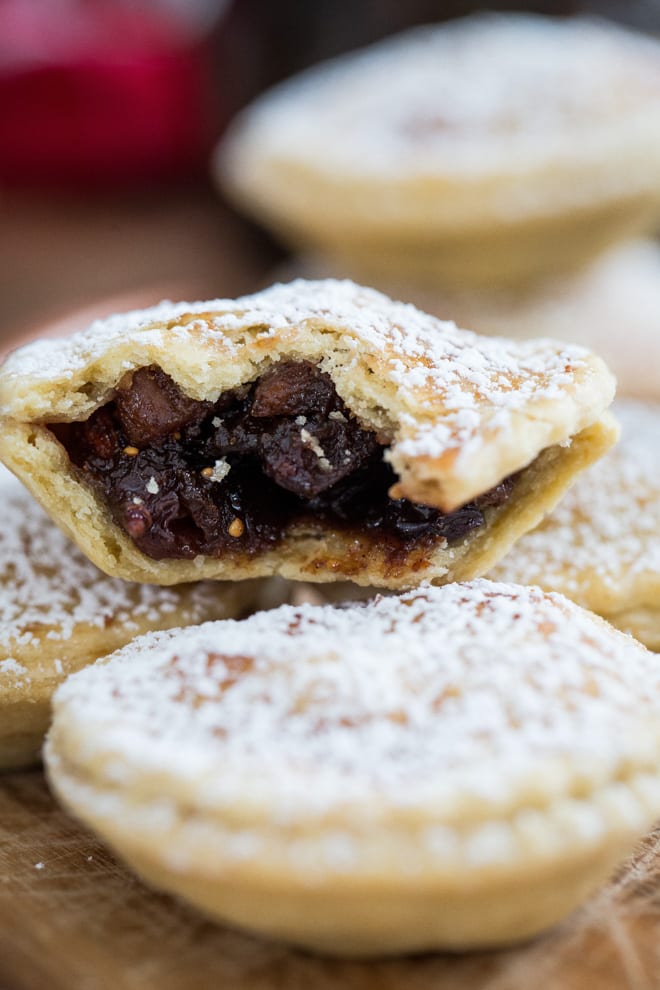 Posted in Recipes on 12.12.2018
Vegan Mince Pies
prep: 30 mins / cook: 1 hour 10 mins / inactive: 30-60 mins / total: 2 hours 10 mins / quantity: 12 vegan mince pies Print recipe?
These Vegan Mince Pies have a short, rich pastry filled with homemade sticky mincemeat packed full of festive fruits and spices!
We've got both home made mincemeat and from scratch pastry in these vegan mince pies.  And if you've never tried making your own pastry, vegan or otherwise, it couldn't be simpler.  I'd also say the same for the mincemeat!
In my pro-kitchen days we used to make so much mincemeat it required a thoroughly scrubbed sink and a paddle like spoon to mix it all.  And boy it was knackering on the arms!
These days it's just a medium saucepan, around 45 minutes and a lot less interaction to end up with a rich, fruity, sticky sweet homemade mincemeat.
The pastry is also really simple – all it needs is a light touch.
Knead the dough as little as possible –  just enough to bring it together.  You then need to leave it to rest – this relaxes the gluten in the flour, resulting in less/no shrinking of the pastry during baking
The final consideration for these vegan mince pies is how much to fill.  There's a balance between so little filling you end up sending out a search party to look for it and cramming so much in it just bubbles over and makes a sticky, glued to the baking tray mess.
I do tend to err on the side of overfilling.  I'd rather deal with the mess than have an empty void in my pies 😉
The pastry in this recipe makes enough for 12 vegan mince pies but the mincemeat makes enough for 24.  So you can either halve the mincemeat mixture or do a few other (highly recommended) things:
If you make this recipe or any of the recipes from The Cook & Him we'd LOVE to see! Just snap a picture and share it on Instagram using #thecookandhim and tagging @thecookandhim in the photo itself (as this guarantees we'll see your picture!
)
And don't forget to follow us on Instagram , Facebook or Twitter for even more recipe inspiration and chat, competitions, behind the scenes and so much more!
Vegan Mince Pies
prep: 30 mins / cook: 1 hour 10 mins / inactive: 30-60 mins / total: 2 hours 10 mins / quantity: 12 vegan mince pies
Ingredients
Mincemeat:
½ cup (80g) sultanas
1 cup (170g) dried mixed fruit
¼ cup (30g) goji berries
½ cup (90g / approximately 10) dried apricots – chopped into smallish dice
½ cup (90g) dried figs – chopped into smallish dice
1 orange – grated zest and juice
1 lemon – grated zest and juice
¾ cup (160g) coconut sugar
1 tsp ground allspice
2 tsp ground cinnamon
2 tsp ground nutmeg
½ cup (120ml) apple juice
Pastry:
2 cups (250g) plain flour
2/3 cup (110g) dairy free spread – I used Vitalite
2 tblsp coconut sugar
3 tblsp cold water
Instructions
For the mincemeat, simply put everything in a heavy based saucepan and bubble over a low-medium heat for around 45 minutes until thick and very sticky. Give a good stir occasionally.
Leave to cool while you make and rest the pastry - unless you're making in advance then cool completely before storing in an airtight container in the fridge
For the pastry, put the flour and spread into a medium bowl and combine the two by rubbing them together between your fingertips. Do this just until the mixture resembles fine breadcrumbs then stir in the coconut sugar
Add 2 tblsp cold water and mix together until it starts to form a dough - add another tblsp water (or more) if the mixture is too dry. You want to knead it as little as possible, just enough to bring it all together
Wrap the dough in foil or cling film and put in the fridge for at least 30 minutes. The pastry can also be made in advance and stored in the fridge or freezer. Just thoroughly defrost before using
Just before you're ready to use the pastry preheat your oven to 170 Fan / 190 C / 375 F / Gas 5
Unwrap the pastry onto a floured surface and roll out to around 2mm thick, turning the pastry 90 degrees every couple of rolls - this helps stop the pastry sticking and helps with even rolling out
Cut out 12 circles using a 3 inch (7cm) cutter then cut out another 12 using a 2 1/2 inch (6cm) cutter, re-rolling the pasty as necessary
Lay the large circles into the mince pie holes, gently pushing down so the pastry sits in the tin like a cup
Fill each cup with a teaspoon of mincemeat then top with a pastry lid. You can sprinkle the tops with just a dash of caster sugar here for a sparkly topping but it's not necessary
Put in the oven and bake for 25 minutes until the pastry is golden
Leave to cool for 5 minutes in the tin before carefully lifting out onto a cooling rack to cool completely - unless you're serving warm which I highly recommend ;)
Once cooled, store in an airtight container. Don't store in the fridge, this will make the pastry quite hard
Notes
The coconut sugar can be subbed for normal sugar but as coconut sugar is quite dark and caramely, a light brown sugar would be lovely!
You can swap the spices and increase/decrease depending on taste – I've been using ginger in everything recently so didn't include it, feel free to add it if you love ginger!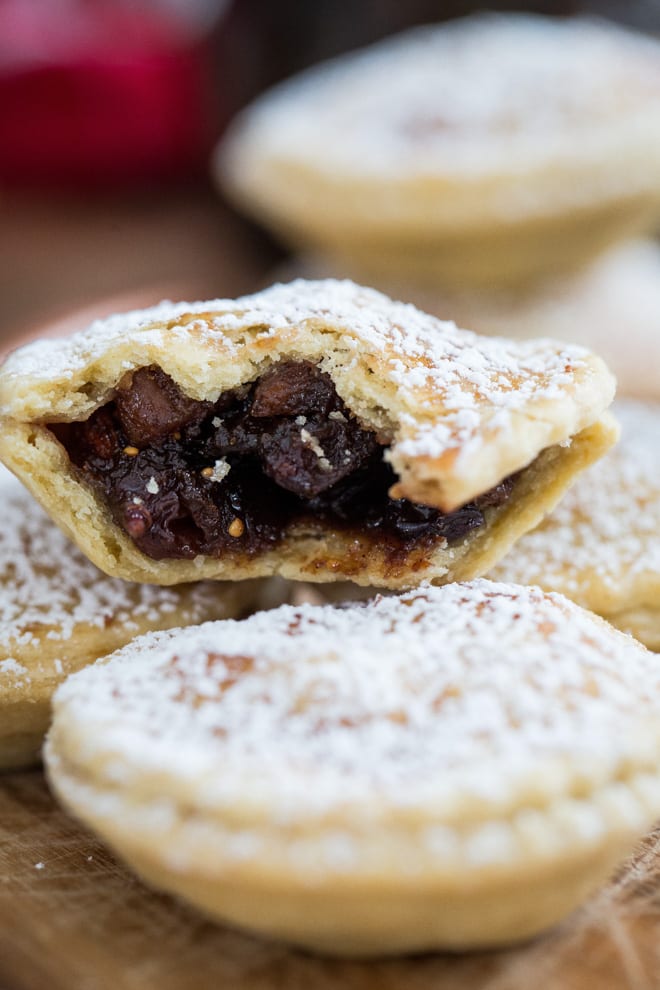 Some products I used in today's post...
Some of the links above are affiliate links, which pay us a small commission for our referral at no extra cost to you! Thank you for supporting The Cook & Him.
Hello and welcome to The Cook & Him.
We are Sam (The Cook), Phil (Him) and our little dog Nooch. What started with a plan to shed a few pounds back in 2016, soon became obvious that eating healthy doesn't have to be bland and boring.
So, combining Sam's 15 years of experience working within Michelin starred restaurants and our love for deliciously healthy food, we're creating recipes for you to make and enjoy. We've added our own unique spin on traditional and contemporary vegetarian and vegan recipes that keep you (and your pets!) healthy and full.  And we make sure they just work.
All things autumn - warming soups, savoury bakes and delicious sweet treats!
and I would like to see...
Or search for a recipe or post by keyword