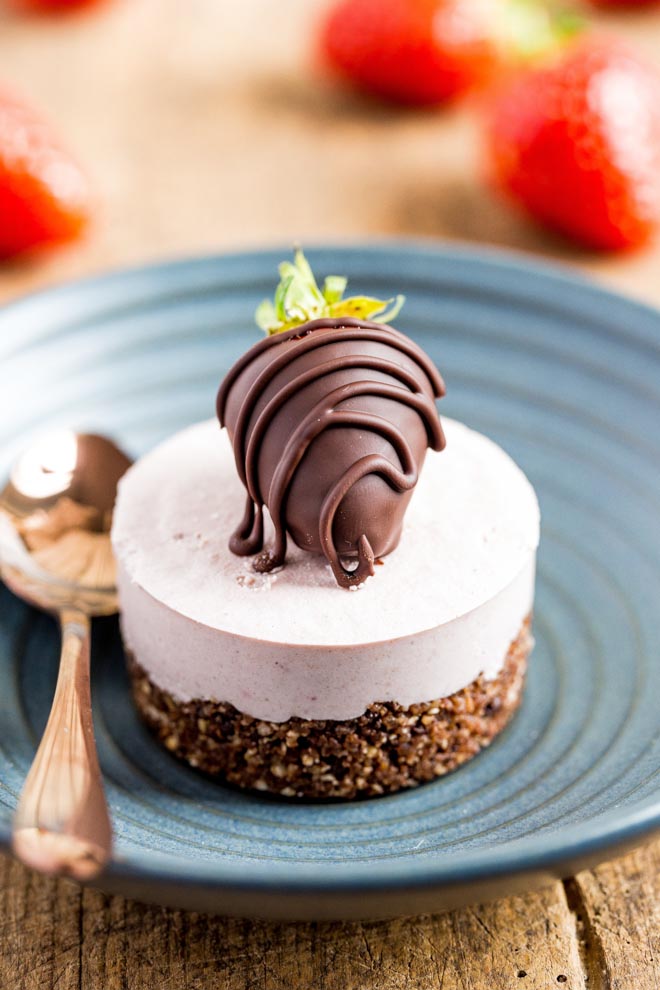 Posted in Recipes on 24.07.2019
Vegan Strawberry Cheesecakes
prep: 30 mins / cook: 0 mins / inactive: 60 mins / total: 1 hour 30 mins / quantity: 12 mini cheesecakes Print recipe?
Raw, vegan and gluten free, these mini strawberry cheesecakes with a nut and chocolate base are smooth, creamy and so easy to make!
Like REALLY easy to make.  And the base.  Oh my word the base.  You could eat that just by itself.  Then of course you go and top with the creamiest, smoothest vegan strawberry cheesecake mixture.  And all those chocolatey, nutty, strawberry flavours just dance round your mouth and make you want to scream that THIS is what food is about.
Cruelty free.
The BEST flavours.
SO so easy.
So that base.  Whizzed up nuts, dates, dairy free chocolate chips and quinoa flakes.  Yes, some of the bases on the finished cheesecakes may look a little thinner as I could't stop spooning it into my mouth.  Sticky sweet perfection.
Adding protein powder to these strawberry cheesecakes is entirely optional.
But if you're looking for a protein (and flavour) boost I truly recommend the Macacha range of protein powders.  I'm not a protein powder drinker.  I've never set foot in a gym (dog walking is my jam)  and I get more than enough protein from my diet.  But Phil does go to the gym and is weight training quite hard (strong is the new fit apparently) so needs a protein boost.  And the Macacha powders are such a lovely flavour I'm putting them in all sorts at the moment
Oatmeal Cookies – because being an adult means cookies for breakfast is perfectly acceptable (they're also pretty healthy but no-one needs to know that).
Chocolate Protein Bites – scrummy crunchy little nibbly things.
Vegan Protein Brownies – made these a legitimate gajillion times as a fudgy, chocolatey, gooey treat for Phil post gym.
We also need to talk about the tin I use to put these strawberry cheesecakes in to set and make those lovely, smooth little 'cakes'.  It's like a straight sided muffin tin but with loose bases.  PERFECT for these cheesecakes.  And these raspberry cheesecakes.  And the blueberry ones in our (free!) e-book.
The loose bottoms mean you can push the cheesecakes out of the mould and get that lovely smooth sided finish without having to run a hot knife round the edge or gouge chunks out of your nice tin.
Oh and don't forget to remove the little metal bases before serving <– especially when you have friends over.
As for the cheesecake bit – it does require at least an hour pre-planning to soak the cashews.  This makes sure they're lovely and soft and blend into that creamy texture.
You can serve these cheesecakes from frozen but they're just about perfect left at room temperature for 30-60 minutes.  I've never left them to completely defrost before devouring so I don't know if they just dissolve or what the texture is like.  We can't normally wait that long!
If you make this recipe or any of the recipes from The Cook & Him we'd LOVE to see! Just snap a picture and share it on Instagram using #thecookandhim and tagging @thecookandhim in the photo itself (as this guarantees we'll see your picture!
)
And don't forget to follow us on Instagram , Facebook or Twitter for even more recipe inspiration and chat, competitions, behind the scenes and so much more!
Vegan Strawberry Cheesecakes
prep: 30 mins / cook: 0 mins / inactive: 60 mins / total: 1 hour 30 mins / quantity: 12 mini cheesecakes
Ingredients
Base:
1 cup (150g / approx 15) dates – weight after stone removed
1/2 cup (50g) pecan nuts
1/2 cup (50g) walnuts
1/3 cup (70g) dairy free chocolate chips
1/3 cup (40g) quinoa flakes (can use rolled oats instead)
Cheesecake:
1 + 1/2 cups (200g) cashew nuts
2 tblsp coconut oil – melted
1 cup (200ml) unsweetened almond milk (or sub with your favourite plant based milk)
1/2 lemon – juice only
1 cup (150g) strawberries (fresh or frozen) – green stalks and leaves removed
1/3 cup (100g) agave or maple syrup
2 x 30g sachets Macacha Protein Powder – Beauty Blend
Instructions
Start by soaking the cashews at least 1 hour before you want to make the cheesecakes. Put in a heatproof bowl and cover with boiling water. If you're more organised you can do this the day before - you'll only need to cover them in cold water if so
For the bases put all the base ingredients into a food processor and whizz until it looks like breadcrumbs and is starting to stick together
Evenly divide between the 12 holes in your tin pushing down and compacting. I use the flat end of a rolling pin to really pack it down but you can use the back of a spoon or your fingers
Thoroughly drain the cashews and put into a blender or food food processor (I've tried both and the blender does give a smoother result)
Add the rest of the cheesecake ingredients and whizz until smooth and creamy
Fill each of the holes in the tin and smooth the tops
Freeze until set (see note)
Allow the tin to stand at room temperature for 5-10 minutes before gently pushing up from the bottom of the tin. The cheesecakes should easily pop out. If not, leave for a few more minutes. I empty the whole thing in one go and store the cheesecakes in a sealable container
Serve the cheesecakes from frozen or allow to stand at room temperature for 30 minutes to soften slightly
Notes
How long the cheesecakes take to freeze depends on your freezer. Also, when lifting the loose bottomed tin hold by the sides rather than the bottom - we dont want to push up those bottoms before the cheesecakes are set!!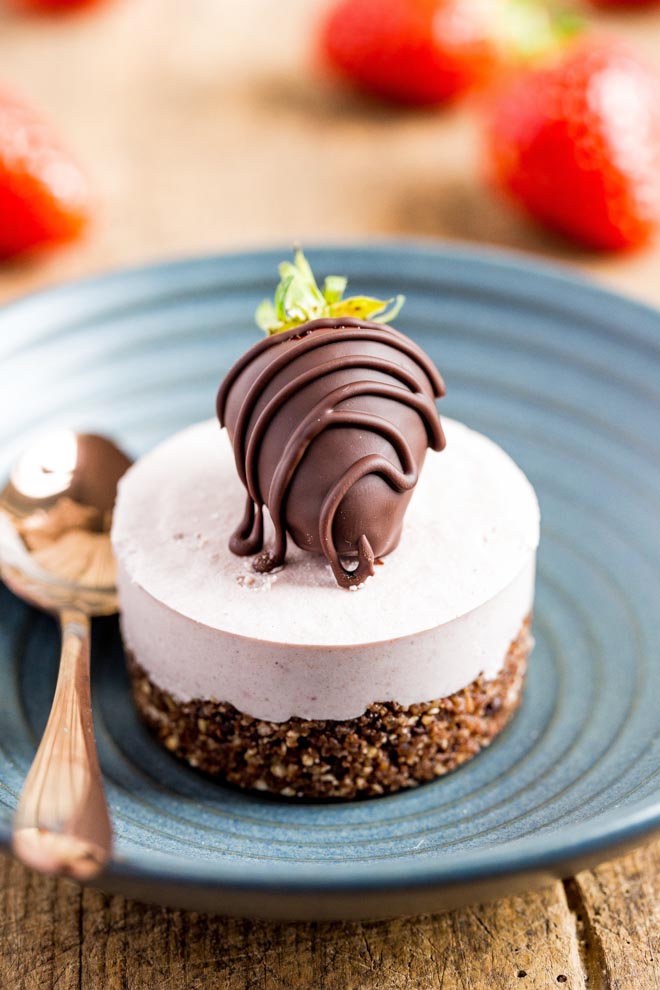 Some products I used in today's post...
Some of the links above are affiliate links, which pay us a small commission for our referral at no extra cost to you! Thank you for supporting The Cook & Him.
Hello and welcome to The Cook & Him.
We are Sam (The Cook), Phil (Him) and our little dog Nooch. What started with a plan to shed a few pounds back in 2016, soon became obvious that eating healthy doesn't have to be bland and boring.
So, combining Sam's 15 years of experience working within Michelin starred restaurants and our love for deliciously healthy food, we're creating recipes for you to make and enjoy. We've added our own unique spin on traditional and contemporary vegetarian and vegan recipes that keep you (and your pets!) healthy and full.  And we make sure they just work.
All things autumn - warming soups, savoury bakes and delicious sweet treats!
and I would like to see...
Or search for a recipe or post by keyword