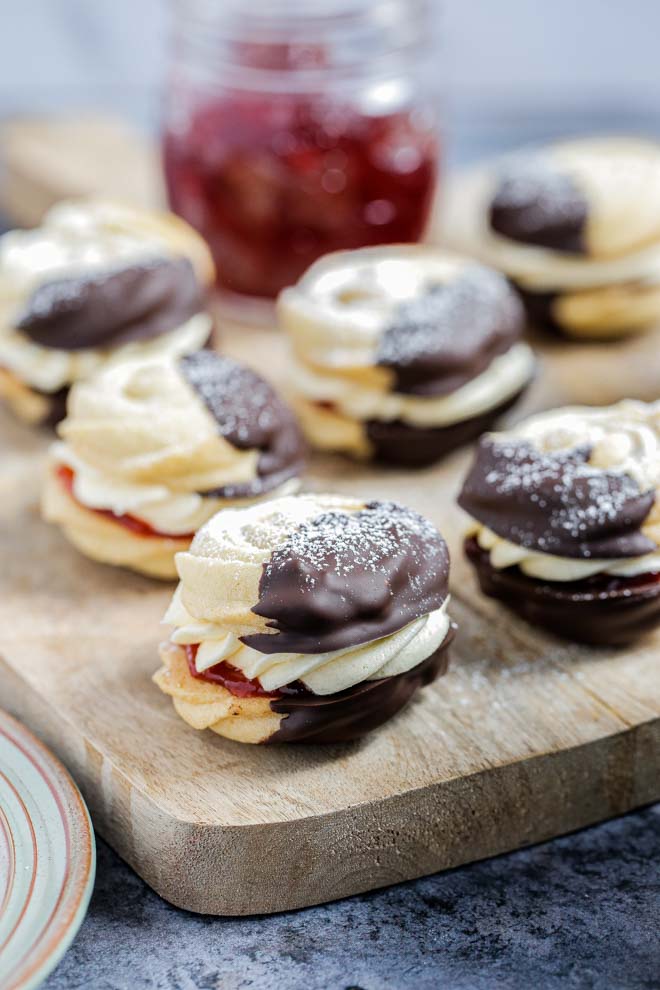 Posted in Recipes on 13.07.2020
Vegan Viennese Whirls
prep: 30 mins / cook: 20 mins / inactive: 30 mins / total: 1 hour 20 mins / quantity: 18 cookies / 9 sandwiches Print recipe?
Light, buttery vegan Viennese whirls, dipped in dark chocolate and sandwiched with jam and buttercream. The perfect afternoon treat!
Confession.  These vegan Viennese Whirls so far haven't lasted more than a day before Phil and I inhale them the second they're cooled and filled.  I've only made them twice (not counting them as a topping on these Viennese Whirl Mince Pies) because they're utterly irresistible.  And while we're still limited as to who we can visit (thank  you Covid-19) Phil and I end up eating the lot.  No sharing.  Just arguments about who gets the last one.
They're also waaaaaaay too easy to make.  They do take a bit of time as they need to be cooled before you can dip in chocolate.  Then cooled again to set the chocolate before piping in the filling.
But OHMYGOSH.  I promise you, they're worth the wait.  And I challenge anyone to even know these are vegan!
How to make Viennese Whirls:
Let's talk ingredients.
Start with a good quality vegan butter.  One that you like the taste of ordinarily, not just in a vegan biscuit.  It also needs to be the block butter kind, not the spreadable stuff in a tub so that the biscuits hold their shape when baking.  You don't want them to spread.  You want them to keep that lovely swirl shape you've piped.
Icing (or powdered) sugar is used for these cookies as it imparts a tender, delicate, melt-in-the-mouth texture.
Cornflour helps the cookies hold their shape when baking.
You'll want the butter softened, especially if you're mixing the cookie dough by hand.  If you're using a stand mixer you don't HAVE to have softened butter but it does help.  I've made these Viennese Whirls with both room temperature and chilled butter and I couldn't taste the difference in terms of texture or quality.  It just takes a little longer to beat until it's soft enough to be able to pipe the dough if you used chilled butter.
Once you've beaten the vegan butter until it's very soft and smooth add the icing sugar and beat again, until the sugar is very well incorporated and the mixture smooth.  Then you add a dash of vanilla (optional) and the flour and cornflour.
It's quite a stiff dough you'll end up with and it it's too firm to pipe you can add just a little hot water (small increments at a time) to make it pipeable.  I test it by squidging a small piece between my fingers.  You don't want it sticky but you do want a very soft texture.  Unless you have Popeye muscles and a very strong piping bag!
If it helps, draw small circles on the underside of your baking parchment so that you know what size to pipe them.  This helps keep them all the same size.   Especially as you're sandwiching these cookies and you don't want ones the size of a penny with ones as big as your face!
These cookies don't really spread at all so you can put the circles fairly close together
Once the cookies are baked and cooled dip half of each cookie in melted chocolate – re-using the piece of parchment you cooked them on.  If you can fit the tray in your fridge, great!  The chocolate WILL set at room temperature but it will take a lot longer.  And who wants to wait?!
Once the chocolate is set it's as simple as spreading a little jam onto half the cookies and piping the buttercream on the other half.  Then a very satisfying squidge as you sandwich the two cookies together!
Honestly, if I ever find a genie in a bottle I'm making these Viennese Whirls calorie free so I can inhale a tray full each day 😉
Love cookies as much as we do?  Here's some tried and tested favourites:
Coconut, Almond and Chocolate Cookies
I'd love to hear from you if you make these Vegan Viennese Whirls.  Just leave a comment as it's so helpful and I love to hear how the recipe worked out for you!  Thank you so much 🙂
Don't forget to follow us on YouTube, Facebook or Pinterest for even more recipe inspiration and chat, competitions, behind the scenes and so much more!
Vegan Viennese Whirls
prep: 30 mins / cook: 20 mins / inactive: 30 mins / total: 1 hour 20 mins / quantity: 18 cookies / 9 sandwiches
Ingredients
Cookies:
2/3 cup (160g ) vegan block butter – needs to be room temperature not fridge cold (see note)
1/4 cup (40g) icing (powdered) sugar
1/2 tsp vanilla extract
1 cup (160g) plain flour
1/4 cup (40g) cornflour
Buttercream:
1/2 cup (115g) vegan block butter (softened to room temp if mixing by hand)
1 + 1/2 cups icing (powdered) sugar
1/2 tsp vanilla extract
Approximately 5 tsp jam of choice
2/3 cup (100g)  dark dairy free chocolate
Piping bag fitted with star nozzle
Instructions
Preheat your oven to 170 Fan / 190 C / 375 F / Gas 5 and line a large baking tray with parchment
If you want to, draw round something on the underside of the parchment approx 2 inches (5cm) in diameter as a guide when piping your cookies. You can space these circles fairly close together as the cookies shouldn't spread
Cream together the vegan butter, icing sugar and vanilla extract until soft and fluffy. You can do this by hand, in a food processor or in a stand mixer using the paddle attachment
Beat in the flour and cornflour until well mixed but try not to overmix. If the dough feels too stiff to pipe add just a splash of boiling water in small increments until you have a pipeable dough
Spoon into a piping bag fitted with a star nozzle then pipe swirls of the dough onto your parchment until you've used all the dough
Bake for 20 minutes until lightly golden and just set
Leave to cool on the tray for 5 minutes then transfer to a wire rack to cool completely
While they're cooling melt the chocolate in a microwave or over a bain marie (a bowl set over a pan of barely simmering water)
Once the cookies are cooled dip half of each in the melted chocolate then gently place back on the parchment, flat side down. Put the tray in the fridge once all the cookies are dipped
While the chocolate is setting make the buttercream by beating all the ingredients together until pale and fluffy then spoon into a clean piping bag also fitted with a star nozzle
Once the chocolate is set, remove the cookies from the fridge and turn each one over
Spread roughly 1/2 tsp of jam over half the cookies then pipe the buttercream in a swirl on the other half
Sandwich 2 cookies together - jam to buttercream
Store in an airtight container at room temperature or keep in the fridge if it's particularly warm!
Notes
I really recommend taking the butter out of the fridge the day before you want to make these - it needs to be quite soft to be able to pipe the whirls. You'll also need to use the block butter type rather than the tub margarine type as it probably won't hold the swirl shape when baked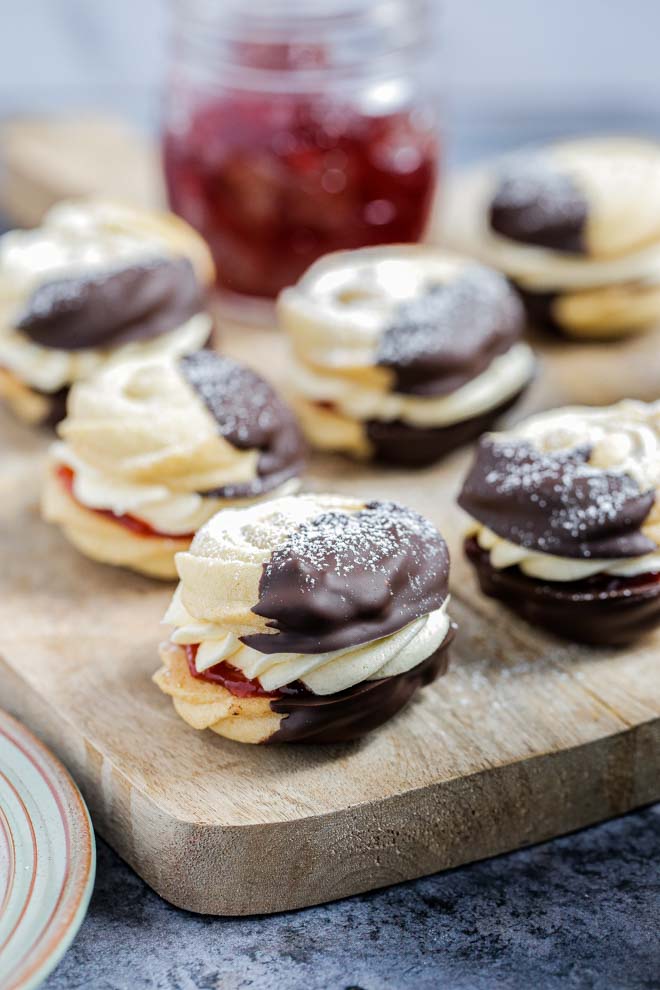 Hello and welcome to The Cook & Him.
We are Sam (The Cook), Phil (Him) and our little dog Nooch. What started with a plan to shed a few pounds back in 2016, soon became obvious that eating healthy doesn't have to be bland and boring.
So, combining Sam's 15 years of experience working within Michelin starred restaurants and our love for deliciously healthy food, we're creating recipes for you to make and enjoy. We've added our own unique spin on traditional and contemporary vegetarian and vegan recipes that keep you (and your pets!) healthy and full.  And we make sure they just work.
All things autumn - warming soups, savoury bakes and delicious sweet treats!
and I would like to see...
Or search for a recipe or post by keyword