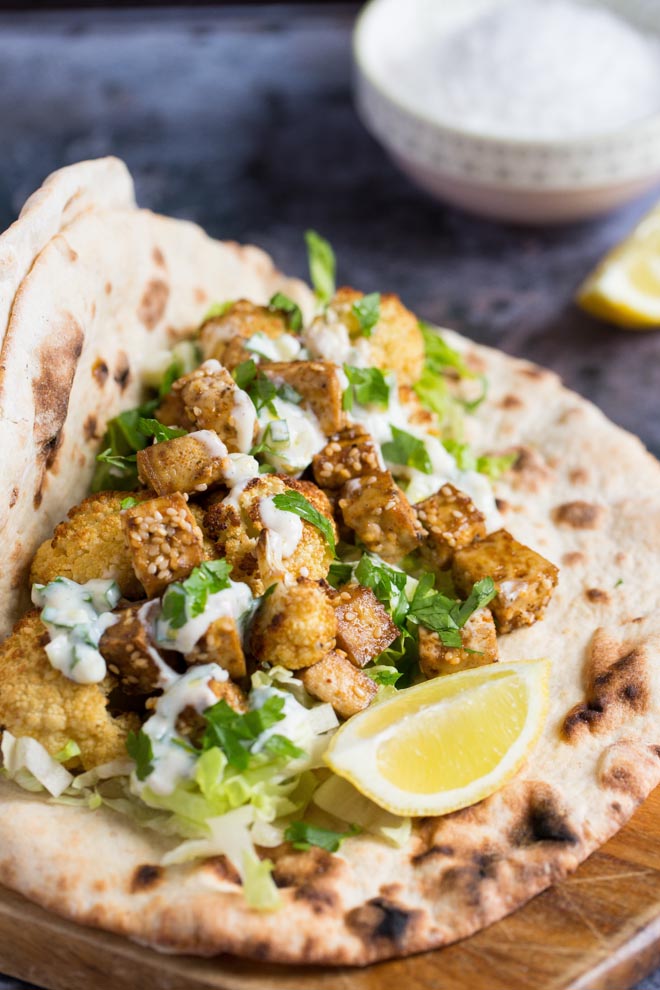 Posted in Recipes on 20.09.2019
Za'atar Tofu and Cauliflower with Tzatziki Sauce
prep: 10 mins / cook: 40 mins / inactive: 30 mins / total: 1 hour 20 mins / quantity: serves 2 generously Print recipe?
Crispy baked za'atar tofu and cauliflower, gently spiced and full of flavour. Drizzle with a creamy vegan tzatziki sauce for a quick and easy weeknight meal!
As a spice wimp I'm often a little nervous about eating something with exotic sounding names.  And I don't know about you but the word za'atar conjours up images of bedouin tents, hookahs, genies in lamps, dusky maidens with dark almond shaped eyes and a souk with piles of exotic spices!
However the beauty of cooking your own food means you can spice it however the flip you like!
What is za'atar?
Typically it's a Middle Eastern condiment made with a base of aromatic herbs – thyme, marjoram and oregano.  Sometimes one herb is used, other times it's a blend of all three and often depends on the region in which it's prepared.  It also contains sesame seeds, salt and other spices such as cumin and sumac.
As I don't like the feeling of my mouth on fire I opted for smoked paprika instead of sumac – it has such a wonderful flavour without overpowering everything.
How to prepare tofu
You want to get as much of the water out of the tofu as possible – this is what makes it crispy as it bakes.  I don't use a tofu press, I find just draining it from the packet then leaving it between a few sheets of kitchen paper for around half an hour perfectly adequate.  I cut the cubes fairly small as this also helps get it nice and crispy.  If you're still a little unsure about tofu I've written a full how to cook tofu guide here.
I often talk about the smell of things while they're cooking.  Or the fact that I often eat what I'm trying to photograph before I've actually got the camera out and struggle to have enough left to take a decent photo.  So I had to exert ALL my willpower NOT to eat this before taking a photo and tucking in with sticky fingers and sighs of satisfaction.  Because, dear reader, I want you to make this.  Join me on my mildly spiced journey to crispy tofu and caulilfower.  Oh baked cauliflower.  Almost as much my kryptonite as freshly fried donuts.
This za'atar tofu and cauliflower are also ridiculously easy to make – just two bowls and one tray needed. One bowl to coat the tofu and cauliflower in the herbs and spices.  The other bowl to make that rich, cool and creamy tzatziki sauce while the oven works its magic and crisps up the tofu and cauliflower to spiced perfection.
And this really does taste as good as it looks.  It has so much flavour and I wanted to get that across in the photos.  Rather than have 2 sad looking bits of tofu and cauliflower left on the tray.  Yep, that's happened.  Same problem with warm cookies 😉
If you make this recipe or any of the recipes from The Cook & Him we'd LOVE to see! Just snap a picture and share it on Instagram using #thecookandhim and tagging @thecookandhim in the photo itself (as this guarantees we'll see your picture!
)
And don't forget to follow us on Instagram , Facebook or Twitter for even more recipe inspiration and chat, competitions, behind the scenes and so much more!
Za'atar Tofu and Cauliflower with Tzatziki Sauce
prep: 10 mins / cook: 40 mins / inactive: 30 mins / total: 1 hour 20 mins / quantity: serves 2 generously
Ingredients
Za'atar:
3 tblsp oil – I used olive oil
1/2 tsp dried oregano
1/2 tsp dried thyme
1 tsp smoked paprika – add more if you like it spicy or use sumac for even more spice!
1 tsp ground cumin
1 tblsp sesame seeds
1 tsp salt + a few grinds of black pepper
2 cups (400g) firm tofu
3 cups (1 small head/450g) cauliflower – leaves removed and broken into florets
Tzatziki Sauce:
3 tblsp coconut yoghurt
1 tblsp liquid aminos (can sub with soy sauce)
1/4 cup (25g) finely diced cucumber
2-3 leaves fresh mint
1 tsp garlic powder
juice of 1/2 a lemon
pinch each of salt and pepper
Instructions
Preheat your oven to 200 Fan / 220 C / 425 F / Gas 7 and line a large tray (or 2 smaller trays) with parchment or a silicon mat
Drain the tofu from all the water and sandwich between several layers of kitchen paper. Set aside for around 30 minutes then dice into fairly even 3/4 inch (2cm) square chunks
In a large bowl whisk together the oil, oregano, thyme, paprika, cumin, sesame seeds and salt and pepper
Add the tofu and gently turn to coat on all sides. Lay evenly spaced apart onto your tray
Add the cauliflower florets to the large bowl and toss to coat in any of the remaining za'atar sauce
Pile onto your tray and bake the tofu and cauliflower for 35-40 minutes until crisp and golden
While it's baking prepare the tzatziki sauce by stiring all the ingredients together in a small bowl
Serve the tofu and cauliflower piled onto flatbread and top with a good drizzle of the the tzatziki sauce
This is also a lovely wrap filling with crisp lettuce and fresh tomato or use to top and dress a salad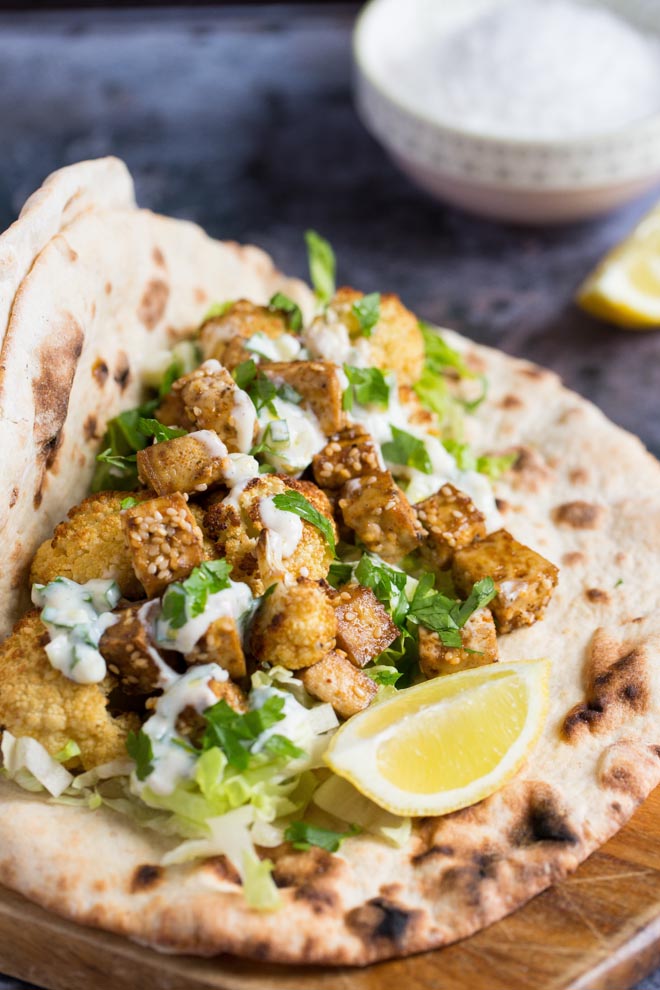 Some products I used in today's post...
Some of the links above are affiliate links, which pay us a small commission for our referral at no extra cost to you! Thank you for supporting The Cook & Him.
Hello and welcome to The Cook & Him.
We are Sam (The Cook), Phil (Him) and our little dog Nooch. What started with a plan to shed a few pounds back in 2016, soon became obvious that eating healthy doesn't have to be bland and boring.
So, combining Sam's 15 years of experience working within Michelin starred restaurants and our love for deliciously healthy food, we're creating recipes for you to make and enjoy. We've added our own unique spin on traditional and contemporary vegetarian and vegan recipes that keep you (and your pets!) healthy and full.  And we make sure they just work.
All things autumn - warming soups, savoury bakes and delicious sweet treats!
and I would like to see...
Or search for a recipe or post by keyword