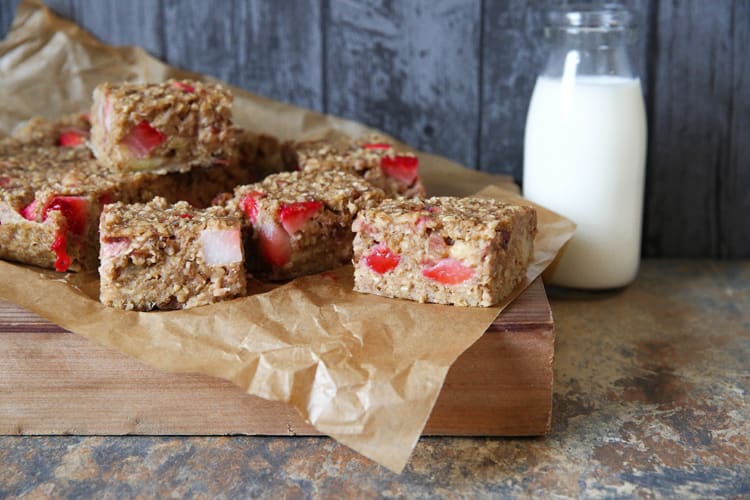 Posted in Recipes on 13.08.2017
Baked Acai & Strawberry Oats
prep: 20 mins / cook: 25 mins / inactive: 0 mins / total: 45 mins / quantity: 8 bars Print recipe?
With Him leaving for work at around 6 each morning there really isn't much time for anything other than a bleary "I love you/have a good day", so breakfast is generally something Phil can grab and go with.  And to make my life easier, something I can prepare in advance and have handily sitting in the freezer.  My only stipulation is that it tastes just as good defrosted a few weeks later as it did the day I made it!
Phil's a big fan of overnight oats – the kind in a jar that are all smooth and creamy.  But just for a change of oaty pace I made what are essentially baked overnight oats – they're still creamy but the egg sets them just nicely and the strawberries give them a wonderful moistness along with a nutty crunch from the … hmm, nuts I guess!
And for another change-up, sometimes he gets the chocolatey version – just as moist but with rich chocolate deliciousness.
All this in just one bowl too – can I get a hooray for saving on washing up?!  If you're making the chocolate version whisk the raw cacao powder into the eggs before adding the oats then add the chocolate chips at the same time as the strawberries.
You're also looking for chunks of strawberries in your baked oats so don't be tempted to cut them too small – you want a burst of strawberry in your mouth not strawberry mush!
Oh and that Mason Cash bowl up there – I'm pretty sure that's older than me.  Mum did NOT cook.  I can't stress the NOT bit enough.  My childhood wasn't deprived because mum's idea of cooking was Findus Crispy Pancakes (showing my age there!)  as my mum was the best in just about all ways.  She just hated cooking with absolute passion.  But that Mason Cash bowl is the only thing I have that mum would actually use for 'cooking' … if you count packet cake mixes and rice krispie cakes as cooking of course!
If you make this recipe or any of the recipes from The Cook & Him we'd LOVE to see! Just snap a picture and share it on Instagram using #thecookandhim and tagging @thecookandhim in the photo itself (as this guarantees we'll see your picture!
)
And don't forget to follow us on Instagram , Facebook or Twitter for even more recipe inspiration and chat, competitions, behind the scenes and so much more!
Baked Acai & Strawberry Oats
prep: 20 mins / cook: 25 mins / inactive: 0 mins / total: 45 mins / quantity: 8 bars
Ingredients
1/4 cup walnuts
1/4 cup pecan nuts
3 large bananas
3/4 cup almond milk
2 eggs
1 tblsp coconut oil – melted and cooled
1/4 cup maple syrup
1 tsp vanilla extract
1 tsp ground cinnamon
1 level tblsp acai berry powder
1 level tblsp maca powder (see note)
2 cups rolled oats
225g strawberries – stalks removed and roughly diced
Optional:
1 heaped tblsp raw cacao powder
1 cup dark chocolate chips
Instructions
Heat oven to 160 Fan / 180 C / 350 F / Gas 4. Line an 8 x 8 inch baking dish or tin with parchment
Put both the walnuts and pecans onto a baking tray and roast for 10 minutes till lightly golden
In a large bowl break up the bananas into chunks then mash well with a fork. Crack in the eggs, beat together lightly with the fork then mix in the almond milk, coconut oil, maple syrup, vanilla, cinnamon, acai powder, maca powder and optional cacao powder
Stir in the oats, strawberries and toasted nuts and optional chocolate chips
Pour into the prepared dish/tin and bake for 20-25 minutes until set and lightly golden on top
Allow to cool for a few minutes before cutting up
Notes
The maca is not essential for flavour in this recipe - it's purely optional if you want to include it for its health benefits
I always use raw cacao powder rather than cocoa powder - cacao is made by cold pressing unroasted beans and the process keeps the living enzymes in the powder and removes the fat.  Cocoa looks the same but has been roasted at high temperatures which changes the molecular structure of the bean, reducing the enzyme content and lowering the overall nutritional value.  Cacao is also known to have a higher antioxidant content than cocoa.
Allow to cool completely before setting in the fridge then cutting into bars
To freeze simply wrap in foil or place into a container with lid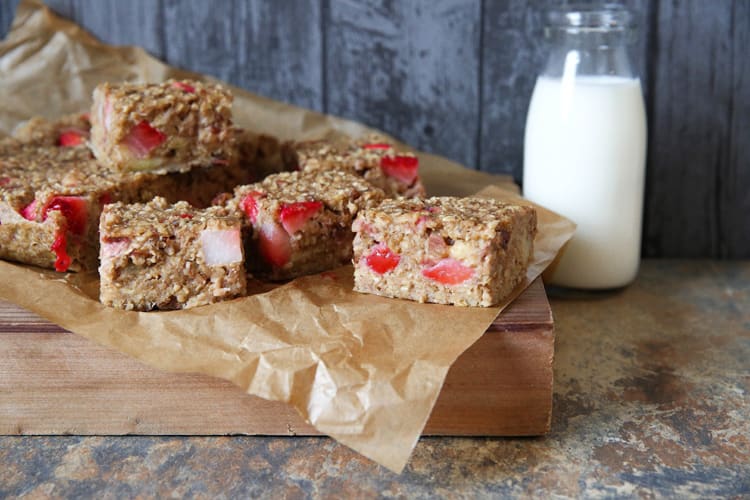 Hello and welcome to The Cook & Him.
We are Sam (The Cook), Phil (Him) and our little dog Nooch. What started with a plan to shed a few pounds back in 2016, soon became obvious that eating healthy doesn't have to be bland and boring.
So, combining Sam's 15 years of experience working within Michelin starred restaurants and our love for deliciously healthy food, we're creating recipes for you to make and enjoy. We've added our own unique spin on traditional and contemporary vegetarian and vegan recipes that keep you (and your pets!) healthy and full.  And we make sure they just work.
All things autumn - warming soups, savoury bakes and delicious sweet treats!
and I would like to see...
Or search for a recipe or post by keyword