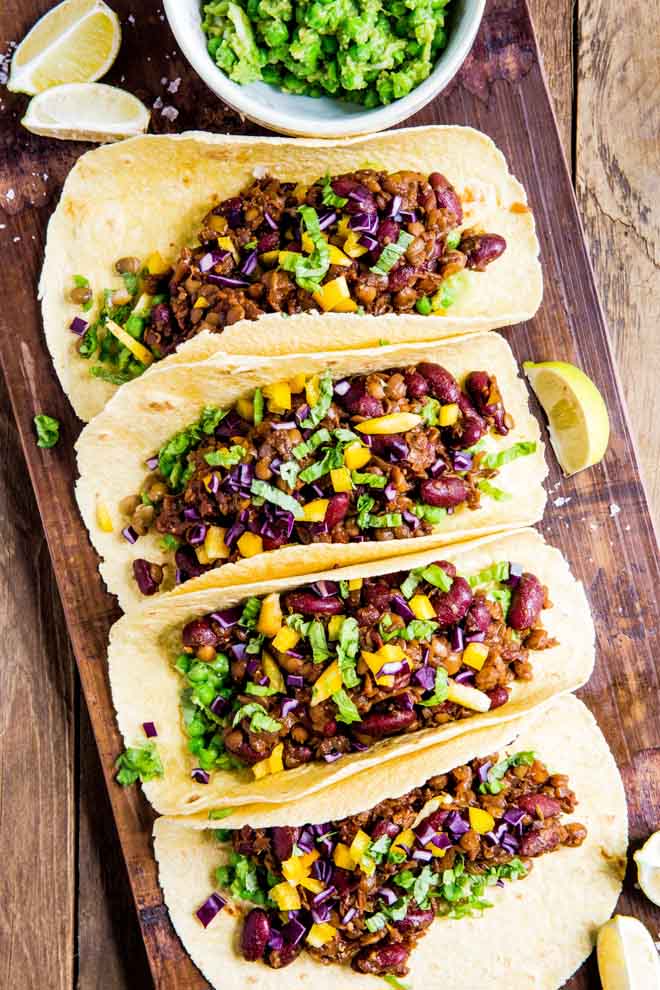 Posted in Recipes on 20.08.2019
BBQ Bean and Lentil Tacos
prep: 20 mins / cook: 1 hour 20 mins / inactive: 0 mins / total: 1 hour 40 mins / quantity: Serves 4 Print recipe?
All the smoky flavours of a super easy home made BBQ sauce are infused into these vegan Bean and Lentil Tacos!
I stuff my face a lot.  A LOT.  The joys of food blogging means there's always something different to cook/eat.  Don't get me wrong, it isn't all vegan chocolate cake and bbq bean and lentil tacos.  Well I mean it kind of is.  But it's also knowing what's going to work – so that I save myself some drama, time and ingredients.  It's about the endless washing up, the pulling strange positions to get the exact right photograph so that you, dear reader, want to make the things we bloggers have toiled over.
But yes, some days it is all barbecue tacos.  And chocolate cake 😉
And boy did I stuff my face with these.  The combination of meaty textures (sans meat ofc), rich barbecue sauce and bright fresh pea guacamole made me want to just funnel these straight into my mouth one after the other.
Don't be put off by what looks like a shopping list of ingredients for this tacos recipe.  If you really want to buy the bbq sauce instead of making your own that'll halve the list, but I've always found with most overly processed things they have their own list of (sometimes unpronounceable) ingredients and they usually lack any flavour.  And I dislike bland food even more than I dislike washing up 😉
And because I'm using only the finest ingredients for the 'meat' in these barbecue tacos I really wanted to do them justice.  If you've followed us for a while you'll know how much of a fan of Hodmedod's we are.  It's been a wonderful partnership getting to know and use incredible ingredients that they collect and distribute from some amazing British farms.  And every year they keep bringing us even more variety.
One of my very favourites is their umami paste.  It brings true depth of flavour to so many things.  We add it to chilli, lasagne, shepherd's pie and vegan meatballs.  And of course these tacos!
How to make vegan tacos
Start by cooking the haricot beans and lentils separately to the sauce.  They take a reasonable amount of time to cook and because home made barbecue sauce is unctuous and sticky, it'll likely burn before the pulses are cooked.  Not a good flavour.  Or smell.
How to make your own barbecue sauce
The sauce itself couldn't be simpler.  Saute your onions, garlic and pepper till just soft then add the rest of the seasonings and spices and a dash of water to bubble all those flavours together.  Chuck in your cooked beans and lentils and voila, taco filling full of deliciousness!
How you serve your vegan tacos can be a very subjective topic!
I've gone for cooling minted pea guacamole as the base.  I've put a brief description of how to make this in the recipe notes but since I posted about this on Instagram stories a couple of weeks ago I've had lots of comments asking for the full recipe so I'll do that as a separate post.  Because I'm currently smearing this pea guac on pretty much everything right now.  It's so easy and mostly the same as an ordinary guacamole.  Boil some petit-pois peas then mash half with an avocado, a clove of crushed garlic, lemon juice and salt and pepper.  Then stir in some shredded fresh mint (just 3-4 leaves), sliced spring onions, cumin and the rest of the peas.
You have my permission to go forth and smear!
For the extra topping I've just gone with some diced bell pepper and red cabbage for crunch and shredded basil because I love basil.  Would have it on cornflakes if that wasn't weird.
If you make this recipe or any of the recipes from The Cook & Him we'd LOVE to see! Just snap a picture and share it on Instagram using #thecookandhim and tagging @thecookandhim in the photo itself (as this guarantees we'll see your picture!
)
And don't forget to follow us on Instagram , Facebook or Twitter for even more recipe inspiration and chat, competitions, behind the scenes and so much more!
BBQ Bean and Lentil Tacos
prep: 20 mins / cook: 1 hour 20 mins / inactive: 0 mins / total: 1 hour 40 mins / quantity: Serves 4
Ingredients
BBQ sauce:
1 red onion – peeled
3 cloves garlic – peeled
drizzle of oil
1/2 bell pepper (any colour – red ones are sweeter)
1/2 tsp dried rosemary
1/3 cup (50g) sun dried tomatoes
1 tblsp coconut sugar
1 tblsp Hodmedod's Umami Paste
1 tsp smoked paprika
1 tsp cumin powder
1 tsp mustard (English, dijon or wholegrain all work for this)
1 tblsp liquid aminos (or sub for soy sauce)
salt and pepper
To serve:
4 tacos (I used soft corn tacos)
Diced red cabbage (optional)
Diced bell pepper (optional)
Minted pea guacamole (see note)
Instructions
Drain the haricot beans then put into a medium pan with plenty of cold water and bring to the boil. Rapidly bring to the boil then cover and simmer for 40 minutes. Keep an eye on them and top up with more water if necessary
Drain the lentils, add to the pan of haricot beans and simmer for a further 20 minutes until both beans and lentils are soft, topping up with more water if needed
Drain and set aside
Finely dice the red onion and crush the garlic and add both to a medium saucepan with a drizzle of oil
Cook over a medium heat for 3-4 minutes until just softened then add the remaining bbq sauce ingredients and gently sizzle for just one minute
Add the cooked beans and lentils along with 1/2 cup (120 ml) water and bubble for 2-3 minutes until thickened
Taste and add salt and pepper as neceesary
If using, spoon the pea guacamole onto a taco and top with the BBQ beans and lentils. Top with the diced cabbage and bell pepper
Notes
To make the minted pea guacamole boil 1 cup (150g) frozen petit pois peas for 2 minutes then refresh under cold water. Mash half the peas with the flesh from a ripe avocado and 1 clove crushed garlic. Stir in 1/2 tsp ground cumin, 1-2 tsp fresh lemon juice, salt and pepper, 3-4 leaves shredded mint leaves, a finely sliced spring onion and the rest of the peas. Keep covered in the fridge for up to 1 week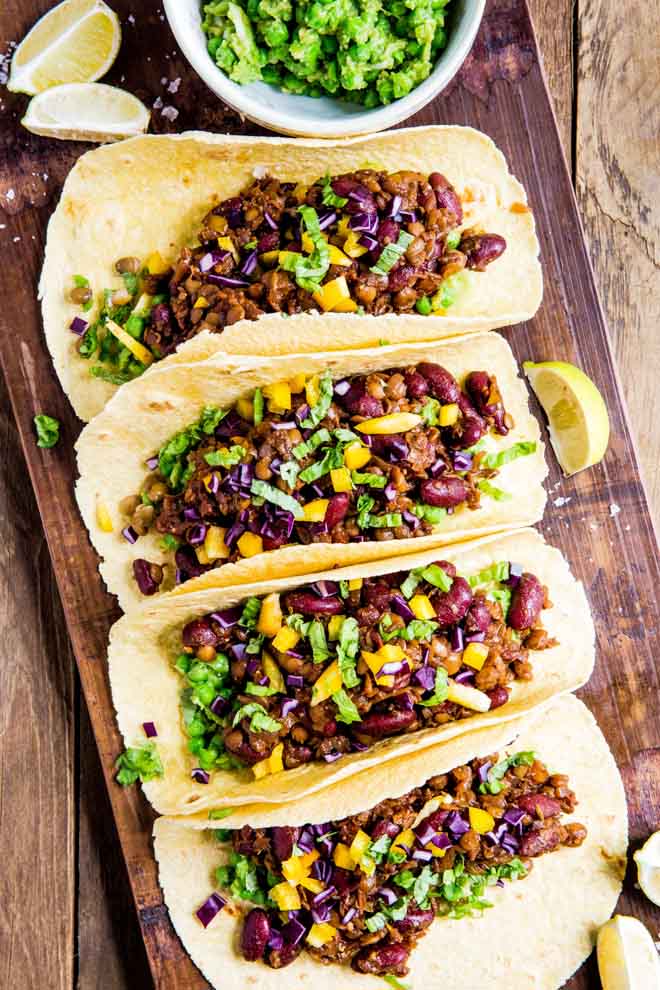 Some products I used in today's post...
Some of the links above are affiliate links, which pay us a small commission for our referral at no extra cost to you! Thank you for supporting The Cook & Him.
Hello and welcome to The Cook & Him.
We are Sam (The Cook), Phil (Him) and our little dog Nooch. What started with a plan to shed a few pounds back in 2016, soon became obvious that eating healthy doesn't have to be bland and boring.
So, combining Sam's 15 years of experience working within Michelin starred restaurants and our love for deliciously healthy food, we're creating recipes for you to make and enjoy. We've added our own unique spin on traditional and contemporary vegetarian and vegan recipes that keep you (and your pets!) healthy and full.  And we make sure they just work.
All things autumn - warming soups, savoury bakes and delicious sweet treats!
and I would like to see...
Or search for a recipe or post by keyword