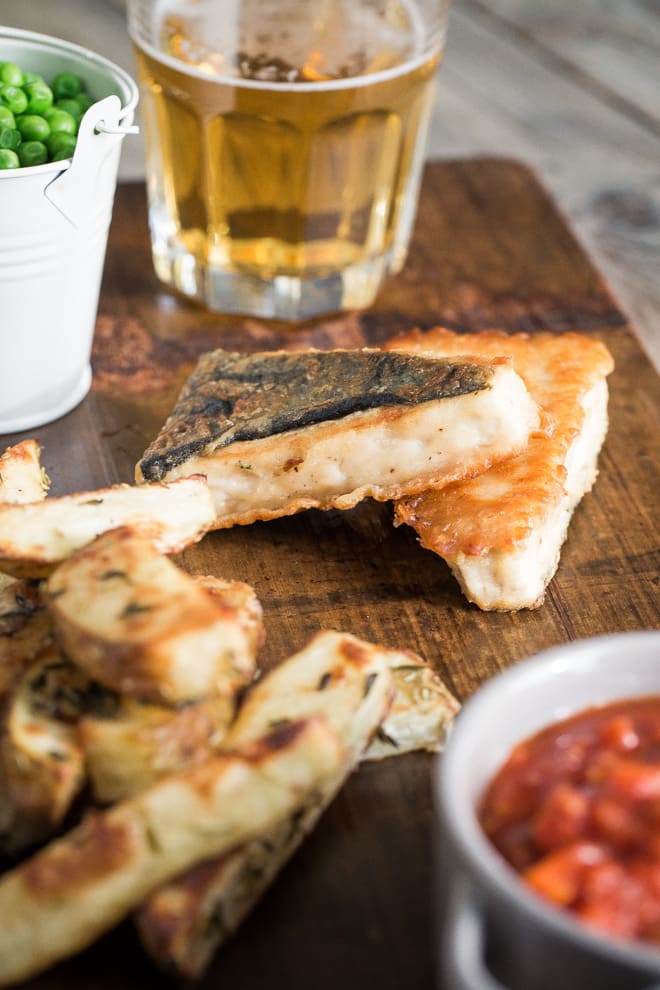 Posted in Recipes on 03.03.2018
Beer Battered Vegan Fish and Chips
prep: 15 mins / cook: 35 mins / inactive: 0 mins / total: 50 mins / quantity: 2 servings Print recipe?
Being vegetarian, (or vegan) in all honesty, do you sometimes feel like you're missing out?  I didn't become vegetarian because I don't like the flavour of meat.  Nope I was never a fan of red meat or bacon.  And yes I know that's the thing all meat eaters can't wrap their head round – the idea of living without bacon.  But I did enjoy chicken and fish.  I just didn't enjoy that meaning a living, sentient being had to lose their life because I liked how they tasted.
So there are some dishes/recipes I just expected never to get to taste again.  And I'm very ok with that.  But there are some flavours I genuinely miss and I thought there was no way to replace that inherently British thing of salty fish covered in crispy batter.  But after reading all about vegan sushi and how nori sheets give it that 'fishy' taste I started to wonder if there was a way to take this flavour and make it into something wonderful.
Now tofu is NEVER going to replace the texture of fish, but the wonderful thing that is nori gives it all the flavours of the sea that you could ever wish for!
The beer batter is made from another wonderful thing called FitBeer – a true alcohol free artisan beer.  And it's flipping lovely, with rich complex flavours that come from just 4 ingredients – water, hops, malted barley and yeast.  All of which are sourced from within 200km of their 500 year old Bavarian brewery.
They also have an amazing story to tell that you can read about here – how to enjoy the delicious taste of beer even if you don't want alcohol!
If you make this recipe or any of the recipes from The Cook & Him we'd LOVE to see! Just snap a picture and share it on Instagram using #thecookandhim and tagging @thecookandhim in the photo itself (as this guarantees we'll see your picture!
)
And don't forget to follow us on Instagram , Facebook or Twitter for even more recipe inspiration and chat, competitions, behind the scenes and so much more!
Beer Battered Vegan Fish and Chips
prep: 15 mins / cook: 35 mins / inactive: 0 mins / total: 50 mins / quantity: 2 servings
Ingredients
Chips
4 large white potatoes
1 tblsp olive oil
1/2 tsp dried rosemary
4 sprigs fresh thyme – leaves only
1 tsp cornflour
Salt and pepper
Fish
4 slices firm packed tofu
1-2 sheets nori
1 tblsp plain flour
good pinch of salt
2 pinches nutritional yeast (see note)
1 tblsp cornflour
1/2 cup FitBeer
1-2 tblsp oil for shallow frying
Extra
Petit pois peas
Marinara sauce (perfect for chip dunking!)
Instructions
Preheat your oven to 210 Fan / 230 C / 450 F / Gas 8 and line a baking sheet with parchment or a silcon mat
Scrub the potatoes if the skin is ok or peel them if too dirty.  Stir together with a drizzle of olive oil, the rosemary, thyme leaves, cornflour and a generous sprinkle of salt and pepper
Tip onto the baking tray and cook for 35 minutes until crisp and golden outside but soft and fluffy inside (stir the chips half way through cooking)
Tip onto the baking tray and cook for 35 minutes until crisp and golden outside but soft and fluffy inside (stir the chips half way through cooking)
Cut the sheet of nori to fit flat across the top of one side of the tofu.  Repeat for each piece of tofu, pressing the nori down onto the tofu
In a shallow tray or dish stir together the flour, salt and nutritional yeast then coat the nori covered tofu pieces on all sides
Add the cornflour to the flour mixture and whisk in the beer to make a thick batter. 
Heat a good drizzle of olive oil in a frying pan over a gentle heat.  Dip each nori piece into the batter, coating completely then place into the frying pan
Give your hands a wash then sizzle each piece of tofu for around 5 minutes until golden and crisp then carefully flip over and repeat on the other side
Serve with the crispy chips, warmed marinara sauce (or just ketchup!) and petit pois.
Dig in!
Notes
The nutritional yeast isn't essential but it does add a rounded flavour!  If you don't have it or can't get hold of it easily don't let it put you off making this amazing comfort food!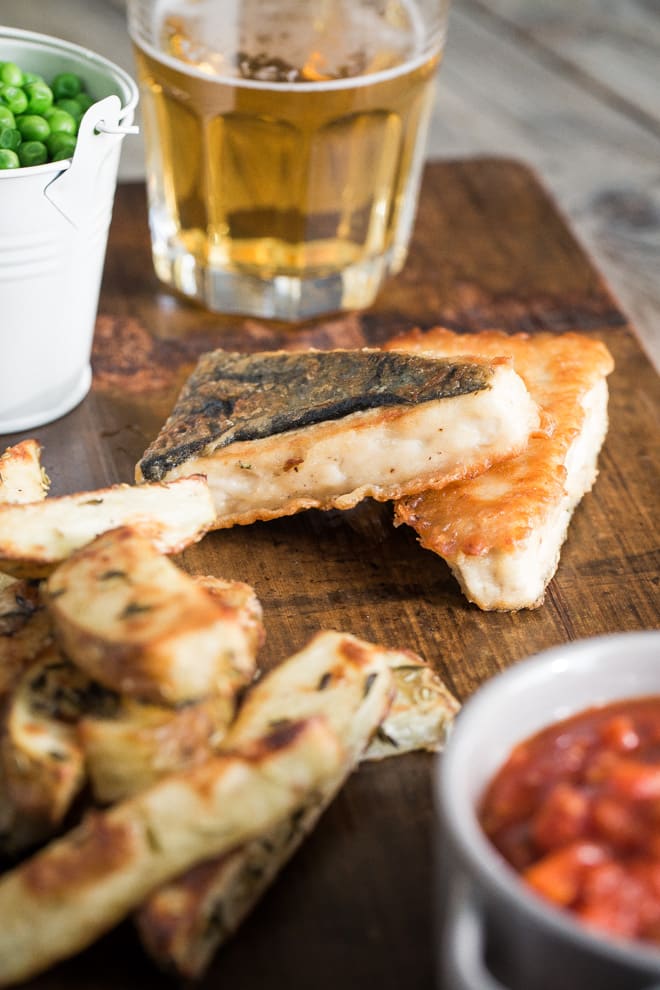 Some products I used in today's post...
Some of the links above are affiliate links, which pay us a small commission for our referral at no extra cost to you! Thank you for supporting The Cook & Him.
Hello and welcome to The Cook & Him.
We are Sam (The Cook), Phil (Him) and our little dog Nooch. What started with a plan to shed a few pounds back in 2016, soon became obvious that eating healthy doesn't have to be bland and boring.
So, combining Sam's 15 years of experience working within Michelin starred restaurants and our love for deliciously healthy food, we're creating recipes for you to make and enjoy. We've added our own unique spin on traditional and contemporary vegetarian and vegan recipes that keep you (and your pets!) healthy and full.  And we make sure they just work.
All things autumn - warming soups, savoury bakes and delicious sweet treats!
and I would like to see...
Or search for a recipe or post by keyword