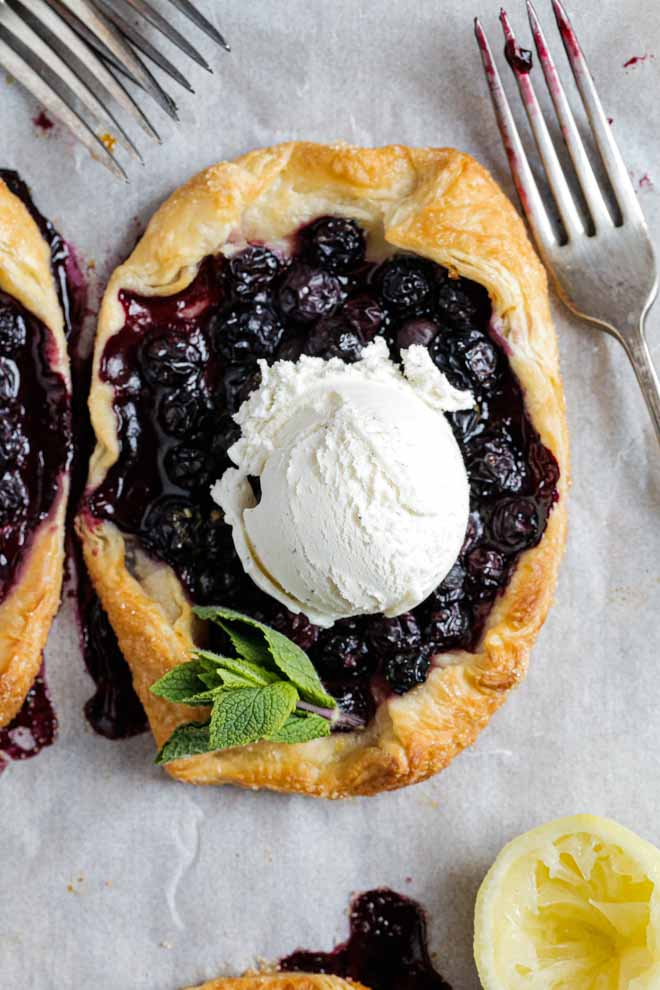 Posted in Recipes on 27.07.2020
Blueberry Lemon Rustic Tarts
prep: 20 mins / cook: 30 mins / inactive: 0 mins / total: 50 mins / quantity: 6 tarts Print recipe?
These sweet little vegan rustic tarts are full of sweet blueberries, lemon and mint wrapped in light, flaky puff pastry. They're so easy to make for a quick and delicious dessert!
These blueberry rustic tarts were borne out of a sudden need for something sweet (anyone else get those?), exceptionally easy and used up some blueberries that were soon going to be past their best. These summer fruit galettes are always popular but I'd also got a sheet of puff pastry.  And I'd spied these bursting blueberry lemon thyme tarts a few weeks ago and knew they'd be as delicious as they looked.  'Veganised' of course 😉
With so much readily available shop bought puff pastry being (accidentally) vegan these rustic tarts really couldn't be easier.  Too easy.  And so tasty it's hard not to make a batch, eat them then make another.   Crisp puff pastry glittering with sugar and warm, sweet blueberries with hints of zingy lemon and aromatic mint.  Top with vanilla ice cream and THIS is the stuff vegan dessert dreams are made of.
How to make these easy blueberry tarts:
Mix the blueberries.  Plenty of lemon zest and juice, a few mint leaves, agave and a drop of cornflour to help the liquid coat the blueberries.  I've only used fresh blueberries so far but I imagine frozen ones would work too.  I'd recommend using fresh mint over dried if possible too.  I use a lot of dried herbs in cooking normally but I don't think you can beat the delicate flavour of fresh mint for these rustic tarts.
Unfurl your puff pastry.  Ready-rolled pastry makes this dessert even quicker and easier.  If using a block of pastry you'll need to roll it out to a large rectangle, roughly 15 x 10 inches ( 38 x 26 cm).
Cut your pastry into 6 rectangles.  You can measure or you can do this by eye.
Put your pastry rectangles onto your baking tray.  It's much easier to shape the tarts on the tray you're cooking them on rather than having to move them once you've topped them with the blueberries <- the voice of experience.
Brush and sprinkle.  I've used a little milk mixed with agave syrup to give that 'egg-wash' look on cooked pastry.  I've then used demerara sugar as the large granules keep their shape better once baked, giving that lovely crisp, sweet and sparkling crust.
Bake to golden, crispy perfection.  And try not to hop too much round the kitchen waiting for them to cook because oh my the smell.
I had to battle my inner (hungry) demons to get these photographed before devouring.  All the Nooch walks in the world aren't going to make up for eating 3 of these in one day.  With ice-cream.  But heck, life's for living right?
Love easy desserts as much as we do?  Here's some of our tried and tested favourites (all vegan too!):
I'd love to hear from you if you make these Blueberry and Lemon Rustic Tarts.  Just leave a comment as it's so helpful and I love to hear how the recipe worked out for you!  Thank you so much 🙂
Don't forget to follow us on YouTube, Facebook or Pinterest for even more recipe inspiration and chat, competitions, behind the scenes and so much more!
Blueberry Lemon Rustic Tarts
prep: 20 mins / cook: 30 mins / inactive: 0 mins / total: 50 mins / quantity: 6 tarts
Ingredients
Tarts:
3 cups (420g) blueberries – fresh or frozen
1 + 1/2 tblsp cornflour
2 lemons – finely grated zest of 2, juice of 1
1/4 cup (75g) agave syrup (can sub with maple syrup or sugar)
10-15 leaves fresh mint – shredded
1 sheet puff pastry (thawed if frozen)
Glaze:
1/2 tblsp non-dairy milk
1/2  tblsp agave syrup
1-2 tblsp demerara sugar
Vanilla ice cream to serve
Adapted from Half Baked Harvest
Instructions
Preheat your oven to 180 Fan / 200 C / 400 F / Gas 6 and line a large baking tray with parchment or a silicon mat
Put the blueberries into a large bowl and add the grated lemon zest
Put the lemon juice into a small bowl or mug and add the cornflour, whisking until the cornflour is incorporated, then whisk in the agave syrup
Pour this mixture onto the blueberries with the shredded mint leaves and gently stir it all together
Unfurl your puff pastry and cut into 6 equal rectangles
Lift each rectangle onto your baking sheet then top with the blueberry mixture - pile the blueberries into the centre leaving a 1 inch (2.5cm) border
Fold the border over itself so it sort of envelopes the edges of the blueberries and makes a little parcel
Whisk together the milk and agave for the glaze then brush over the puff pastry
Generously sprinkle the demerara sugar over the glaze then bake the tarts for 25-30 minutes until golden and crisp
Allow to cool for just a couple of minutes then serve topped with ice cream!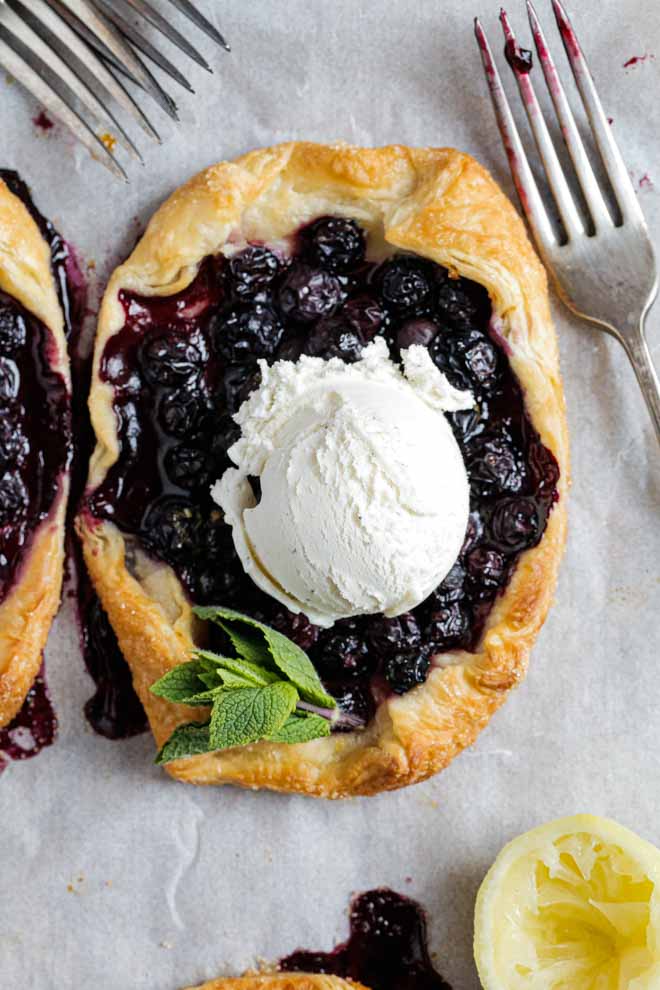 Hello and welcome to The Cook & Him.
We are Sam (The Cook), Phil (Him) and our little dog Nooch. What started with a plan to shed a few pounds back in 2016, soon became obvious that eating healthy doesn't have to be bland and boring.
So, combining Sam's 15 years of experience working within Michelin starred restaurants and our love for deliciously healthy food, we're creating recipes for you to make and enjoy. We've added our own unique spin on traditional and contemporary vegetarian and vegan recipes that keep you (and your pets!) healthy and full.  And we make sure they just work.
All things autumn - warming soups, savoury bakes and delicious sweet treats!
and I would like to see...
Or search for a recipe or post by keyword