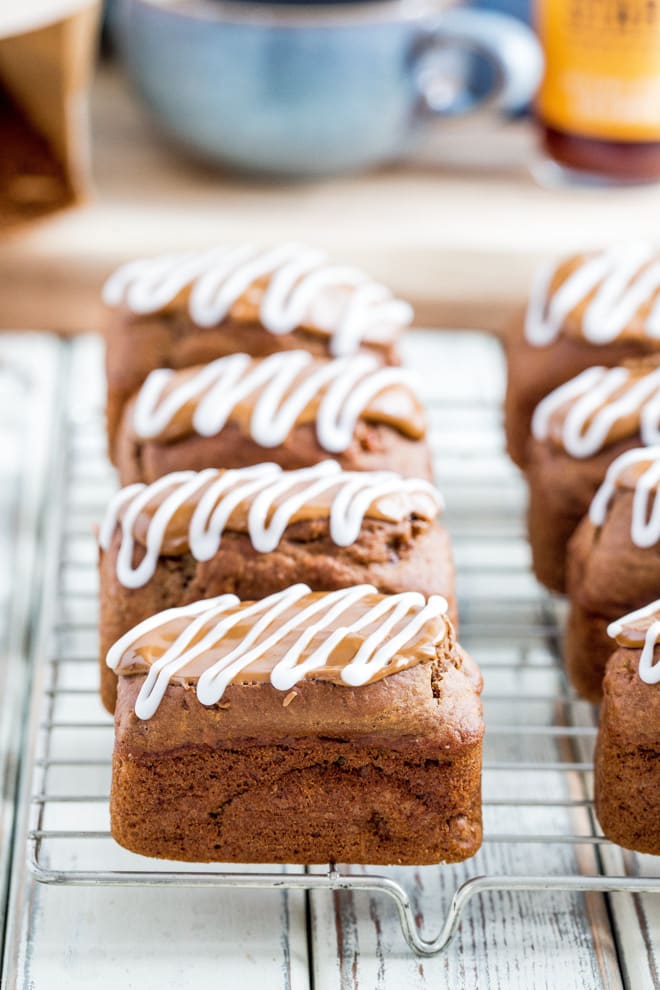 Posted in Recipes on 23.10.2018
Cappuccino Mini Loaves
prep: 20 mins / cook: 25 mins / inactive: 0 mins / total: 45 mins / quantity: 12 mini loaves Print recipe?
Light and moist coffee sponge topped with a divinely sweet coffee and vanilla frosting, these vegan cappuccino mini loaves are incredibly moreish!
Have you ever bought something not knowing exactly what you want to use it for but loving the very thought of it so much that you have to have it anyway?  I was very much like that with this mini loaf tin.  Oh the possibilities.  I'm apologising now for the many (many) more mini loaf shaped things to come!
I've also had a fair few misses when it comes to vegan baking.  As a recent challenge on the Great British Bake Off highlighted, just because you can bake, doesn't mean you can vegan bake.  It's mostly about adapting.  Many of the ingredients are still the same – flour, sugar, flavourings such as spices, vanilla, chocolate.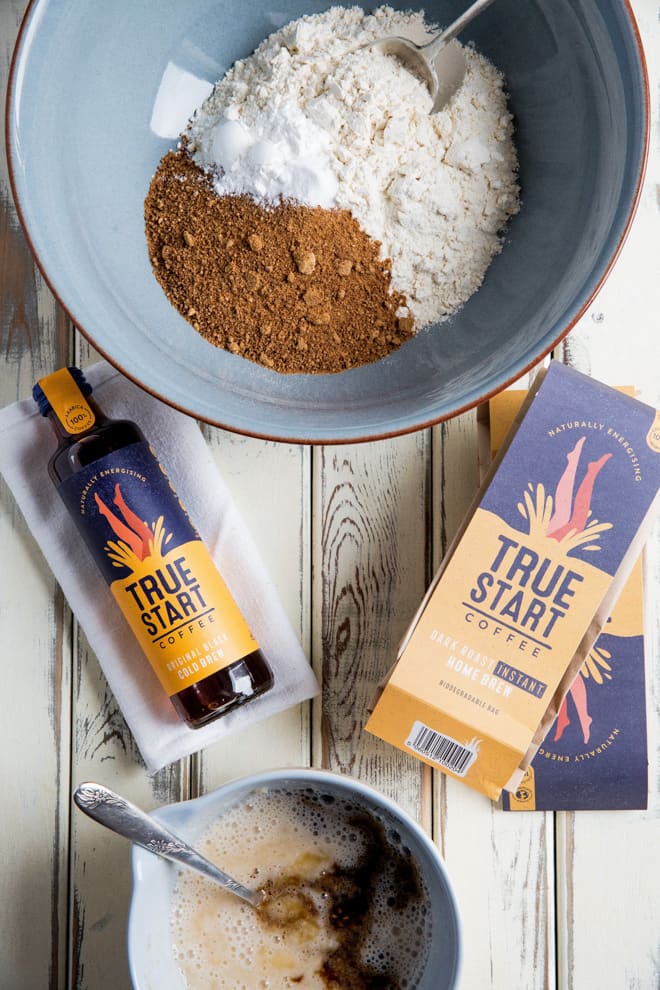 The most common issue is the raising agent.  I've had varying results from using various combinations of 'flax eggs', baking powder and baking soda reacted with apple cider vinegar.  Most of the failures I've had has come from trying to reinvent the wheel every time I bake something.  So now I go with what I know just seems to work to make vegan cakes as delectably light and moist and "just as good" as non-vegan cakes.
And these cappuccino mini loaves were almost a bit too successful!  We've also just had a new oven which has a very big, very clear glass window so I'm now finding myself in traditional GBBO style sitting in front of the oven watching things rise!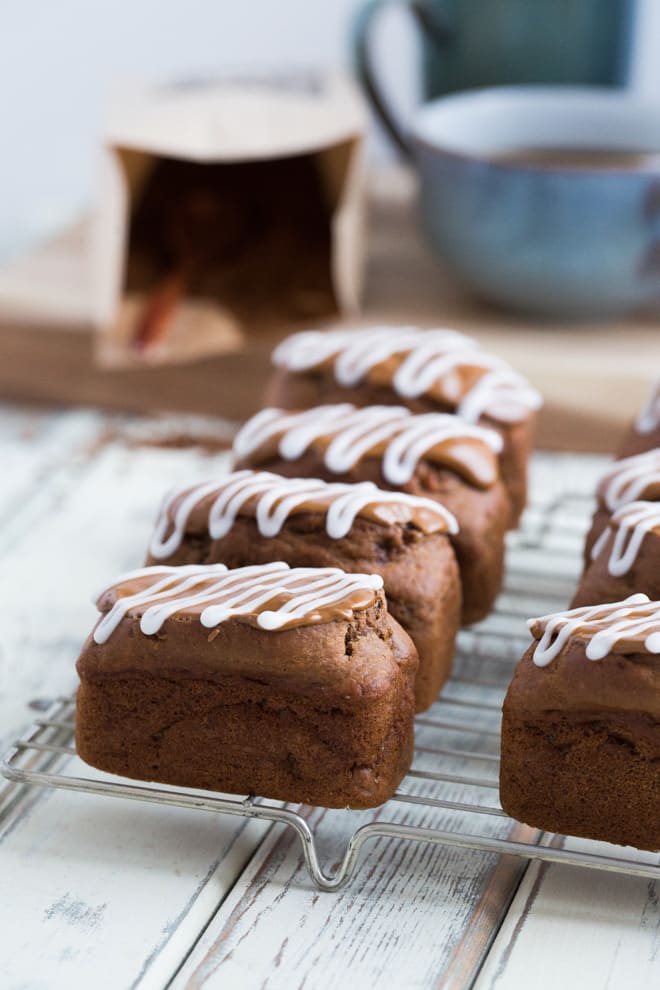 And these little cappuccino mini loaves rose and rose!
I can't tell you the feeling when a recipe you're developing just works first time *bounce* ?
I was worried the bananas might make them too doughy or overpower the flavour of the coffee but they are SO light and moreish.  The coffee flavour comes from a lovely company called Truestart, a wonderfully ethical company based in the UK.  Their coffee is packed with naturally occurring antioxidants and minerals with an energising kick from their signature measured caffeine dose.  It's also super clean and hyper-selectively sourced to make you feel amazing with no crash or jitters.  Their packaging is also completely recyclable!  Win win right?!
So don't just serve your cake with coffee, put the coffee IN your cake ?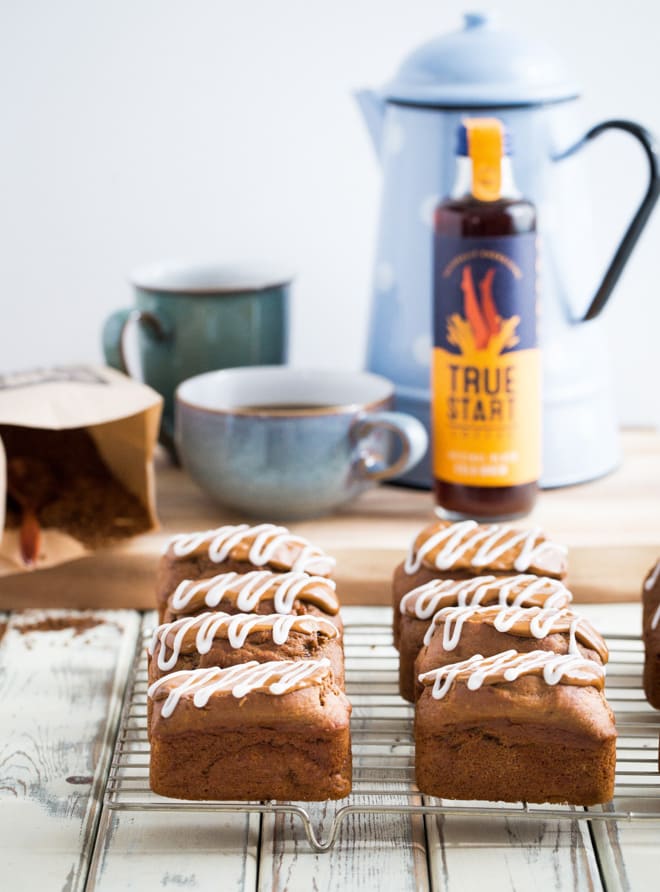 If you make this recipe or any of the recipes from The Cook & Him we'd LOVE to see! Just snap a picture and share it on Instagram using #thecookandhim and tagging @thecookandhim in the photo itself (as this guarantees we'll see your picture!
)
And don't forget to follow us on Instagram , Facebook or Twitter for even more recipe inspiration and chat, competitions, behind the scenes and so much more!
Cappuccino Mini Loaves
prep: 20 mins / cook: 25 mins / inactive: 0 mins / total: 45 mins / quantity: 12 mini loaves
Ingredients
Mini loaves
6 tsp TrueStart Premium Instant Coffee
1/2 cup (120ml) boiling water
2 medium bananas (slightly over-ripe)
1/2 cup (120ml) unsweetened almond milk
1/2 tsp vanilla extract
1 tsp apple cider vinegar
2 cups (320g) plain flour
1/2 cup (90g) coconut sugar
2 tsp baking powder
1/2 tsp bicarbonate of soda
Frosting
2 heaped tsp TrueStart Premium Instant Coffee dissolved in 5-6 tsp boiling water and left to cool
1 cup (100g) icing sugar
Optional extra frosting
2 heaped tblsp icing sugar
1-2 tsp cold water
Mini loaves tin
Instructions
Preheat your oven to 170 Fan / 190 C / 375 F / Gas 5 and lightly oil your tin - I just used a little avocado oil but you can use olive oil, melted coconut oil or spray oil.  Set aside
For the sponge, melt the 6 tsp coffee in the 1/2 cup (120ml) boiling water in a cup or mug and set aside to cool slightly
Peel the bananas and break into chunks in a large bowl.  Mash with a fork or potato masher
Add the almond milk, vanilla and vinegar, cooled coffee and whisk together
Add the flour, sugar, baking powder and bicarbonate and use a rubber spatula to mix everything together very well.  Stir up from the bottom of the bowl, making sure no pockets of flour remain
Divide the mixture evenly between the tin holes and bake for 20-25 minutes until a skewer or cocktail stick inserted into the center of one of the cakes comes out clean
Leave to cool in the tin for 5-10 minutes before carefully pushing up from the bottom of the tin to remove the mini loaves and put on a wire rack to cool completely
Check to make sure none of the removable tin bottoms have stuck to the bottom of the cakes!
While they're cooling mix the 2 heaped tsp coffee with 5 tsp boiling water and stir till dissolved.  Set aside to cool
Once the cakes are cold mix the icing sugar with the coffee.  You want a thickish, spreadable paste - if it's too dry add a little more cold water, too wet, add a little more icing sugar.  Only add small amounts at a time as a little goes a long way!
Spread the icing on top of the cakes with a butter knife or palette knife, smoothing across the top
You can add a little drizzle of white icing for a contrast to all the brown - just mix the extra icing and water together though this time you want a thinner, more runny texture
Spoon into a paper piping bag or into a sandwich bag and snip the end or corner off.  Pipe diagonal lines across the top of each cake.
Alternatively you can release your inner Picasso and just use a teaspoon to drizzle random patterns across the top of the cakes!  
Leave to set at room temp then store in an airtight container
Notes
I experimented with not oiling a couple of the holes of the tin and whilst they did turn out with no sticking, they weren't as easy to remove as the ones I'd oiled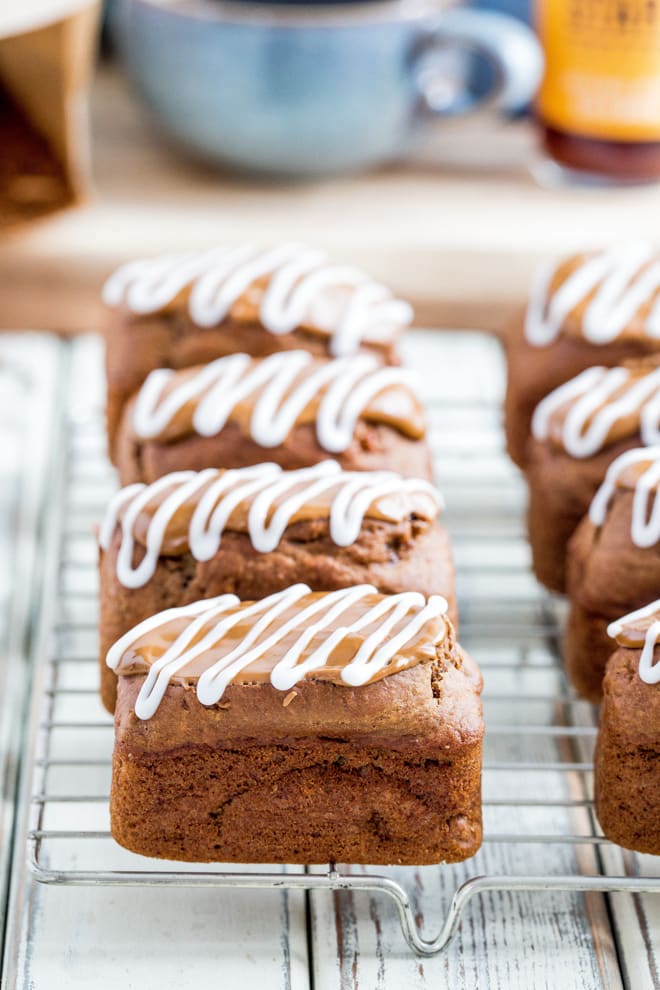 Some products I used in today's post...
Some of the links above are affiliate links, which pay us a small commission for our referral at no extra cost to you! Thank you for supporting The Cook & Him.
Hello and welcome to The Cook & Him.
We are Sam (The Cook), Phil (Him) and our little dog Nooch. What started with a plan to shed a few pounds back in 2016, soon became obvious that eating healthy doesn't have to be bland and boring.
So, combining Sam's 15 years of experience working within Michelin starred restaurants and our love for deliciously healthy food, we're creating recipes for you to make and enjoy. We've added our own unique spin on traditional and contemporary vegetarian and vegan recipes that keep you (and your pets!) healthy and full.  And we make sure they just work.
All things autumn - warming soups, savoury bakes and delicious sweet treats!
and I would like to see...
Or search for a recipe or post by keyword