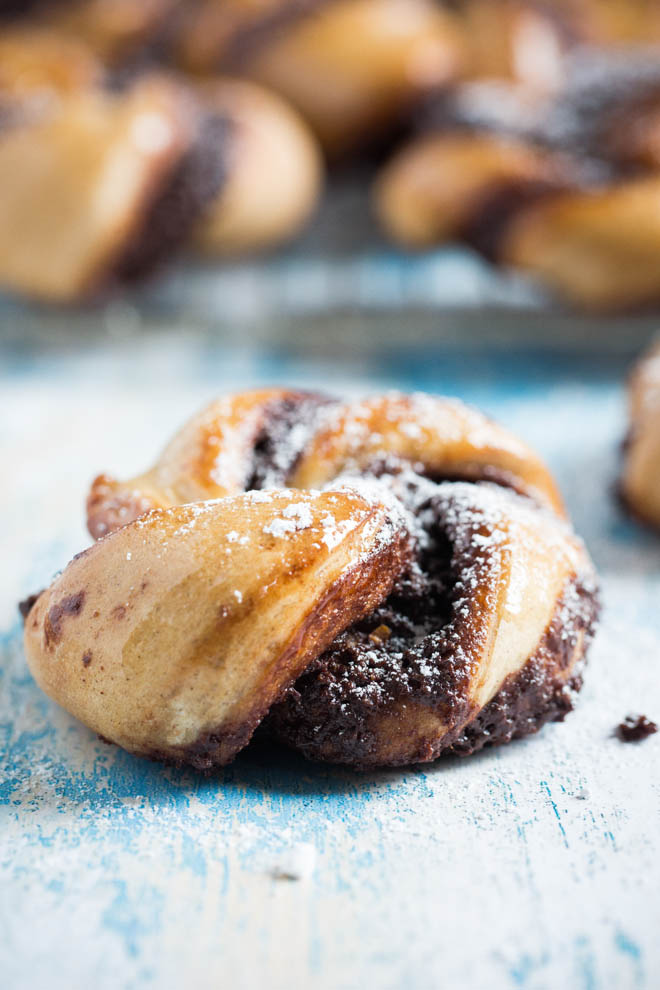 Posted in Recipes on 01.10.2019
Chocolate and Pistachio Babka Buns
prep: 30 mins / cook: 25 minutes mins / inactive: 2 hours 0 mins / total: 2 hours 55 mins / quantity: 12-14 babka buns Print recipe?
The perfect weekend breakfast, these crisp, buttery babka buns have a rich chocolate and pistachio filling that will have you licking your fingers in sheer delight!
I'll apologise now for this photo heavy post – the shaping of the babka buns is really NOT difficult but like these Chocolate Orange Twists it IS a little difficult to explain using just words.
Like any yeasted bread creation the whole process can take a little time.  But I enjoy that.  Pottering around while the bread does its thing.  And of course, getting fresh baked anything is always worth it!  And oh boy are these buns worth the wait!  They're like a cross between a bread roll and a Danish pastry – full of rich chocolatey flavour and crunchy nuts.
If you've followed us for a while, you'll know how much we love nuts.  ALL nuts.  With maybe pistachios and cashews edging ahead just a little.  So you can imagine how happy we were to be sent a lovely selection from POM Wonderful – some spicy, some plain roasted and a bottle of their quite lovely Pomegranate juice.
How to make babka buns
First up you'll need to make the chocolate filling – it takes a while to set and you need it set so you can spread it on the rolled out dough.  I hadn't realised just how long it would take to set the first time I made these and had to dance between the fridge and the freezer as my dough was ready to be rolled and shaped!
If you do need to speed up the process don't leave in the fridge or freezer for too long or it will become hard and unspreadable.
Make sure to vigorously knead the dough for a good 5-10 minutes.  This stretches the gluten and allows the yeast to make the dough puff up.
The dough needs 2 proves, once as just a ball of dough and the second once the babka buns have been shaped.  Dependent on how warm your ambient temperature is your dough can take anything up to an hour to properly prove.  You want the dough doubled in size.  This allows all those lovely air pockets to form giving the final baked product that unique texture.
After the first prove you'll then roll it out into a large rectangle before spreading with the chocolate paste and sprinkling with the chopped nuts.
The dough is then folded over itself creating a giant sandwich.  Doing it this way helps save time and effort rolling and spreading each bun individually.
The folded dough is then cut into strips before taking each strip, twisting into a spiral shape while gently stretching it lengthwise and tying into a rough knot shape.  I'm not gonna lie, this bit is messy and you'll probably end up with chocolate smeared up your arms.  And across your spectacles in my case.  Don't ask.
The babka buns are then left to prove a second (and final) time before baking to golden, crispy perfection.
Now don't panic.  Some of the chocolate filling WILL ooze out and make a bit of a mess on the tray.  This is expected because we're using chocolate and butter – but it makes THE richest, stickiest, unctuous, lick ALL the fingers filling.
If you make this recipe or any of the recipes from The Cook & Him we'd LOVE to see! Just snap a picture and share it on Instagram using #thecookandhim and tagging @thecookandhim in the photo itself (as this guarantees we'll see your picture!
)
And don't forget to follow us on Instagram , Facebook or Twitter for even more recipe inspiration and chat, competitions, behind the scenes and so much more!
Chocolate and Pistachio Babka Buns
prep: 30 mins / cook: 25 minutes mins / inactive: 2 hours 0 mins / total: 2 hours 55 mins / quantity: 12-14 babka buns
Ingredients
Chocolate Filling:
1/2 cup (125g) dairy free dark chocolate
1/2 cup (125g) vegan butter
2 tblsp tahini
1/4 cup (20g) raw cacao powder
4 tblsp icing sugar
1/2 cup (50g) pistachios – shelled weight – roughly chopped
Bun dough:
3 + 1/2 cups (500g) strong white bread flour
1 + 1/2 tsp salt
2 tsp ground cinnamon
1 tsp ground nutmeg
1 + 1/3 cups (300ml) unsweetened plant milk
1 tblsp sugar
1 tblsp active dried yeast
3 tblsp maple syrup to glaze
Instructions
Start by making the chocolate paste as it needs time to cool and set enough to a spreadable consistency
Melt together the chocolate and butter either in a microwave or over a bain-marie (a heat proof bowl set over a saucepan of barely simmering water)
When melted whisk in the tahini, cacao powder and icing sugar and set aside. You can speed up the setting by putting it in the fridge - but keep an eye on it, you don't want it so set you can't spread it!
Into a large bowl put the flour, salt, cinnamon and nutmeg
In a small pan very gently heat the milk and sugar to blood temperature - this means when you put your finger in you can't tell if it's warm or cold! If it's too warm leave to cool down or you might end up killing the yeast
Whisk in the yeast and leave to froth for 5 minutes
Add the liquid to the flour mixture and mix together to form a dough
Tip out onto a lightly dusted surface and knead vigorously for 5-10 minutes. Knead the dough by stretching and tearing it
Put the dough in a clean, lightly oiled bowl, cover and leave to prove in a warm place until doubled in size (roughly an hour - or less if you have a prove setting on your oven or a warm windowsill!)
Tip the dough out, knead lightly then roll out to a large rectangle roughly 17 x 16 inches (43 x 40 cm)
Spread the paste over half of the dough then sprinkle with the chopped nuts
Using a sharp knife cut into 12-14 even strips approximately 1 inch thick
Twist each piece into a spiral, stretching as you twist then tie into a knot. Place onto the prepared tray
Repeat for each strip, spacing them reasonably well apart on the tray so they have room to grow
Leave to prove until well risen and roughly doubled in size again
Preheat your oven to 180 Fan / 200 C / 400 F / Gas 6 and line 2 large baking trays with parchment or silicon mats
Bake the babka buns for 25 minutes until golden. Immediately after removing from the oven brush with the maple syrup for a lovely sticky glaze
Enoy!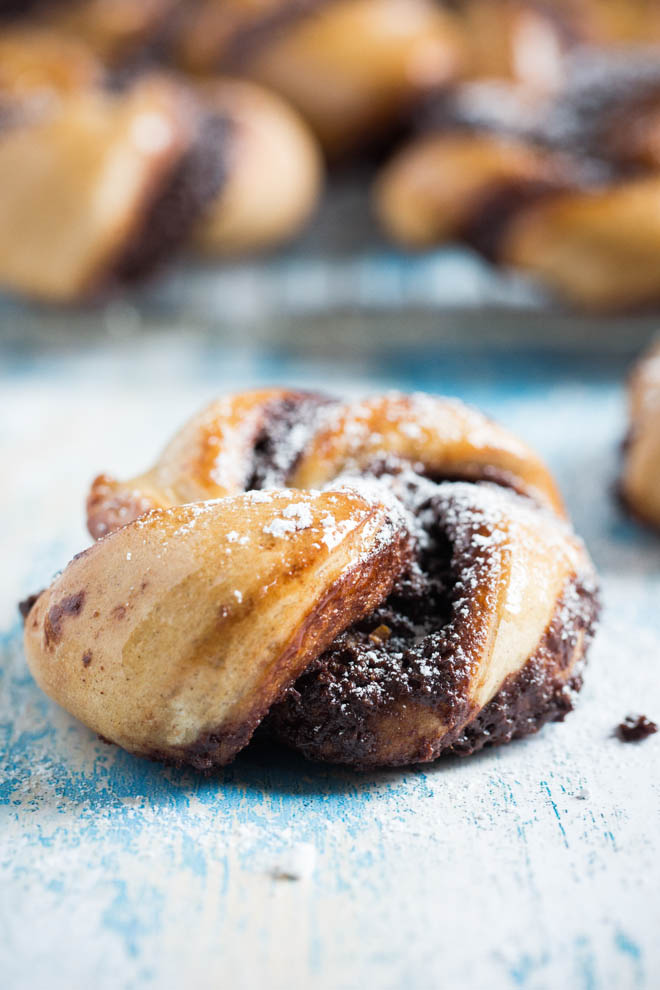 Some products I used in today's post...
Some of the links above are affiliate links, which pay us a small commission for our referral at no extra cost to you! Thank you for supporting The Cook & Him.
Hello and welcome to The Cook & Him.
We are Sam (The Cook), Phil (Him) and our little dog Nooch. What started with a plan to shed a few pounds back in 2016, soon became obvious that eating healthy doesn't have to be bland and boring.
So, combining Sam's 15 years of experience working within Michelin starred restaurants and our love for deliciously healthy food, we're creating recipes for you to make and enjoy. We've added our own unique spin on traditional and contemporary vegetarian and vegan recipes that keep you (and your pets!) healthy and full.  And we make sure they just work.
All things autumn - warming soups, savoury bakes and delicious sweet treats!
and I would like to see...
Or search for a recipe or post by keyword