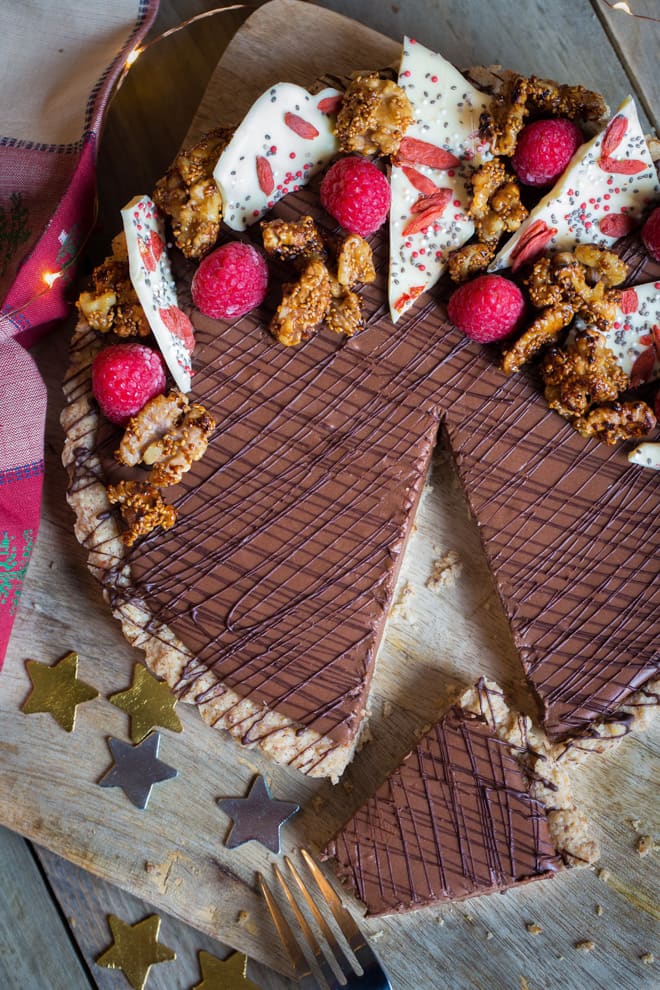 Posted in Recipes on 22.12.2017
Chocolate Orange Nutty Truffle Tart
prep: 30 mins / cook: 20 mins / inactive: 2 hours 0 mins / total: 2 hours 50 mins / quantity: 12 slices Print recipe?
Forget about Christmas dinner, it's all about Christmas dessert!  Who's with me?  I love a proper Christmas Pud but as the only one in the house that does it's a rather rich thing to eat all by myself.  And to have it bubbling away on the stove for hours, taking up a precious gas ring and steaming up the entire house!
And because it's Christmas you want something that's a little decadent and utterly delicious but still has lots of healthy things in it.  It's also really easy to make ahead, saving precious time on The Big Day!
The base is all about the nuts.  Or should that be the nuts are all about the bass?  There's also some oats for texture and a bit of melted butter to hold everything together.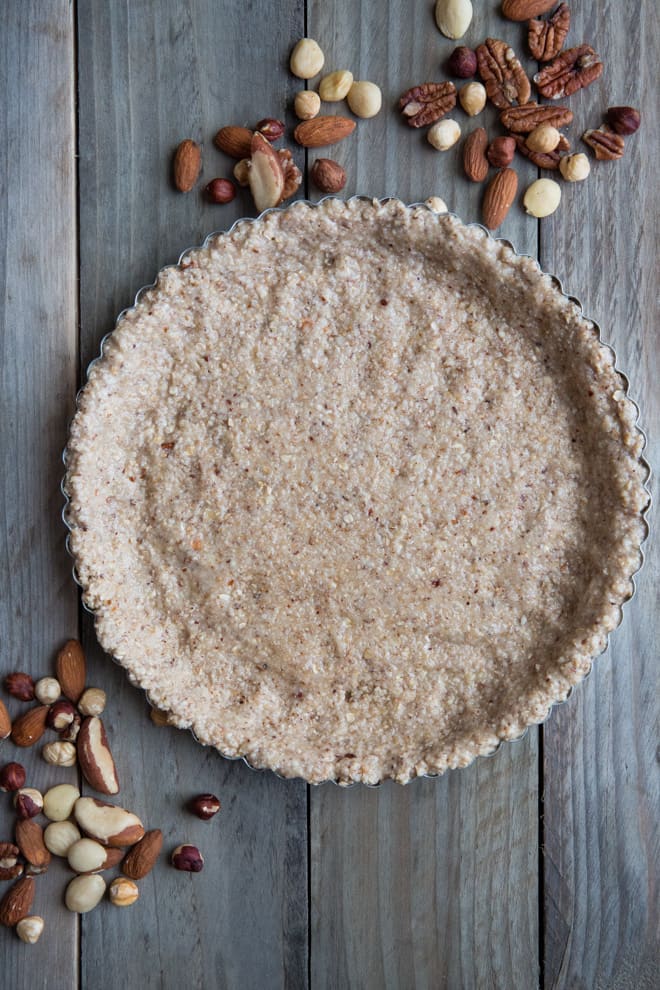 The ooey gooey middle bit is all about rich dark chocolate.  Chocolate that has that slightly bitter tang.  But I like to think that when all the matter in the universe went bang and we were all created the idea of chocolate and orange was a sort of destiny that we were just meant to discover.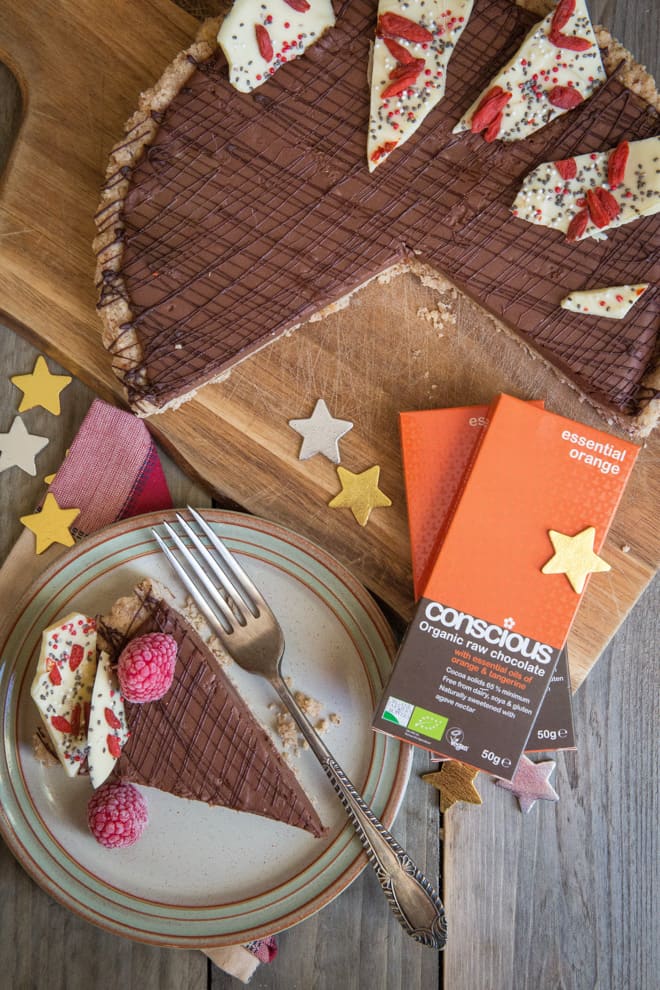 Because it's divine.  And thankfully there's an ever expanding market of vegan or dairy free chocolate.  Some of it's hit and miss.  Some of it is better than dairy chocolate to be honest.  Use whatever is your favourite dark chocolate for this truffle tart recipe. I wouldn't recommend a milk chocolate.  You want that punch of hearty dark chocolate, evened out by sweet maple and tangy orange.  If you struggle to get good vegan chocolate orange simply use all dark chocolate and add the grated zest of 1-2 medium oranges.
We'd also love to hear what your alternative Christmas desserts are!  Do you go all out with sparkles and flavours?  Or is a flaming brandy Christmas Pud the ONLY way to go?
If you make this recipe or any of the recipes from The Cook & Him we'd LOVE to see! Just snap a picture and share it on Instagram using #thecookandhim and tagging @thecookandhim in the photo itself (as this guarantees we'll see your picture!
)
And don't forget to follow us on Instagram , Facebook or Twitter for even more recipe inspiration and chat, competitions, behind the scenes and so much more!
Chocolate Orange Nutty Truffle Tart
prep: 30 mins / cook: 20 mins / inactive: 2 hours 0 mins / total: 2 hours 50 mins / quantity: 12 slices
Ingredients
For the base
1 cup mixed nuts
1/2 cup vegan butter
1 cup ground almonds
1 cup rolled oats
For the filling
100g bar of dairy free orange dark chocolate – broken into pieces
150g dairy free dark chocolate – broken into pieces
400ml (1 can) coconut milk
1 tblsp coconut oil
4 tblsp maple syrup
Optional decoration 1
20g dairy free dark chocolate
Optional decoration 2
100g dairy free white chocolate
handful goji berries
handful chia seeds
Optional decoration 3
2 handfuls walnuts
1 tblsp maple syrup
Optional decoration 4
1 cup fresh or frozen raspberries
Instructions
Start by preheating the oven to 180 Fan / 200 C / 400 F / Gas 6
Put the mixed nuts onto a baking tray and toast in the oven for 20 minutes.  While they're cooking, melt the butter - either in the microwave or in a small saucepan - and set aside
Then you can prepare the filling - empty the can of coconut milk (both the liquid and the solids) into a medium saucepan and heat until scalding but not boiling.  Tip in all the pieces of chocolate, coconut oil and maple syrup and whisk until the chocolate has melted and you have a smooth mixture.  Pour into a bowl and put in the fridge.  You can leave the whisk in the mixture as you'll need to keep a regular eye on it and whisk occasionally as it sets!
Remove the nuts from the oven and allow  to cool for 10 minutes before tipping into a food processor and pulsing till finely chopped.  
Add the coconut oil, ground almonds and oats and enough cold water - adding 1 tblsp at a time - until it starts to come together into a 'dough'.  Don't worry, we're not rolling this out so it can be a little bit sticky!
Using either a spray oil or a little bit of extra coconut oil, thoroughly grease a 9 inch fluted, loose bottom tart tin - making sure you get into all the crevices!
Tip the nut mixture into your tin and using your fingers, push out to the edges of the tin and up the sides
Put onto a tray and put into the fridge for around half an hour until starting to set.  You can also do this well in advance of adding the filling
Keeping half an eye on the filling, once it starts to thicken - how long it takes depends on how cold your fridge is, you're looking for it to be the sort of consistency of very softly whipped cream - pour into your prepared base and put back in the fridge until completely set
For optional decoration 1 just melt the chocolate in a microwave or over a bain marie, spoon into a paper piping bag and pip lines across the top of the tart.  You can also use a plastic sandwich bag and snip the end off or just use a spoon and drizzle the chocolate over the tart
For optional decoration 2 simply melt the white chocolate in the microwave or over a bain marie then pour into a shallow tin or dish that you've put a piece of greaseproof in to cover the bottom.  Spread the chocolate out into a thinish even later.  
Sprinkle over the goji berries and chia sees (and any extra festive sprinkles you might fancy!) and put the tray in the fridge for 10 minutes until set
To make the shards, just cut or break into pieces and place round the edge of your tart
For optional decoration 3 put the walnuts and maple syrup into a small frying pan and cook over a medium heat until caramelised, tossing everything very frequently.  Restrain yourself from eating all of these before they get to the tart and allow to cool before nestling in between the white chocolate shards
And finally *phew* simply adorn your festive tart with some gorgeously red raspberries!
Notes
If you can't find vegan chocolate orange, instead add the grated zest of 1-2 medium oranges
If you're making this a day or a few days in advance you can make all the optional decorations as well, but don't add them to the tart until you're ready to serve!
Keep the chocolate shards in a lidded tub in the fridge and keep the walnuts in a lidded tub at room temp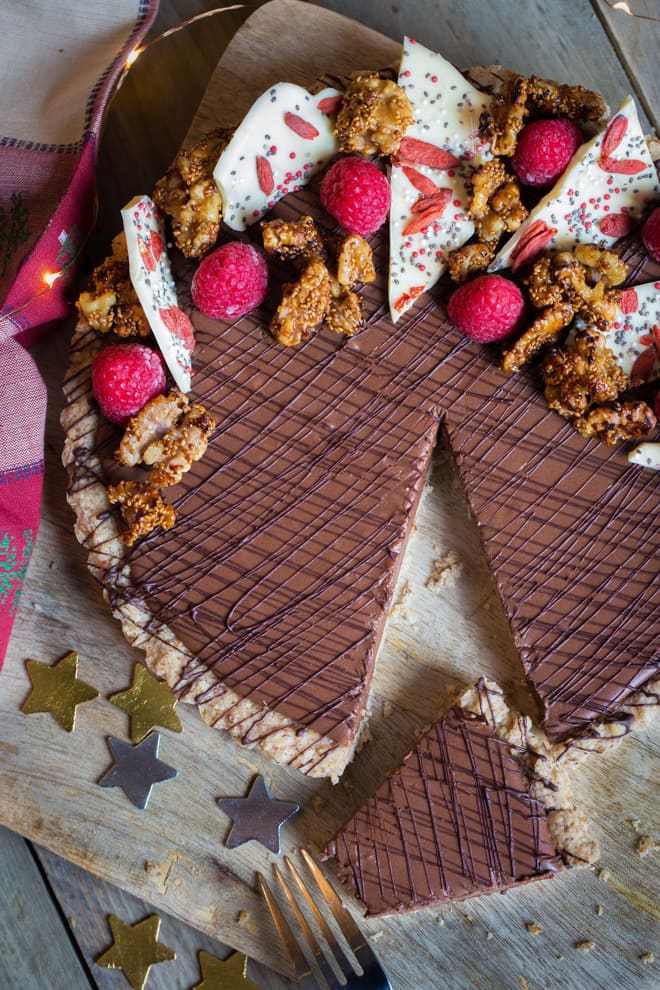 Hello and welcome to The Cook & Him.
We are Sam (The Cook), Phil (Him) and our little dog Nooch. What started with a plan to shed a few pounds back in 2016, soon became obvious that eating healthy doesn't have to be bland and boring.
So, combining Sam's 15 years of experience working within Michelin starred restaurants and our love for deliciously healthy food, we're creating recipes for you to make and enjoy. We've added our own unique spin on traditional and contemporary vegetarian and vegan recipes that keep you (and your pets!) healthy and full.  And we make sure they just work.
All things autumn - warming soups, savoury bakes and delicious sweet treats!
and I would like to see...
Or search for a recipe or post by keyword