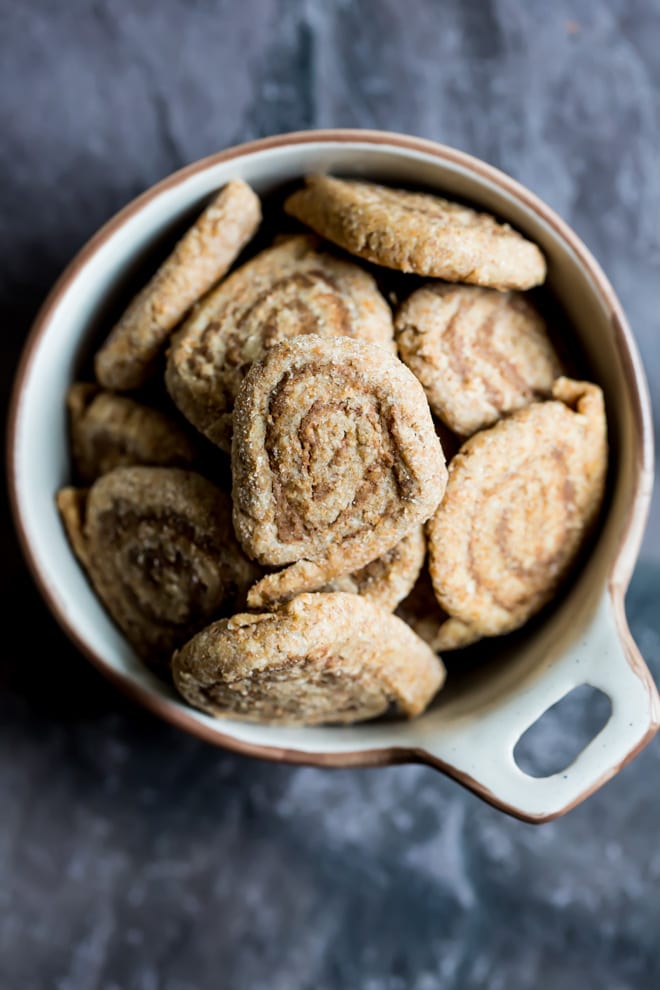 Posted in Recipes on 05.12.2018
Cinnamon Swirl Pup Treats
prep: 15 minutes (or less if you buy the pastry!) mins / cook: 15 mins / inactive: 0 mins / total: 30 mins / quantity: 24 biscuits (approx) Print recipe?
So I'm going to apologise right now for this really photo heavy post.  But we're celebrating Meg's 14th Birthday today and I roped in a few friends and their pups to help us celebrate with some cinnamon swirl pup treats!
Don't forget the jump to recipe at the top of the post that'll skip all my waffle and photos and take you straight to the cinnamon swirl pup treats if that's where you're headed!
Oh the joys of the internet where you can have friends who are dogs and friends who are actual people! I think I follow about as many dog accounts on Instagram as I do food/friends ones!! The idea for a multi-national celebration actually came from the very special Three Ladies of Lex who wanted to use this Pupcakes recipe to celebrate one of their girls birthday so that we'd be involved in the celebrations! We know all the BEST people on that internet thing.
And so I wanted to make them as absolutely simple and with as few ingredients as possible …
The ingredients list can also be reduced drastically by using shop bought pastry instead of making it yourself – honestly the dogs won't even notice!!
Simply start by rolling the pastry into a large rectangle shape, about the thickness of a coin then spread with a mixture of peanut butter and cinnamon. Then you roll up like a Swiss roll, cut into circles and bake!
And here we have Jo of The Lovely Ladies Of Lex getting very paws on – I believe there may have even been dancing on the kitchen table!
And as demonstrated by the exceptionally competent and very glamorous Assistant Izzy …
As for the puppers, well they wait patiently of course.  No anticipation from the smell at all.  And because peanut butter.
Ms Meg went into full on zombie mode
Lady Lexi guarded the oven
And then got dressed for the occasion – donning her prettiest dress and flower tiara.
(We'll pretend not to notice The Rock crashing the party up the back)
It was all worth the wait of course.  Happy puppers all round.
Introducing the divine Madamoiselle Maya – chocolate princess of all princesses.  Her 'dad' is the one that normally tortures Phil in the gym.  I pay him in dog treats and cake.
Did you ever have Sindy or Barbie dolls as a kid?  Here we have Kitchen Begging Maya
And Lounge Begging Maya
And here we have Magical Momo, another dear sweet old lady who didn't wait to be asked to tuck in!
But one must never point out a lady's crumby whiskers
And last but absolutely not least, the inspiration behind all of this – the Gorgeous Ladies of Lex, who clearly made sure to be very ladylike and skip a meal, thus ensuring they had plenty of room for cookie scoffing!!
We have another Lexi – prom queen, collector of outfits with matching handbags and owner of THE cutest derp
Next is Keisha – little fighter and lover of green beans.
And finally Jo – toy baby hoarder extraordinaire!  Likes leaves, tarting at the dog park and dressing up with her sisters.  Dislikes the rain.  She's also a foster looking for her forever home – honestly wish we could get her from there to here without any extra stress because who wouldn't want this little face in their life?
I can't thank all these gorgeous pups and their owners enough for taking the time to help in celebrating The Old Lady Meg's birthday this year.  I'm beyond grateful to them for wanting to share this time with us and for every single year I get to spend with my amazingly frustrating, food obsessed, vocal little diva.  I can't imagine a day without her 
If you make this recipe or any of the recipes from The Cook & Him we'd LOVE to see! Just snap a picture and share it on Instagram using #thecookandhim and tagging @thecookandhim in the photo itself (as this guarantees we'll see your picture!
)
And don't forget to follow us on Instagram , Facebook or Twitter for even more recipe inspiration and chat, competitions, behind the scenes and so much more!
Cinnamon Swirl Pup Treats
prep: 15 minutes (or less if you buy the pastry!) mins / cook: 15 mins / inactive: 0 mins / total: 30 mins / quantity: 24 biscuits (approx)
Ingredients
1 cup (165g) wholemeal flour
1/3 cup (65g) butter or dairy free spread (I used Vitalite)
2-3 tblsp cold water
1/4 cup (75g) smooth peanut butter (see **note**)
1 tsp ground cinnamon
Instructions
Preheat your oven to 170 Fan / 190 C / 375 F / Gas 5
To make the pastry put the flour and butter or spread into a bowl and using the tips of your fingers rub the two together until all the butter is mixed in and you have something resembling sand or breadcrumbs
Add 2 tblsp cold water and mix together until it forms a dough – if it's too dry and not sticking together add some more cold water. You want the dough to hold together and be neither too crumbly nor too wet
Tip out onto a floured work surface and form into a smooth log shape
Roll out into a large rectangle – not too thin, not too thick – about the thickness of a coin, you want to be able to roll it up like a sausage roll
Mix the peanut butter with the ground cinnamon and spread over the pastry, covering completely and as evenly as possible
You can roll it one of two ways here – simply roll from the long edge so you have a very long sausage shape or you can roll from both the short ends so they meet in the middle
Once it's rolled slice it like you would a Swiss roll into circles approximately ½ inch (1 cm) thick, slightly flatten in the palms of your hands and lay onto a baking tray. These don't spread very much so you can lay fairly closely together
Bake for 15 minutes until firm and very lightly golden
Leave to cool completely before storing in the fridge or freezing for treats another day (poor pup!)
Notes
You can speed up and simplify the whole process by using shop bought pastry. If you do this, preheat the oven as normal then follow from step 5 if it's a block of pastry or step 6 if it's ready rolled!
**IMPORTANT NOTE** Lots of peanut butters include sweetener, particularly Xylitol which is toxic to dogs. Make sure to use a brand of peanut butter that doesn't include any form of sweetener. Many thanks to one of our newsletter subscribers for this information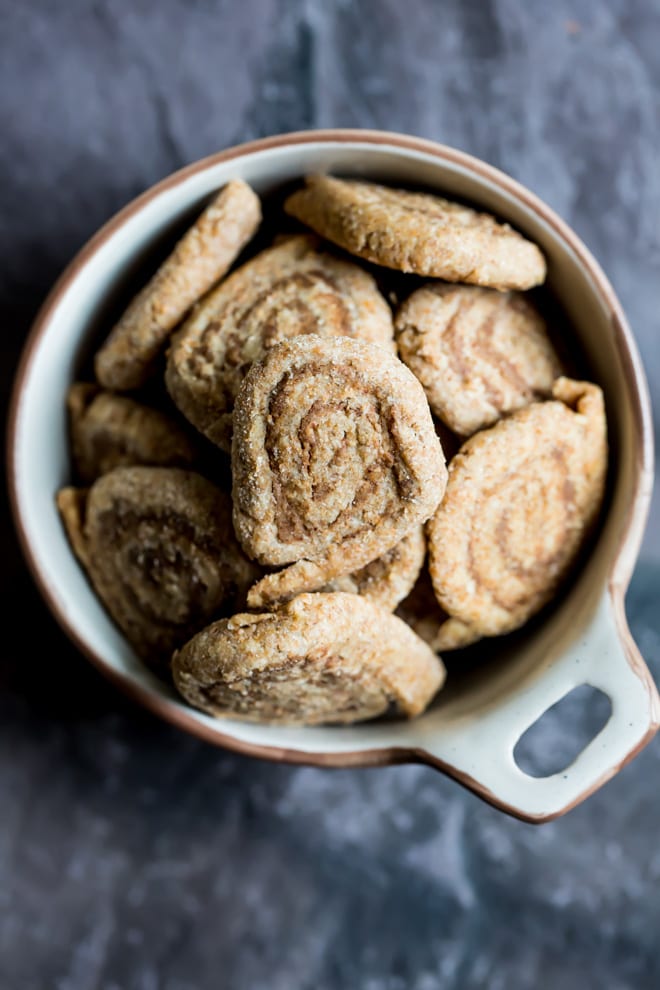 Some products I used in today's post...
Some of the links above are affiliate links, which pay us a small commission for our referral at no extra cost to you! Thank you for supporting The Cook & Him.
Hello and welcome to The Cook & Him.
We are Sam (The Cook), Phil (Him) and our little dog Nooch. What started with a plan to shed a few pounds back in 2016, soon became obvious that eating healthy doesn't have to be bland and boring.
So, combining Sam's 15 years of experience working within Michelin starred restaurants and our love for deliciously healthy food, we're creating recipes for you to make and enjoy. We've added our own unique spin on traditional and contemporary vegetarian and vegan recipes that keep you (and your pets!) healthy and full.  And we make sure they just work.
All things autumn - warming soups, savoury bakes and delicious sweet treats!
and I would like to see...
Or search for a recipe or post by keyword