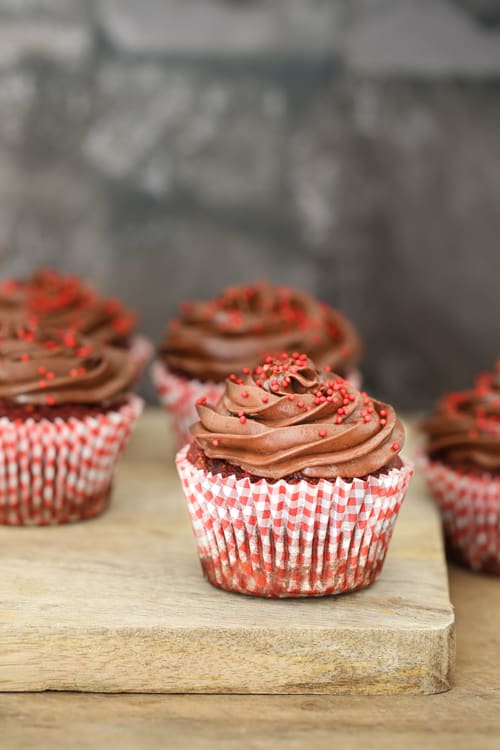 Posted in Recipes on 16.08.2017
Double Chocolate & Orange Muffins
prep: 20 mins / cook: 25 mins / inactive: 0 mins / total: 45 mins / quantity: 12 muffins Print recipe?
These muffins were a revelation.  Each person that's tried one has been genuinely surprised that there's no refined sugar or white flour.  They're sweet, chocolatey, fudgey and deceptively filling.  And jam packed with lots of good things!  They also freeze really well so you've absolutely NO excuse not to make a batch and freeze any extras!  Unless you want to eat all twelve which is totally ok with me ?
They're also a one bowl mix.  Did I ever tell you how much I love one bowl mixes?  With all the recipe development and testing comes the inevitable washing up.  Some days I feel like I do more washing up than actual cooking!
Just look at all that one bowl loveliness!
And just to prove how easy these are to make, even Phil .. who by his own admission gets VERY uncomfortable outside his culinary comfort zone … made them with zero drama.  He was so proud!
Oh and don't be fooled into thinking these are ONLY for breakfast.  Coz they're damn fine in the afternoon with hot cuppa something too!
I also have a 100% legit reason why there's one muffin missing here …
I'd literally just taken them out of the oven as my Tesco shopping delivery arrived and the very lovely driver asked what that amazing smell was .. so I gave her a fresh muffin – because they work hard and because she was so complimentary about how my food smells.  Yep, I can totally be flattered into giving away food 😉
Oh and if you want to take these muffins out of the realms of a quick breakfast and into a super special treat, I have a new recipe coming VERY soon that turns them into a drop everything make them now kinda delicious with the frosting from a Gluten Free Chocolate Cake (pssst, don't forget to subscribe if you want to keep updated!)
If you make this recipe or any of the recipes from The Cook & Him we'd LOVE to see! Just snap a picture and share it on Instagram using #thecookandhim and tagging @thecookandhim in the photo itself (as this guarantees we'll see your picture!
)
And don't forget to follow us on Instagram , Facebook or Twitter for even more recipe inspiration and chat, competitions, behind the scenes and so much more!
Double Chocolate & Orange Muffins
prep: 20 mins / cook: 25 mins / inactive: 0 mins / total: 45 mins / quantity: 12 muffins
Ingredients
50g coconut oil
2 ripe bananas
2 free range eggs
100g plain 0% fat yoghurt
75g almond milk
80g honey
1 tsp vanilla extract
180g wholemeal flour
20g raw cacao powder
2 tblsp chia seeds
2 tblsp ground flax seeds
50g oats
1 1/2 tsp baking powder
1 1/2 tsp bicarbonate of soda
Grated zest of 1 orange
 150g dark or plain chocolate chips
Instructions
Preheat the oven to 180C Fan/ 200C/ 350F / Gas 6 and line your muffin tin(s) with 12 cases.
First up melt the coconut oil in a small saucepan or in the microwave then set aside to cool.
Into a large bowl add bananas broken into chunks and mash with a fork.
Add the eggs to the bananas and using the same fork give a quick whisk, then add the yoghurt, milk, honey and vanilla and give another quick whisk.
Add the flour, the raw cacao power, both the seeds, the oats, baking powder, baking soda and grated orange zest and give a quick stir with a rubber spatula.  Before it's all completely mixed together tip in the cooled coconut oil and chocolate chips and finish mixing.  You want it all just brought together without overmixing (this can make the muffin texture a little dense)
Pop large spoonfulls of the mixture into your muffin cases, sprinkle with a few more oats (this gives a lovely crunchy top!) and bake for 20-25 minutes until a skewer inserted in the centre of the muffin comes out clean.
Cool for 5 minutes in the tin before transferring to a wire rack to cool completely
Notes
Whilst these are delicious warm they do tend to stick to the cases till completely cooled, leaving a disappointing amount still attached to the case
Hello and welcome to The Cook & Him.
We are Sam (The Cook), Phil (Him) and our little dog Nooch. What started with a plan to shed a few pounds back in 2016, soon became obvious that eating healthy doesn't have to be bland and boring.
So, combining Sam's 15 years of experience working within Michelin starred restaurants and our love for deliciously healthy food, we're creating recipes for you to make and enjoy. We've added our own unique spin on traditional and contemporary vegetarian and vegan recipes that keep you (and your pets!) healthy and full.  And we make sure they just work.
All things autumn - warming soups, savoury bakes and delicious sweet treats!
and I would like to see...
Or search for a recipe or post by keyword