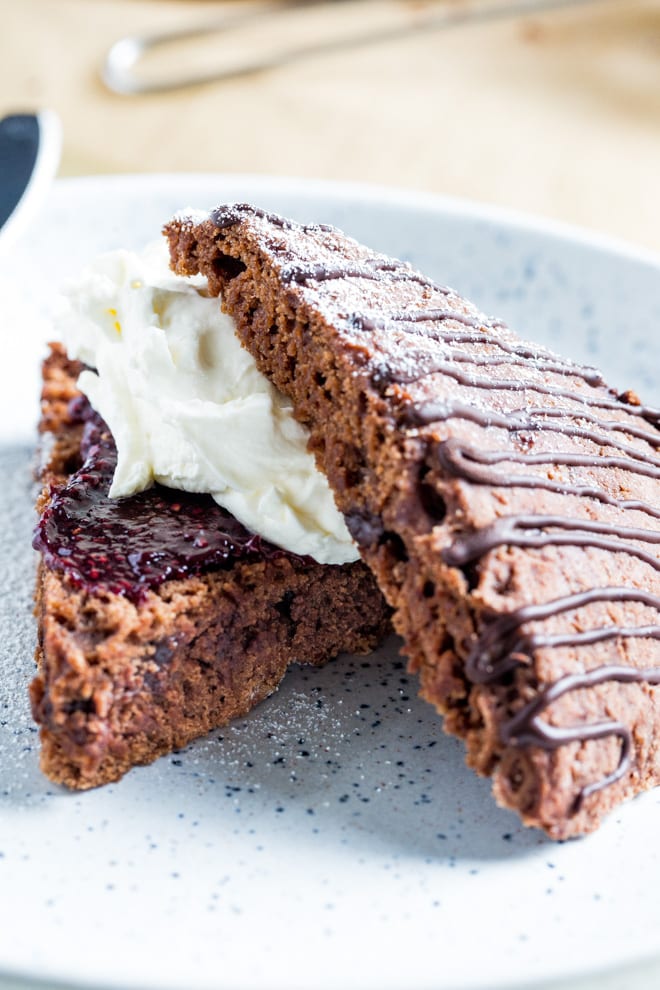 Posted in Recipes on 15.01.2019
Double Chocolate Scones with Blackberry Jam
prep: 20 mins / cook: 20 mins / inactive: 0 mins / total: 40 mins / quantity: 8 large scones Print recipe?
These double chocolate scones are deliciously light but with a rich chocolate flavour.  Top with homemade blackberry jam and whipped coconut cream for a divine vegan afternoon tea treat!
I have always loved scones.  Studded with sweet fruity jewels and a light bread like texture they're the perfect conduit for jam and cream.  There's an age old argument about which goes first – jam or cream.  For a while our scones were cream-less until I discovered the wonderful thing that is whipped coconut cream.  Lighter than air and pillowy soft the cream always, for me, goes on last so that you can pile it HIGH!
As for these Double Chocolate Scones, they couldn't be easier to make.  And the ingredients for them are very straight forward.  Raw cacao gives everything the best and richest chocolate flavour.  Coconut sugar lends hints of caramel.  And a combination of coconut yoghurt and almond milk give these Double Chocolate Scones their light, delicate texture
There's no real mystery to making delicate scones – all you need is a light touch.  Like anything using plain flour, over handling can result in a dense, tough texture.  So the trick is to mix things only as much as is necessary.
I've also taken to making my scones recently in the American style of a round giant scone cut into segments.  This not only makes the whole process easier (no cutters necessary) but it really helps with avoiding over-handling and thus overworking the dough.  You simply shape it into a round, flatten with your hands or a rolling pin and score the segments before baking.  Don't cut all the way through the dough, cut just deep enough to leave a clear lines.
Once your Double Chocolate Scones are baked you can optionally drizzle with chocolate.  This is an extra and not completely necessary step but I find with all things afternoon tea it feels so much fancier with those extra little touches!
And please don't be put off my the whole 'making your own jam' thing!  This easy blackberry jam recipe is SUPER easy – using just 4 ingredients and taking just 15 minutes to make.  The blackberries, orange zest and juice and syrup all go in a saucepan to be bubbled for 10 minutes.  Then add the chia seeds and bubble for a further 5 minutes.  And that's it!  Other than leaving it to cool before putting into a sealable container and storing in the fridge!  So much less sugar than bought jam but all the flavour and a great way to use up any extra berries you might have frozen over the autumn!  We're very lucky to have blackberry bushes growing wild in the field next to our house and you see a few people with their tuppawares heading out berry picking come October!
If you make this recipe or any of the recipes from The Cook & Him we'd LOVE to see! Just snap a picture and share it on Instagram using #thecookandhim and tagging @thecookandhim in the photo itself (as this guarantees we'll see your picture!
)
And don't forget to follow us on Instagram , Facebook or Twitter for even more recipe inspiration and chat, competitions, behind the scenes and so much more!
Double Chocolate Scones with Blackberry Jam
prep: 20 mins / cook: 20 mins / inactive: 0 mins / total: 40 mins / quantity: 8 large scones
Ingredients
Scones:
1 + 1/2 cups (210g) plain flour
1 + 1/2 tsp baking powder
2 tblsp dairy free spread – I used Vitalite
1/4 cup (20g) raw cacao powder
3 tblsp (35g) coconut sugar
1/2 cup (100g) dairy free dark chocolate chips
1/2 cup (140g) coconut yoghurt
4-5 tblsp (55-65ml) unsweetened almond milk
Optional: 3-4 squares dairy free dark chocolate – melted
Jam (see note):
1 + 1/2 cups (250g) blackberries (can be fresh or frozen)
1/2 an orange – grated zest and juice
1 tblsp maple syrup
1 tblsp chia seeds – we love these from Hodmedods
Coconut Cream:
1 can full fat coconut milk – chilled overnight in the fridge
Instructions
If you're using coconut cream, the day before you want to use it, put the can (unopened) in the fridge
To make the scones preheat your oven to 200 Fan / 220 C / 425 F / Gas 7 and line a large tray with baking parchment or a silicon mat
Put the flour, baking powder and dairy free spread into a large bowl. Gently rub the spread into the flour using your finger tips until it's evenly mixed through
Stir in the cacao powder, coconut sugar and chocolate chips
Add all the coconut yoghurt and 4 tblsp (55ml) of the almond milk and mix everything lightly together just until it forms a dough. If the mix is feeling dry add just a splash or two more of milk
Gently form the dough into a large ball and place onto your prepared tray
Roll with a rolling pin or use your hands to push into a large circle roughly 3/4 inch tall
Deeply score into 8 equal segments, not quite cutting through to the bottom of the dough (particularly if you're using a silicon mat underneath!)
Bake for 18-20 minutes until firm and set and slightly golden on top. Cool on the tray for 5 minutes before carefully lifting onto a cooling rack to cool
To make the jam put the berries, orange zest and juice and the syrup into a heavy based saucepan and gently bubble, stirring occasionally, for 10 minutes
Add the chia seeds and cook for a further 5 minutes before removing from the heat. Set aside to cool. If you're not using immediately for the scones, leave to cool completely before storing in an airtight jar in the fridge
Once the scones are cooled cut completely through the segments and drizzle with some melted chocolate. Leave to set at room temperature (or you can put in the fridge for 5-10 minutes - just don't store the scones in there as it makes them turn hard!)
To make the coconut cream open the tin and scoop out the hard white part (the watery liquid is perfect in smoothies and juices) and beat until soft and smooth. Apply liberally!
If not eating the scones immediately store (sliced into the segments but not split in half) in an airtight container at room temperature
Notes
You can make the jam well in advance of using it for these Double Chocolate Scones - it keeps in the fridge in an airtight container for at least 2 weeks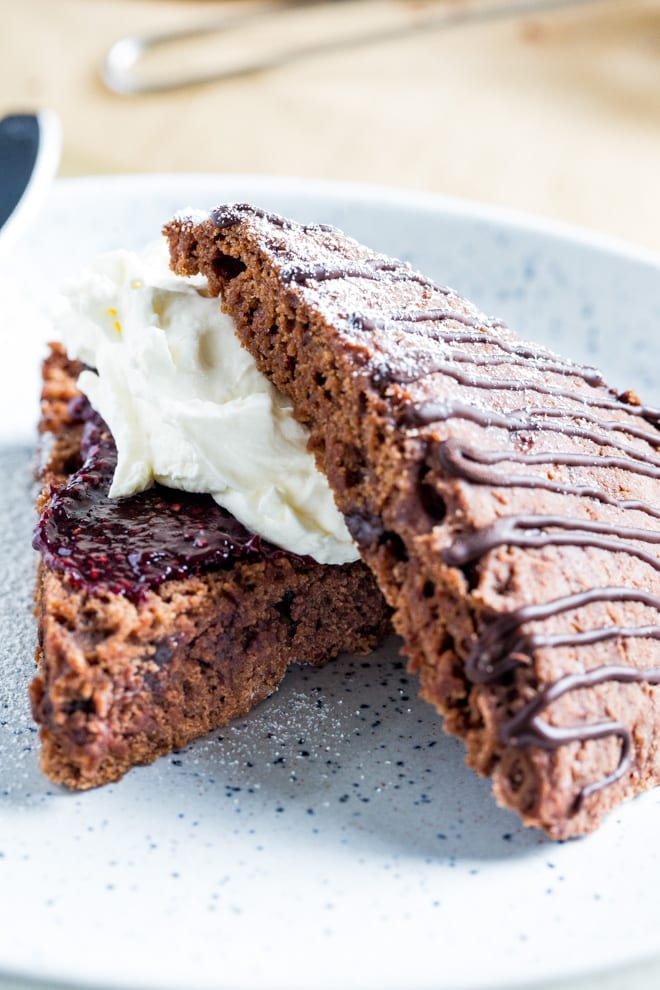 Some products I used in today's post...
Some of the links above are affiliate links, which pay us a small commission for our referral at no extra cost to you! Thank you for supporting The Cook & Him.
Hello and welcome to The Cook & Him.
We are Sam (The Cook), Phil (Him) and our little dog Nooch. What started with a plan to shed a few pounds back in 2016, soon became obvious that eating healthy doesn't have to be bland and boring.
So, combining Sam's 15 years of experience working within Michelin starred restaurants and our love for deliciously healthy food, we're creating recipes for you to make and enjoy. We've added our own unique spin on traditional and contemporary vegetarian and vegan recipes that keep you (and your pets!) healthy and full.  And we make sure they just work.
All things autumn - warming soups, savoury bakes and delicious sweet treats!
and I would like to see...
Or search for a recipe or post by keyword