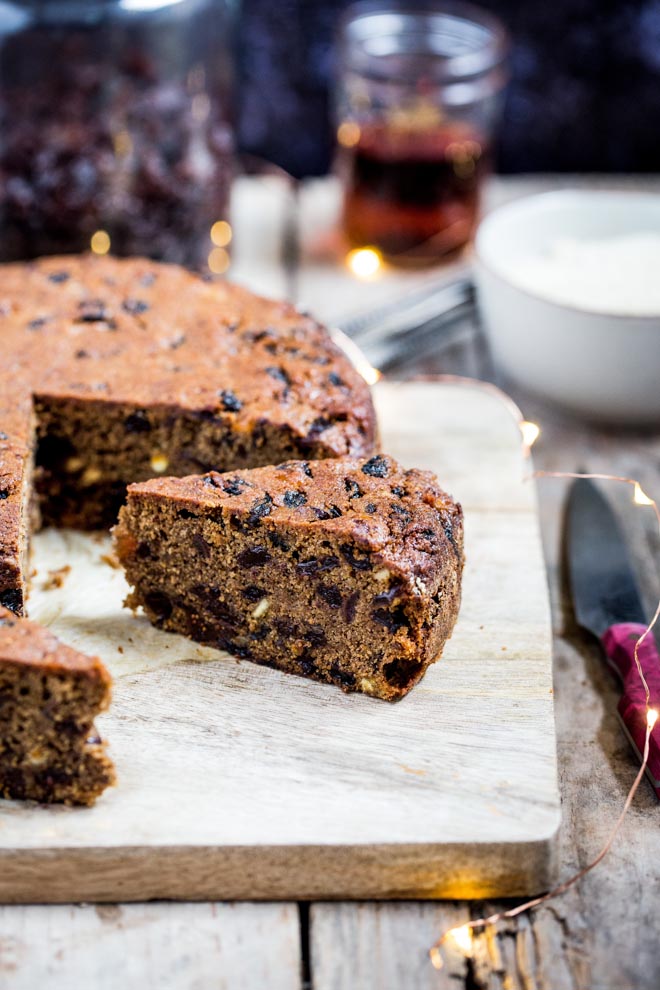 Posted in Recipes on 27.10.2019
Easy Vegan Christmas Cake Recipe
prep: 30 mins / cook: 2 hours 0 mins / inactive: 0 mins / total: 2 hours 30 mins / quantity: 12-16 slices Print recipe?
This wonderfully indulgent vegan Christmas cake is absolutely packed with fruit and spice. It's rich, moist, delicious and deceptively easy to make!
There is however a loooong story behind this Christmas cake.  Phil "I don't like dried fruit" Fusspants wasn't supposed to like this cake.  And the first one I made sunk a little in the middle.  No detriment to the flavour but I'd got the mix too wet and it had a not very photogenic crater in the middle.  It was supposed to get cut up for him to take to work.  Three slices of cake later he declared himself Phil "I don't like dried fruit but I'd sell my soul for fruit cake".  Not a single slice left the house.
And because Cake No.1 sunk in the middle it didn't get photographed.  So cake No.2 was made.  Nothing wrong with it.  But the new fruit cake addict didn't give me time to get the cake cooled and photographed before carving himself off several slices.
Repeat with Cake No.3
At which point I threw my hands in the air and rapidly made another one before Cake No.3 had all gone.  Fruit cake in stock = won't touch new fruit cake so I can get the bloody thing photographed before it vanishes before my very eyes.
Fortunately this is a VERY easy Christmas cake recipe.  Like ridiculously easy.  It takes longer to weigh out the ingredients than it does to actually make it.  But what we get is a divinely rich but light and moist fruit caked absolutely packed with all those wonderful dried fruits.  Plump sultanas, chewy dried apricots and dates, sweet candied peel and sparkling, jewel like glacé cherries.
And the extra beauty of this rich spicy Christmas cake is it's ready to go right out of the oven.  You can feed it for the next couple of months if you choose but it's already so full of flavour it doesn't really need it.  Unless you like your fruit cake extra boozy of course 😉
If you're looking for other vegan Christmas baked goods we've got you covered:
How to make a vegan fruit cake
Well, it's pretty much the same as you'd make a non-vegan fruit cake.  The only difference is no eggs and using plant milk.  For this Christmas cake I've substituted the eggs with 'flax eggs'.  This is just mixing ground flax seeds with a little cold water and allowing it to stand and thicken slightly.
I've also used a Kitchen Aid to make this cake but it's not necessary.  Four fruit cakes in and my arm muscles are glad I did though 😉
If you're mixing by hand you'll need to use either a soft tub margarine or allow the vegan butter to soften at room temperature beforehand.  Unless you have Popeye muscles of course.
You'll also need to soak the fruit in advance.  Twenty four hours is plenty but requires a bit of forward planning.  This allows the fruit to soak up the liquid making them plump and juicy.
Once you have all your components ready it's as simple as creaming together the fat and sugar, adding the wet and dry then adding the fruit.  Nothing more complicated than that.
And four fruit cakes made with three of them eaten in less than three weeks I think is a testament to just how hecking easy and delicious this cake recipe is.
If you make this recipe or any of the recipes from The Cook & Him we'd LOVE to see! Just snap a picture and share it on Instagram using #thecookandhim and tagging @thecookandhim in the photo itself (as this guarantees we'll see your picture!
)
And don't forget to follow us on Instagram , Facebook or Twitter for even more recipe inspiration and chat, competitions, behind the scenes and so much more!
Easy Vegan Christmas Cake Recipe
prep: 30 mins / cook: 2 hours 0 mins / inactive: 0 mins / total: 2 hours 30 mins / quantity: 12-16 slices
Ingredients
2 + 1/4 cups (350g) sultanas
1/3 cup (50g / approx 8) stoned dates – roughly chopped
1/2 cup (100g) candied peel
1/2 cup (100g) glacé cherries – halved
1/3 cup (70g / approx 10) dried apricots – roughly chopped
1/2 cup (125ml) brandy
1 orange – grated zest and juice
1 lemon – grated zest only
2 tblsp ground flax seeds
3/4 cup (175g) vegan butter
1 + 1/4 cups (200g) light soft brown sugar
1 tblsp black treacle
1/4 cup (60ml) unsweetened plant milk – I used oat milk
2 + 1/2 cups (350g) plain flour
1/3 cup (40g) ground almonds
2 tsp ground cinnamon
2 tsp ground nutmeg
1 tsp ground allspice
1 tsp bicarbonate of soda
optional extra brandy for 'feeding'
9 inch (23 cm) round spring form cake tin (see note)
Instructions
The day before you want to make the fruit cake put all the dried fruit into a sealable container with the brandy, orange and lemon zest and the orange juice. Cover and leave somewhere cool or in the fridge
Put the ground flax seeds in a mug or small bowl and stir in 1/3 cup (80ml) cold water. Set aside
Preheat your oven to 140 Fan / 165 C / 325 F / Gas 3 and grease a 9 inch (23cm) round cake tin. I also dust with flour, shake out the excess and put a disc of parchment in the base to help prevent it sticking
Either by hand or in a stand mixer with the paddle attachment, beat together the vegan butter and sugar until well mixed
Beat in the treacle
Add the milk, flour, almonds, spices and bicarbonate and quickly beat or stir until just starting to come together
Add the soaked fruit and any excess liquid along with the flax and water mixture and beat or stir until everything is well mixed. If you're using a stand mixer try not to overbeat - just enough to be all mixed together
Scrape into your tin and spread to the edges. I domed mine slightly in the middle after the first sunken cake fiasco!
Bake for 2 - 2 1/4 hours until a toothpick or skewer inserted in the centre of the cake comes out clean
Leave to cool in the tin for around 15 minutes before removing the outer ring. Leave the cake on the base of the tin until cooled completely then carefully lift off the base and store the cake in an airtight container
If you're making the cake in advance (up to 2 months) you'll want to 'feed' it with alcohol. This helps prevent the cake from drying and/or going mouldy
Skewer a few holes all across the top of the cake and pour 1-2 teaspoons of brandy across the top. Repeat this once every 1-2 weeks for up to 2 months
Notes
If you only have a smaller size of tin you'll probably need to cook the cake longer and may need to reduce the temperature during baking to prevent the top burning before the cake itself is cooked
Feel free to change the fruit too - try mixed dried fruit or goji berries, dried figs etc. Just reduce the amount of some of the other fruits rather than adding more as this may imbalance the recipe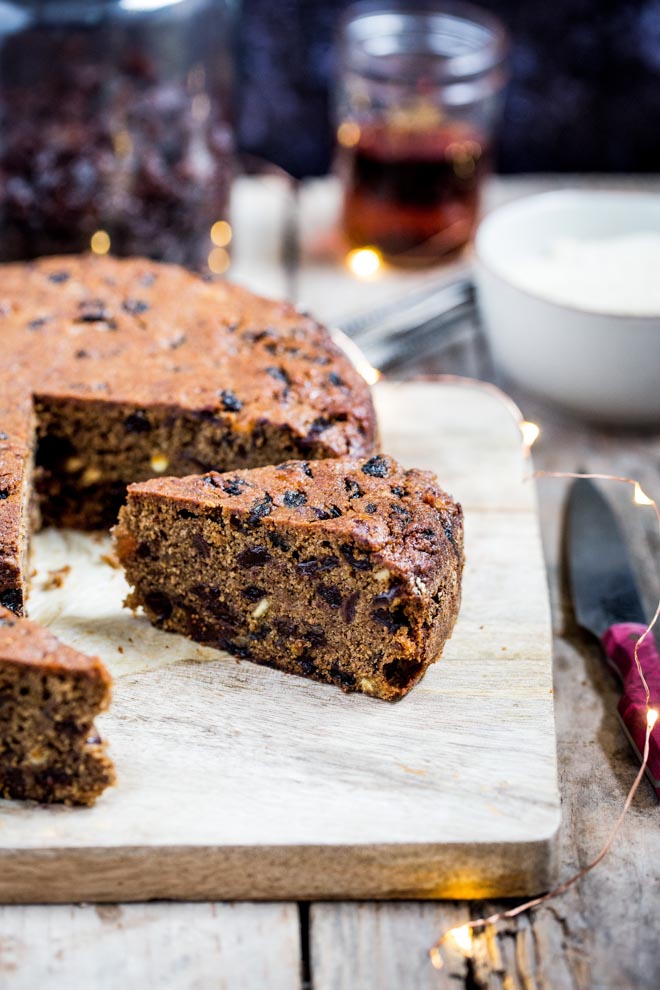 Some products I used in today's post...
Some of the links above are affiliate links, which pay us a small commission for our referral at no extra cost to you! Thank you for supporting The Cook & Him.
Hello and welcome to The Cook & Him.
We are Sam (The Cook), Phil (Him) and our little dog Nooch. What started with a plan to shed a few pounds back in 2016, soon became obvious that eating healthy doesn't have to be bland and boring.
So, combining Sam's 15 years of experience working within Michelin starred restaurants and our love for deliciously healthy food, we're creating recipes for you to make and enjoy. We've added our own unique spin on traditional and contemporary vegetarian and vegan recipes that keep you (and your pets!) healthy and full.  And we make sure they just work.
All things autumn - warming soups, savoury bakes and delicious sweet treats!
and I would like to see...
Or search for a recipe or post by keyword