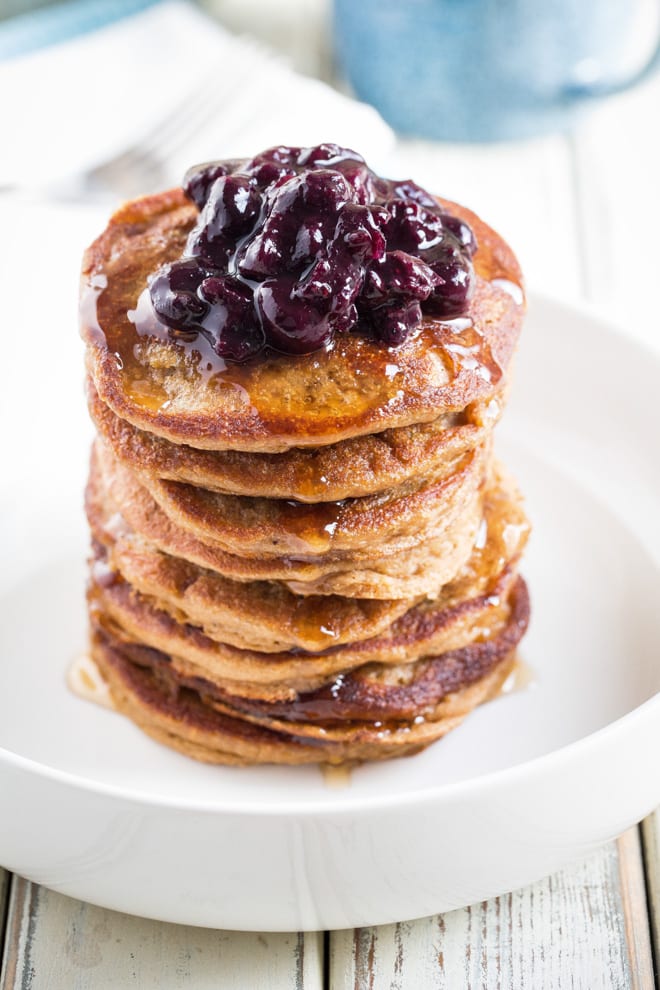 Posted in Recipes on 05.02.2019
Vegan Pancakes Recipe
prep: 10 mins / cook: 15 mins / inactive: 10 mins / total: 35 mins / quantity: 8-10 pancakes Print recipe?
Vegan pancakes – that is pancakes with no eggs or dairy – are just as light, fluffy and are as easy to make as their more traditional counterparts!
We are HUGE pancake fans. Is it weird that we even have a dedicated Pancake Sunday each week?  But what's one more vegan pancakes recipe to add to the arsenal?!
Every weekday morning is a complete blur for me. Phil and I are opposite ends of the sleep spectrum, because he's a morning person and I most definitely am not.  I would really love to be, but I find myself better able to stay awake at night than wake up in the morning.  In any case, for us, weekend breakfasts, especially Pancake Sunday ones, are sacred.
Instead of the rush rush rush, it's leisurely and relaxed and vegan banana pancakes are a thing to be savoured with many, many cups of tea.
These are the secrets behind how to make vegan pancakes.
They're actually the same as the secrets to any of those thick, American style fluffy pancakes.
Allow the batter to rest for just a few minutes before cooking
When cooking, let the bubbles on the uncooked side fully form before attempting to flip them over
Be BRAVE when flipping!  Don't hesitate – I use a fish slice type spatula to really get underneath the pancake and flip in one quick movement
For instance, one of the things that makes pancakes so popular is the ease of making to sheer yummyness ratio, after all,who doesn't love a big stack of pancakes oozing syrup, fruit, chocolate or nuts?
And this easy vegan pancakes recipe honestly couldn't be easier.
Just 6 ingredients and one blender are required for these pancakes to be whipped up super quick. One of the best parts is that they can easily scaled up to feed a crowd or down if you just fancy some vegan banana pancakes for your breakfast.
I've used banana for a couple of reasons – flavour and natural sweetness. Oats are in there because they're pretty bloomin' good for you, filling and delicious, they also keep these vegan oat pancakes gluten free.  Neither Phil nor I are gluten intolerant but it's something I'm becoming increasingly aware of. More and more people are taking charge of their diet and not every ingredient agrees with everyone.
So why make them vegan?
I became vegan for ethical and environmental reasons rather than out of dietary need, so converting our usual easy pancake recipe into an eggless pancake version seemed like a "no brainer". As we were both already big fans of vegan american pancakes, I knew I had to give it a try.
Boy oh boy were we not disappointed!  This vegan pancake recipe was a success from the start and needed no tweaking whatsoever and, if there's one thing we love, its an easy vegan pancake recipe that is so simple, tasty and creates so little washing up!
Looking for more Vegan Pancake Recipes?
Searching for more vegan pancake recipes? We've a stack of them (see what I did there…eh?)
For the topping for these fluffy vegan pancakes I've used a very simple mixture of blueberries and maple syrup.  Simply warm them together in a small pan and spoon over your pancakes – an extra squeeze of syrup gives that perfect drip too 😉
If you make this recipe or any of the recipes from The Cook & Him we'd LOVE to see! Just snap a picture and share it on Instagram using #thecookandhim and tagging @thecookandhim in the photo itself (as this guarantees we'll see your picture!
)
And don't forget to follow us on Instagram , Facebook or Twitter for even more recipe inspiration and chat, competitions, behind the scenes and so much more!
Vegan Pancakes Recipe
prep: 10 mins / cook: 15 mins / inactive: 10 mins / total: 35 mins / quantity: 8-10 pancakes
Ingredients
Pancakes:
2 small ripe bananas – peeled
1 + 1/4 cups (140g) rolled oats
3/4 cup (185ml) unsweetened almond milk
1/4 cup (40g) coconut sugar
1/2 tsp baking powder
1/2 tsp bicarbonate of soda
Blender or good food processor – I used a NutriBullet RX
Optional topping:
1 cup (120g) blueberries – fresh or frozen
1/2 tblsp maple syrup
Instructions
For the pancakes put all the ingredients into a blender cup or your food processor bowl and whizz until thick and smooth
I find it easier to scrape the mixture out of the cup into a wide pouring jug or bowl. Leave to stand for a few minutes while you make the optional topping
If you're making the blueberry topping put the berries and syrup into a small saucepan bring to the boil then turn down the heat to the lowest setting and leave to simmer while you make the pancakes
Pour a little drizzle of oil in to a large non-stick frying pan over a low - medium heat. Pour or spoon in some of the mixture. I make 3-4 at a time. You can make the pancakes any size you want, just remember you have to flip them so leave some room in the pan!
Flatten them slightly as you add each one to the pan
Cook for a minute or so until large bubbles have formed on the uncooked side
Using a large fish slice or palette knife carefully flip the pancakes
Cook on the other side for a further minute or so
Stack the pancakes on a warmed plate then top with the hot blueberry sauce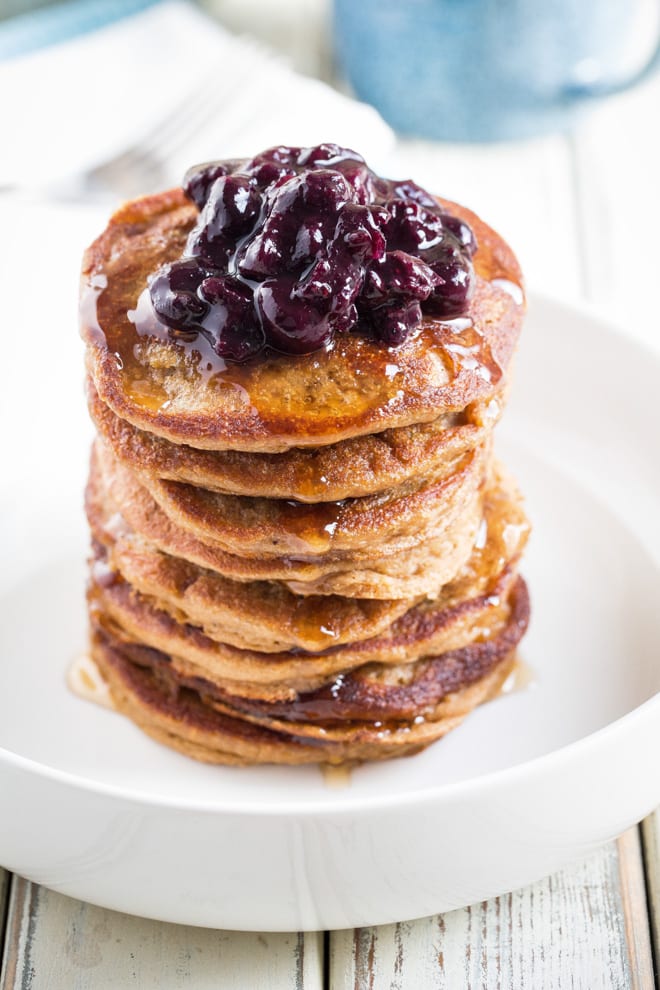 Some products I used in today's post...
Some of the links above are affiliate links, which pay us a small commission for our referral at no extra cost to you! Thank you for supporting The Cook & Him.
Hello and welcome to The Cook & Him.
We are Sam (The Cook), Phil (Him) and our little dog Nooch. What started with a plan to shed a few pounds back in 2016, soon became obvious that eating healthy doesn't have to be bland and boring.
So, combining Sam's 15 years of experience working within Michelin starred restaurants and our love for deliciously healthy food, we're creating recipes for you to make and enjoy. We've added our own unique spin on traditional and contemporary vegetarian and vegan recipes that keep you (and your pets!) healthy and full.  And we make sure they just work.
All things autumn - warming soups, savoury bakes and delicious sweet treats!
and I would like to see...
Or search for a recipe or post by keyword