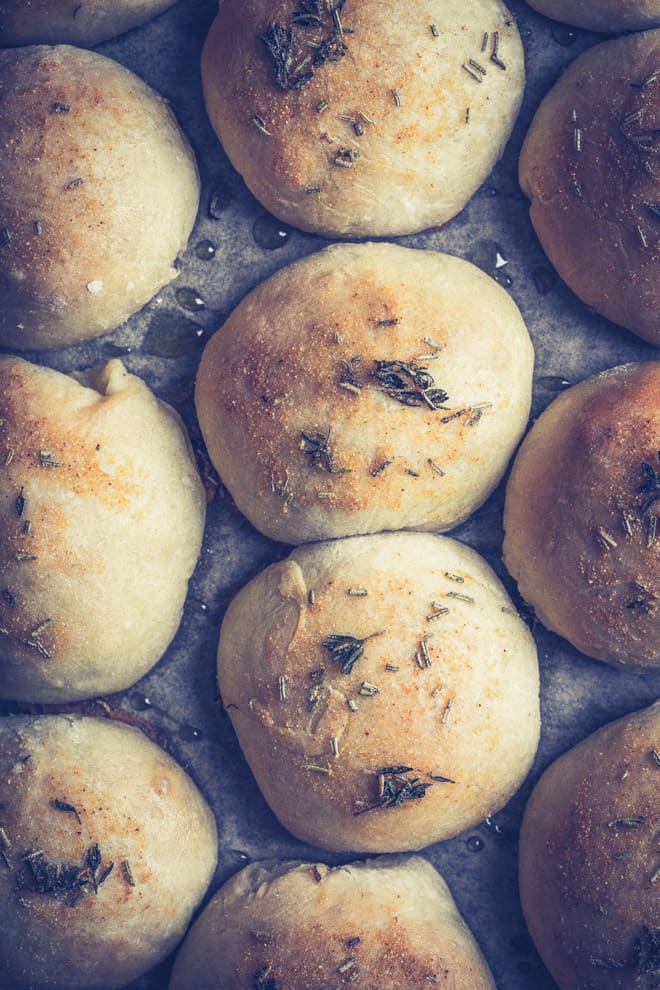 Posted in Recipes on 25.04.2018
Garlic and Herbes de Provence Cheese Bombs
prep: 10 mins / cook: 20 mins / inactive: 60 mins / total: 1 hour 30 mins / quantity: 12 rolls Print recipe?
If you're worried this is going to be a complicated recipe – don't.  It honestly couldn't be more simple, or more tasty!  Delicate pillows of pizza dough surrounding the truly wonderful thing that is New Roots vegan cheese.  I've mentioned them before and I honestly can't praise their cheeses enough.
If you're new to vegan cheese, in my experience it can be very hit and miss.  Some are rubbery, some are incredibly bland.  Some taste truly awful.  And then we discovered New Roots.  We've been lucky enough to have tried quite a few of their range and I honestly don't think you can find better.  They all look and taste like bona fide artisan cheese.
From the moment they receive the nuts, every step of the process is handmade.  Soaking, mixing, filling the moulds, coating the fresh cheeses in herbs, setting them in ripening cells to age, and finally packing them.  All by hand.
And cheese as a thing – be it real cheese or cheese lookalikes (I can't call it fake cheese, it seems disrespectful) … well it's my nemesis.  I'm learning how to bake with flax eggs, aquafaba, apple cider vinegar.  I don't even notice the difference using almond milk in my tea.  But CHEESE.  Robin_Vegan on Instagram mentioned in a very poignant post that they gave up smoking, drinking and cheese and by far the hardest thing was … yup, cheese.
Oh and check out that pooch … isn't she gorgeous!!  (sorry Meg ?)
And what the heck is going on with his feet?? ?
I keep seeing all these incredible, gooey looking cheese bombs on Pinterest.  But I didn't want a stodgy, heavy dough.  I wanted something light to surround the delicate cheese.  Enter flat bread pizza dough!  Such a simple recipe and very little kneading required.
It's a very soft dough, not like bread dough at all.  Once it's made you can leave it in the fridge for a couple of days and just finish and bake the 'bombs' another day.  When you come to use it, simply divide into 12 roughly equal balls then roll each one out to a small circle with a rolling pin.  Or you could be authentically Italian and shape them with your hands ?
Either way you're just looking for rough circles, no compasses required!  Then simply put a small spoonful of cheese into the centre and tuck the dough in on itself, placing on the tray seam side down.
No more proving is necessary, just simply brush with the herb and garlic oil and bake to crispy perfection ?
Now the cheese doesn't melt like normal cheese but who cares, it still tastes freakin amazing!
If you make this recipe or any of the recipes from The Cook & Him we'd LOVE to see! Just snap a picture and share it on Instagram using #thecookandhim and tagging @thecookandhim in the photo itself (as this guarantees we'll see your picture!
)
And don't forget to follow us on Instagram , Facebook or Twitter for even more recipe inspiration and chat, competitions, behind the scenes and so much more!
Garlic and Herbes de Provence Cheese Bombs
prep: 10 mins / cook: 20 mins / inactive: 60 mins / total: 1 hour 30 mins / quantity: 12 rolls
Ingredients
3/4 cup tepid water (see note)
1 + 1/2 tsp dry active yeast
1 tsp sugar
2 cups plain flour
1 tsp salt
1 tblsp olive oil
For Topping
2 tblsp olive oil
4 sprigs fresh thyme – leaves only
1/2 tsp dried oregano
1 tsp garlic powder
pinch salt
Instructions
Start with the dough.  Put the tepid water into a large bowl or into the bowl of a stand mixer
Whisk in the yeast and sugar, cover with a t-towel and leave for around 15 minutes until the surface is frothy
Tip in the flour, salt and olive oil and mix either by hand, with a rubber spatula or the dough hook of your machine, to a smooth soft dough.  Because we're using plain flour for a light, chewy dough you don't need to knead the heck out of it!  Just mix until it forms a dough
At this point you can transfer to a lightly oiled bowl and store, covered (with a t-towel or cling film), in the fridge for a couple of days.  Otherwise cover the bowl with the t-towel again and leave to prove for 45 minutes
Preheat oven to 200 Fan / 220 C / 425 F / Gas 7 and line a large baking tray with parchment or a silicon mat
Tip the the dough onto a floured work surface and evenly divide into 12 pieces
Using a floured rolling pin or floured hands roll or shape the dough into flatish discs
Place a teaspoon of cheese into the centre of each disc then bring the dough up around the cheese, completely enveloping it
Place each dough ball onto your tray seam side down spacing them evenly apart as they do grow during cooking!
Once they're all shaped, stir together all the topping ingredients then spoon or gently brush over the top of each dough ball
Bake for 15-20 minutes until puffed and golden
Notes
The water should be blood temperature - meaning when you put your finger in it you can't feel if it's hot or cold!  If anything, err on the side of cold - too hot and you run the risk of killing the yeast.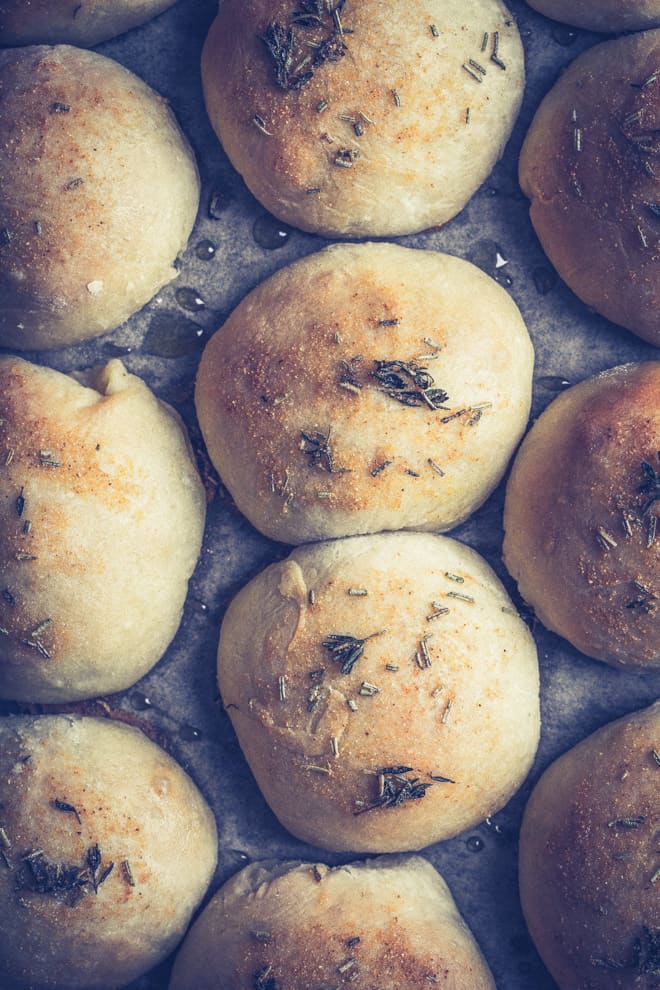 Hello and welcome to The Cook & Him.
We are Sam (The Cook), Phil (Him) and our little dog Nooch. What started with a plan to shed a few pounds back in 2016, soon became obvious that eating healthy doesn't have to be bland and boring.
So, combining Sam's 15 years of experience working within Michelin starred restaurants and our love for deliciously healthy food, we're creating recipes for you to make and enjoy. We've added our own unique spin on traditional and contemporary vegetarian and vegan recipes that keep you (and your pets!) healthy and full.  And we make sure they just work.
All things autumn - warming soups, savoury bakes and delicious sweet treats!
and I would like to see...
Or search for a recipe or post by keyword