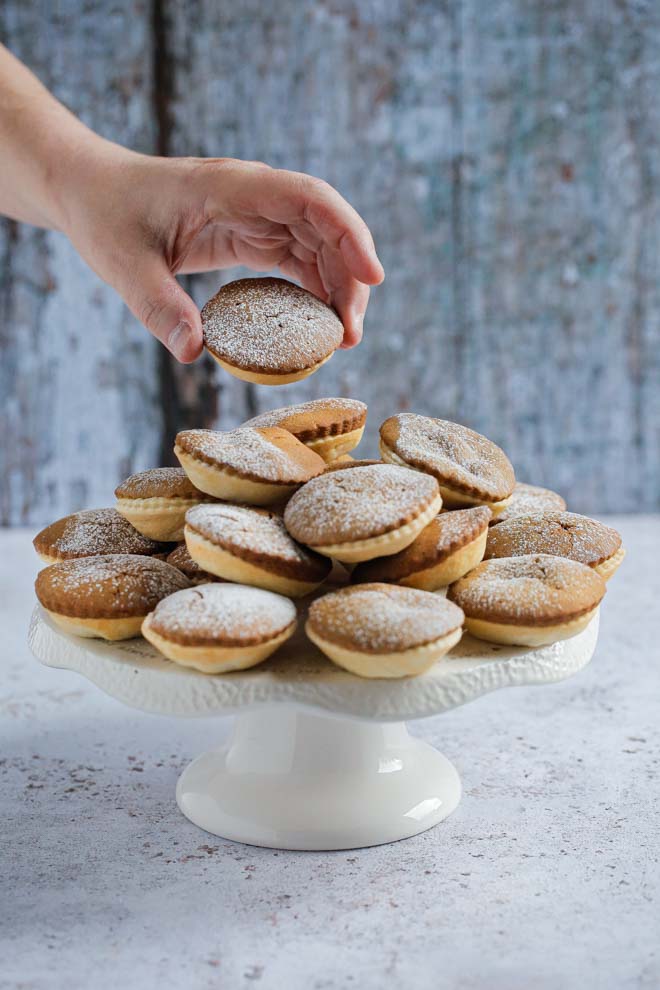 Posted in Recipes on 16.11.2020
Gingerbread Mince Pies
prep: 60 mins / cook: 20 mins / inactive: 0 mins / total: 1 hour 20 mins / quantity: roughly 30 mince pies Print recipe?
Soft and spicy gingerbread on top of fruity homemade mincemeat make these gingerbread mince pies a simply deliciously festive treat!
OHMYGOSH.  I could NOT be more in my element right now.  Planning and cooking ALL the Christmas food I can't wait to share with you.  I know this year Christmas may be very weird, very disjointed or feeling very isolated.  Or all of these things.  But I'm determined to make the most of the colder weather and all the warming spices and festive smells that are coming out of my kitchen right now.  Mince pie season for me starts in October.  And as Phil only decided last year that he liked mince pies (thank you Viennese Whirl Mince Pies) and as he loves gingerbread I thought I'd combine the two into one truly festive flavour extravaganza.  That's a thing right?  Either way these gingerbread mince pies were a hit.
First time I made these was just before the second national lockdown here in the UK.  We managed to squeeze in a quick trip to see Phil's brother and fiance and a couple of their friends before it was back to facetime calls and relative isolation.  And as the recipe makes a lot (30 something – don't worry, they freeze great, just defrost and give a gentle warm in a low oven) Phil actually managed to not eat the whole bloody lot before we went.  Everyone loved them, none were left – which always makes me disproportionately happy.  Good food, good company, lots of laughs.
They were the days huh?
Anyway …
How to make these super simple vegan mince pies:
Buy pastry.  Or not.  Up to you.  In the chaos of life there's no judgement on cutting some corners.  If you want everything homemade from scratch I've got a complete step by step guide to making pastry.
Make your own mincemeat.  This I DO recommend.  It takes less than half an hour, start to finish, and can be chilling while you do the other stages.  It also tastes SO much better, you know exactly what's in it and you can make it more or less sweet dependent on taste.
Make gingerbread.  This is super easy and takes only a few minutes.  You can use a stand mixer or beat by hand.  If you're doing it by hand make sure to soften the butter first.  Beat together the butter, sugar, syrup and treacle.  Then gently stir in the dry ingredients – flour, bicarb, cinnamon and ginger.  Mix together until you get a soft dough.  Wrap in parchment or cling film and chill in the fridge for at least 30 minutes.  You can make both the mincemeat and gingerbread in advance.  The mincemeat will keep at least 2 months in the fridge.
Roll out pastry.  Even using pre-rolled shop bought pastry I roll it out a bit thinner – I prefer thin pastry on a mince pie so you get more filling 😉
Cut out pastry circles.  You want a larger cutter, big enough so that the pastry covers the bottom and sides of your mince pie tin.  I used these fluted pastry cutters and this mince pie tin.  Pop your circles into your tin and gently press into the cups.
Fill the pies with mincemeat.  I used a heaped-ish teaspoon per pie.
Roll out the gingerbread.  I wanted a thick ginger cookie topping so rolled the dough to around 5mm thick.  Dust your work surface well with flour to stop the dough sticking while you roll.
Put the lids on the pies.  Gently press the edges together.  You don't need to be too fussy with this as the gingerbread is quite a soft cookie mix and will bond well with the mincemeat and pastry underneath.
Bake for around 20 minutes.  The gingerbread should still feel quite soft to the touch.  It does firm up once cooled.  Though it's SO delicious when the mince pies are still warm.  Give them at least a few minutes out of the oven to cool before devouring.  Phil learnt the lesson about molten mincemeat filling the hard way!
If you have any spare scraps of gingerbread or pasty just roll, cut into strips and bake for 15-20 minutes.  The birds love the pastry and the gingerbread is great spread with a bit of jam or buttercream!
If you love gingerbread as much as we do, you'll love these deliciously festive vegan recipes …
Gingerbread cookies – nothing says Christmas quite like a gingerbread cookie right?
Gingerbread granola – even though granola is for life not just for Christmas.
Gingerbread pancakes – super easy festive breakfast.
Gingerbread hot chocolate – there honestly isn't a better way to treat yo'self.
I'd love to hear from you if you make these Gingerbread Mince Pies! Just leave a comment as it's so helpful and I love to hear how the recipe worked out for you! Thank you so much!
Don't forget to follow us on YouTube, Facebook or Pinterest for even more recipe inspiration and chat, competitions, behind the scenes and so much more!
Gingerbread Mince Pies
prep: 60 mins / cook: 20 mins / inactive: 0 mins / total: 1 hour 20 mins / quantity: roughly 30 mince pies
Ingredients
Gingerbread:
100g vegan butter
90g soft light brown sugar
2 tblsp golden syrup
1 tblsp black treacle
250g plain flour
2 tsp ground cinnamon
3 tsp ground ginger
1/2 tsp bicarbonate of soda
375g pack ready rolled shortcrust pastry
Instructions
If you're making your own mincemeat, do that first and allow to cool while you make the other components. If you use the linked recipe you'll need roughly 2/3 of it and it takes around half an hour to make, start to finish
To make the gingerbread beat together the butter, sugar, syrup and treacle. You can use a stand mixer or beat by hand - if so, make sure to soften the butter beforehand
Add the flour, cinnamon, ginger and bicarbonate and mix until it just forms a dough, try not to over mix. Wrap in parchment or cling film and put in the fridge for at least 30 minutes (or up to a few days ahead)
To make the mince pies pre-heat the oven to 170 Fan / 190 C / 375 F / Gas 5
Uncurl the pastry onto a floured surface and roll out a little thinner. Use pastry cutters to cut around 30 discs to fit the base of your mince pie tin(s). If you've only got 1 or 2 mince pie tins, you can cook these on rotation - cut all the pastry circles, put onto a tray or plate, cover with cling film and keep in the fridge until needed
Pop the pastry into the cups of the mince pie tin(s) and gently press down to form the cup base
Add around 1 heaped-ish teaspoon of mincemeat to each pie and set aside
Roll out the gingerbread on a floured surface to 5 mm thick then cut smaller circles to fit the tops of your pies. Lift them onto the pies, gently pressing down round the edges
Bake for 20 minutes - the gingerbread will still feel a little too soft to the touch when you take it out of the oven but it will firm up once it cools
Store in an airtight container once cooled or freeze
Notes
Re-heat in a warm (not hot) oven if you want that fresh from the oven mince pie feeling!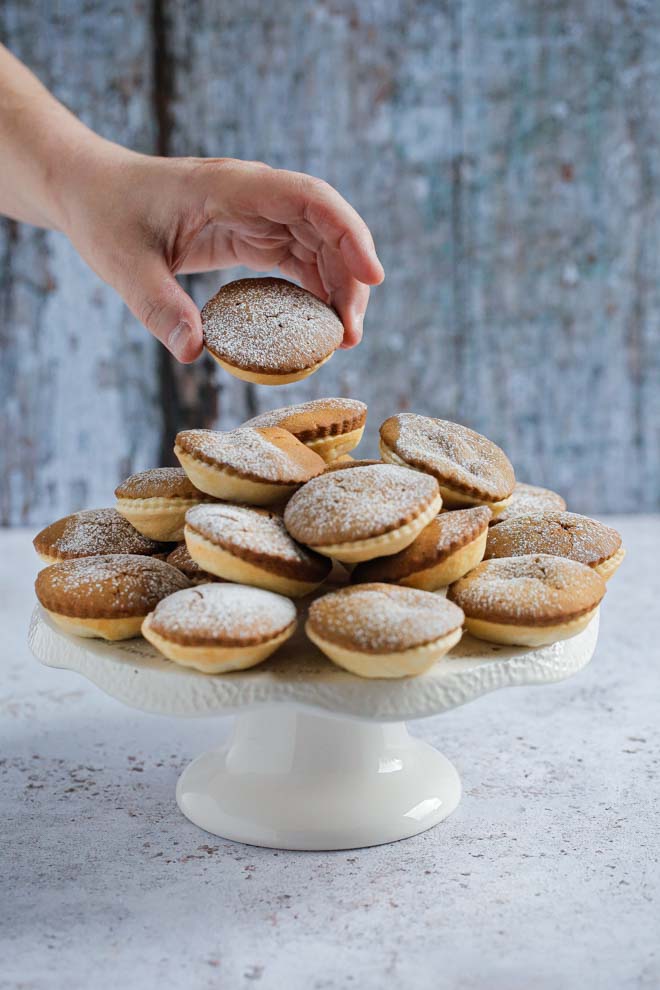 Hello and welcome to The Cook & Him.
We are Sam (The Cook), Phil (Him) and our little dog Nooch. What started with a plan to shed a few pounds back in 2016, soon became obvious that eating healthy doesn't have to be bland and boring.
So, combining Sam's 15 years of experience working within Michelin starred restaurants and our love for deliciously healthy food, we're creating recipes for you to make and enjoy. We've added our own unique spin on traditional and contemporary vegetarian and vegan recipes that keep you (and your pets!) healthy and full.  And we make sure they just work.
All things autumn - warming soups, savoury bakes and delicious sweet treats!
and I would like to see...
Or search for a recipe or post by keyword